While the age of Terminator-like robots in the military isn't quite here yet, the Army and Air Force are embracing a new software system that uses machine learning and artificial intelligence to increase subject retention and decrease class time.
It comes from Cerego, an educational technology company specializing in employee training. Its proprietary software combines decades of research with the latest in adaptive learning and comprehension technology. Now it's bringing the rise of the machines to the two services.
This could be the cure for Death By PowerPoint.
The software is a proprietary learning system that is programmed by the user for the class. Once the instructional materials (video, lecture, texts, etc.) are loaded into the software, the engine takes over. It knows what to teach, when to test and how to measure progress. Since it comes in the form of an app, the program can adapt its lessons to the learner using their individual strengths and weaknesses.
"The whole concept behind Cerego is that it delivers the right material at the right moment and doesn't waste time," Cerego CEO Paul Mumma told Military.com. "So you can complete training in 40% less time with a marked improvement over traditional methods."
The content of the instructional material doesn't matter; Cerego's software can teach anything to anyone. To date, the Army and Air Force have both completed pilot programs using the software. In December 2019, the Air Force began testing Cerego's adaptive learning programs in Basic Military Training.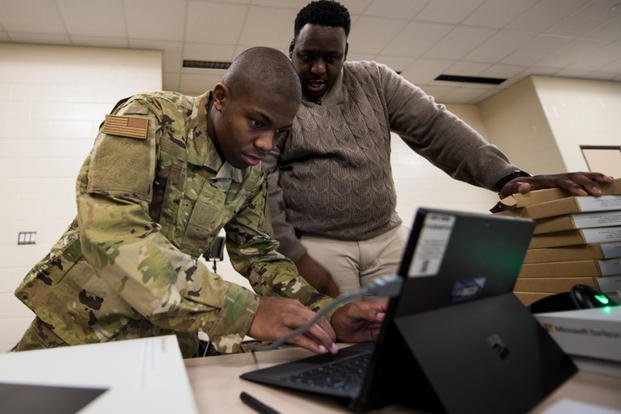 Using Microsoft Surface Pro tablets, 110 basic trainees from the 321st Training Squadron at Joint Base San Antonio Lackland, Texas were able to access the entire BMT curriculum online, at any time. Meanwhile, the software provided instructors with real-time feedback information on how well the students were doing.
"The technology being used will help focus instruction in academic areas identified as potentially weak for individual Airmen, really tailoring the experience in a learner-centric way where the knowledge gap is," said Staff Sgt. Samudra Thio, BMT Pilot Project lead. "This hopefully will help Airmen learn more efficiently."
It's even beneficial to the creators of the material. After every piece of the BMT curriculum is entered into the system, any changes made are saved and will appear instantly for the students. The trainees in the learning system pilot program will graduate in February 2020. Their results will then be analyzed for improvements in retention over traditional classroom instruction and out-of-class study.
If the new training regimen is successful, it could be implemented throughout Air Force Basic Military Training. As of now, training instructors are already seeing improvements in not only how they teach the material, but how long it takes to teach it.
The technology behind Cerego is new but the learning concepts are much older. One of the principles of the technology is distributed learning -- how one learns something and is then exposed to it over time for retention.
"That principle was discovered in the late 1800s," Mumma said. "That's knowledge that's more than a hundred years old. These are well-understood principles of human learning."
Another age-old principle incorporated into the technology is testing effect, also known as retrieval practice. The idea is that practicing with the knowledge -- taking little tests -- strengthens your overall retention, like working out to build a muscle.
Cerego isn't intended to replace the muscle memory aspects of military training or replace instructors. Instructors are still needed to guide students through the learning process. It's when students use Cerego to review content outside of the classroom that retention rates increase.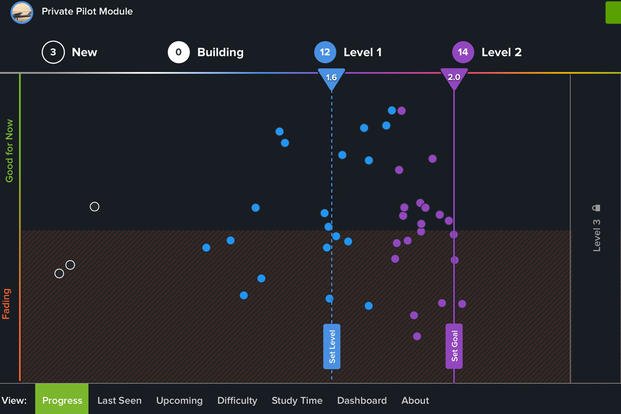 When Cerego was used in a pilot program to teach soldiers in the Army's Tactical Combat Casualty Care for all Combatants course, much of the course was appropriate for Cerego's online use. When it came to applying that knowledge, however, soldiers still required hands-on instruction to learn certain material, such as the use of the special tourniquets in their medical kits.
Still, even the time it took to teach the Army TCCC Course was cut in half, from 12 hours to fewer than 6 hours.
"The military is performing mission-critical operations, with literally life or death consequences," said Ralph Whitney, Vice President of Cerego's Government Group. "People need to remember their training and they get so much training. If they don't remember it, someone could get seriously injured or die. Our platform helps them build that knowledge with the least amount of study time."
-- Blake Stilwell can be reached at blake.stilwell@military.com.
Want to Learn More About Military Life?
Whether you're thinking of joining the military, looking for post-military careers or keeping up with military life and benefits, Military.com has you covered. Subscribe to Military.com to have military news, updates and resources delivered directly to your inbox.