The USNS Comfort and the USNS Mercy are rushing to complete their scheduled maintenance and board teams of medical personnel. Once outfitted, the Comfort will sail to New York Harbor, and the Mercy will head off to the Port of Los Angeles.
Despite being ordered to prepare, there isn't a realistic timeline for the ships' departure just yet, as they were both undergoing routine maintenance and repairs when the outbreak began.
Read: There's No Timeline Yet for When Hospital Ship Comfort Will Deploy to New York
Comfort and Mercy are by no means a silver bullet solution to the growing outbreak. In fact, they won't be handling anyone infected by the coronavirus, known as COVID-19, at all. Instead, the ships will treat other cases to take pressure off hospitals dealing with infected patients.
Using the Comfort and Mercy for Coronavirus Response
The sister ships are the third-largest vessels in the Navy, surpassed only by Nimitz-class and Ford-class aircraft carriers.
Mercy began her life as a San Clemente-class oil tanker called SS Worth and was converted to a hospital ship in the mid-1980s. The Comfort is also a converted oil tanker, once known as the SS Rose City.
Both Comfort and Mercy are essentially floating hospitals, each with a 1,000-bed capacity and complete with anything you'd find in a normal hospital, including blood banks, morgues and oxygen-production plants.
The ships are designed to specialize in trauma cases, given their mission is to treat wounded troops. They are not designed to handle an infectious disease outbreak for many reasons. The ships have no way of isolating infectious patients; that's why they will deploy to support only non-COVID-19 cases.
Further complicating their support of the outbreak, some of the patient beds aboard are actually stacked atop one another.The berthing beds for the crew are stacked three deep, and the ship uses metal handrails -- on which coronavirus can survive for hours. Some question whether the ships should be used at all.
It wouldn't be the first time a hospital ship was less than helpful. Witnesses say the Mercy actually hit the USS Arizona Memorial in Pearl Harbor while sailing "dangerously close" to it.
Deploying the Comfort and Mercy
What is unique about the two ships are the laws surrounding their status as non-combatants. They do carry weapons, but only defensive armaments, and they can't transport members of the Navy who hold combat specialties, such as naval aviators, special operations troops or submarine or surface warfare officers.
Marine Corps personnel are also not stationed aboard the ships. As a result, they're most often crewed by civilians from the Military Sealift Command. Firing on the Comfort or the Mercy would be a war crime under the Geneva Conventions.
The ships are in a reduced operating status in their home ports. Fewer than 75 crewmembers are aboard while the Mercy is at home in San Diego and the Comfort is docked at Naval Station Norfolk, Virginia.
Once activated, the ships are usually ready to be underway within five days, taking on a crew of about 60 civilian mariners and more than 1,200 military medical personnel.
The biggest problem with staffing the hospital crews during the coronavirus response is that many of them are civilian reservists, and activating those specialties would remove them from the civilian population.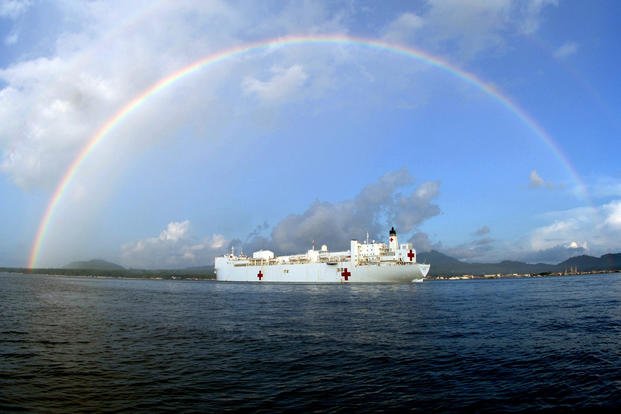 Past Uses of the Comfort and Mercy
Both Comfort and Mercy have seen their share of action. They both deployed in support of Operations Desert Shield and Desert Storm.
Mercy, which operates primarily in the Pacific, deploys routinely for training exercises and in response to humanitarian disasters. Comfort historically sees a lot more action. It was deployed to support Operation Uphold Democracy, a U.S. military intervention in Haiti in 1992, and later supported the U.S.-led invasion of Iraq in 2003. Comfort also supports training and humanitarian exercises.
This will not be the first time the ships have deployed inside the United States. Comfort responded to the 9/11 attacks, deploying to New York City to assist hospitals there. It also sailed for New Orleans in the aftermath of Hurricane Katrina and to Puerto Rico following Hurricane Maria.
-- Blake Stilwell can be reached at blake.stilwell@military.com.
Want to Learn More About Military Life?
Whether you're thinking of joining the military, looking for post-military careers or keeping up with military life and benefits, Military.com has you covered. Subscribe to Military.com to have military news, updates and resources delivered directly to your inbox.