Rodeo rider, ranch hand, Navy SEAL and author of "American Sniper: The Autobiography of the Most Lethal Sniper in U.S. Military History," Chris Kyle is one of the most celebrated American veterans.
When he joined the service, he didn't want a standard military career. That's what attracted him to the SEAL teams. He almost didn't make it, however. As a young bronco rider, Kyle was injured during a ride and had to have pins set into his arm. But after joining the Navy in 1999, he was invited to attend Basic Underwater Demolition/SEAL school (BUDS) anyway.
It was his first step to becoming "The Legend."
Kyle's legacy has only grown in stature since his death in 2013. At times controversial, at other times disputed, what is clear about the deadliest sniper in American military history is that he earned that legacy.
Iraq War Service
Kyle served four tours in Iraq, participating in every major American campaign there -- the 2003 invasion, Fallujah in 2004, Ramadi in 2006 and Sadr City in 2008. He wasn't always watching over Marines and SEALs like an avenging angel. Stories abound about Kyle going house-to-house on the streets with Marines, whom he dubbed "my boys."
Those house raids are how he earned the "Legend" nickname, which started out as a joke among his fellow SEALs. With each deployment, Kyle became more and more aggressive, and the stories about his valor grew. He rescued Marines, covered fellow Team Guys under heavy contact and, of course, provided overwatch.
Read: Two Chris Kyle Stories You Won't See in 'American Sniper'
He eventually earned a new nickname, this time from the enemy: "The Devil of Ramadi." And the price they put on his head increased from $20,000 to $80,000. By the time he left the military, he had been shot twice and survived six improvised explosive devices. He would also earn a Silver Star and four Bronze Stars with "V" device for valor.
Medal Count Controversy and Inflated Numbers
In the years since his death, Kyle has been accused of inflating the number of medals he earned, noting in his book, "American Sniper," that he had two Silver Stars and five Bronze Stars with "V" devices. Kyle wrote these numbers in his book, because that's what was on his DD-214, the form every service member receives when they leave the military.
Three years after his death, a Navy investigation concluded that Kyle's issued DD-214 form had clerical errors that miscounted the number of medals. The Navy clarified that he received one Silver Star and four Bronze Stars.
Kyle's original, incorrect DD-214 also failed to note his Navy Expert Rifle Medal.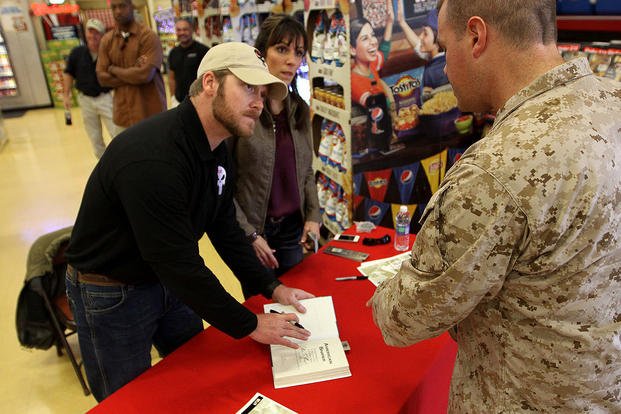 As for his confirmed kill count, he wrote in his book that the number seemed to change all the time. He notes 160 kills, a number consistent with the Navy's own findings. He claimed to have killed upward of 255 people. To be a "confirmed" kill, it has to take place where U.S. troops were present and a body could be recovered.
The U.S. Special Operations Command will tell you it doesn't keep an official tally of "confirmed" kills, but rather tracks what is reported by SEALs and other operators in official after-action reports.
The Jesse Ventura Lawsuit
In "American Sniper," Kyle claimed to have punched out a former Navy SEAL he described as "a celebrity I'll call 'Scruff Face'" during a wake for fallen SEAL Michael Monsoor. Monsoor died throwing himself onto a grenade in Iraq. Back in California, the SEALs came together at a bar called McP's to remember him and hang out with "a few of the older SEALs and [Underwater Demolition Team] members."
Kyle claimed Scruff Face told the current SEALs they "deserved to lose a few" fellow SEALs and was openly criticizing the Iraq War. Kyle then claims the former SEAL moved to belt him, so he "laid out" Scruff Face. Which wasn't a problem until Kyle revealed on a January 2012 "Opie and Anthony" radio show that "Scruff Face" was really Jesse Ventura. He would repeat the claim on "The O'Reilly Factor."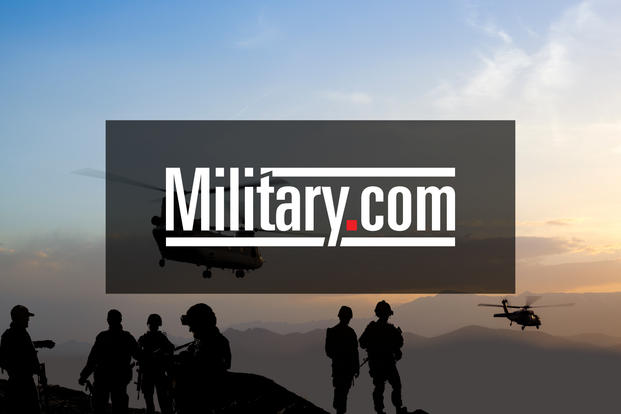 The former Minnesota governor and professional wrestler is a former Navy SEAL. Ventura sued later that same month, claiming defamation, among other charges. After Kyle was killed, Ventura carried on the lawsuit with the Kyle estate. He eventually won and was awarded $500,000 for defamation and $1.3 million for "unjust enrichment" -- making money at Ventura's expense.
The $1.3 million award was eventually tossed out, and the $500,000 award was sent back to trial. Kyle's estate settled with Ventura in 2017 for an undisclosed sum.
Those Other Claims
Decking Ventura isn't the only doubtful assertion Kyle ever made. He also claimed to have been sent to take out looters in New Orleans in the aftermath of Hurricane Katrina, saying he shot 30 or so armed assailants.
He also claimed to have shot and killed two would-be carjackers who tried to steal his truck at a Texas gas station in 2009. He said the whole thing was caught on security cameras and there were police reports to corroborate the story. No one has ever actually seen either.
Both stories would be difficult to prove, and no evidence exists to support either claim, except for the man himself. Why would someone with the badass bona fides of a person like Chris Kyle need to embellish his legacy by fabricating stories? Only Kyle could tell us. But you can't look up the history of the man and not find these claims in your Google search.
Death and Funeral
What is definitely true about Kyle is that he cared deeply about fellow veterans. He would routinely take troubled vets out to shooting ranges. One of those troubled vets was former Marine Eddie Ray Routh.
Kyle and his friend Chad Littlefield took Routh to the Rough Creek Ranch-Lodge-Resort, a shooting range Kyle helped design, on Feb. 2, 2013. While there, Routh shot Kyle six times and Littlefield seven times, both with guns owned by Kyle. The two bodies were later found by resort staffers.
Routh later claimed to have "traded his soul for the truck," a statement that led at least one psychologist to believe he may have been experiencing paranoid delusions. Afterward, he drove home in Kyle's truck and told his sister what happened. She called the police.
Routh, who was schizophrenic and had spent time in mental institutions, was later convicted on both counts of capital murder and sentenced to life in prison without parole.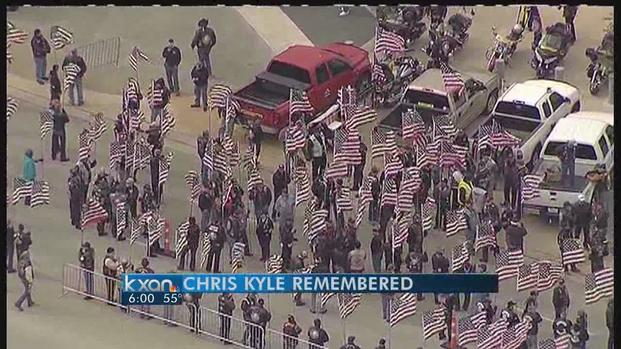 Some 7,000 people attended Kyle's memorial service, so many that the event had to be held at AT&T Stadium in Dallas to accommodate all of the attendees.
Kyle was buried in Austin's Texas State Cemetery, "The Arlington of Texas," where many other famous Texans are also interred. His funeral procession drove 200 miles from his hometown of Midlothian, Texas, to Austin. Hundreds of Texans lined the roadway of Interstate 35 to pay their respects to the fallen SEAL.
-- Blake Stilwell can be reached at blake.stilwell@military.com.
Want to Learn More About Military Life?
Whether you're thinking of joining the military, looking for post-military careers or keeping up with military life and benefits, Military.com has you covered. Subscribe to Military.com to have military news, updates and resources delivered directly to your inbox.