To a group of Taliban fighters, the only thing that could be more frightening than American F-16 Fighting Falcons coming at them would probably be a squadron of F-16s doing a delta burst before dropping a JDAM on them.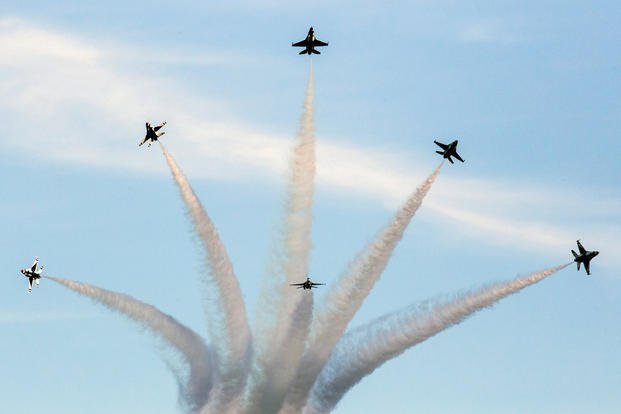 .
The U.S. Air Force Air Demonstration Squadron, also known as the "Thunderbirds," probably isn't going to provide close-air support against enemy troops in Afghanistan the same way it would wow an audience in Abilene, Texas, but it could if it wanted to.
The Thunderbirds were formed to show off the skill of Air Force pilots while demonstrating the capabilities of the F-16. For the service, the team is not just a morale-booster, it's a recruiting asset. For civilian communities, it's a reminder of just how good their Air Force really is.
But like all service members, the airmen who run the squadron, maintain the planes and fly them in demonstrations joined the military for one purpose: to support and defend the Constitution of the United States. Those planes? Those are weapons of war, designed to stop the enemy in its tracks.
So while the Air Force would have to be in deep trouble to call the Thunderbirds to the front lines, the Demonstration Squadron is more than capable of bringing the pain to anyone asking for it. The squadron's F-16s are only slightly modified for air demos and can be made combat ready within 72 hours.
According to the Air Force, the Thunderbirds' F-16s still have all the capabilities of any other combat-ready fighter. The real differences are subtle. An F-16 going to fight a war would probably not be painted bright white. And while in demo mode, the aircraft's 20mm cannon is replaced by a smoke generator.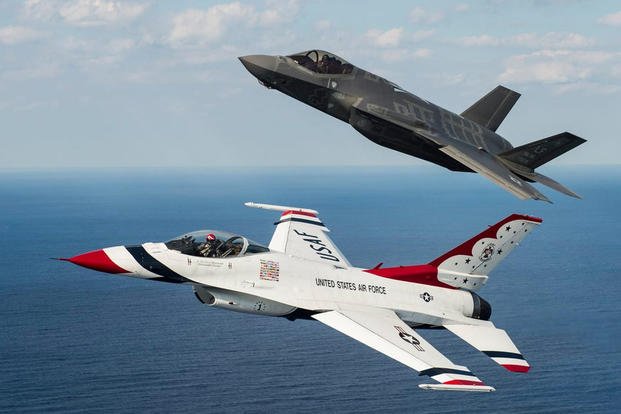 Since 1953, the Thunderbirds have been the Air Force demonstration team, first flying the Korean War-era F-84, then moving on to the first supersonic fighter, the F-100 Super Sabre in 1956. The team briefly flew the F-105 Thunderchief in 1964, but quickly switched back to F-100s. Next came the F-4E Phantom, the T-38 trainer and, finally in 1983, they hopped into the cockpits of the F-16.
The demonstration team has performed all over the world, in the capitals of allies and rivals alike. The show is a gentle reminder of the skill of American airpower. And while the smoke and music may be fun, it takes only three days to put the fight back in the Falcon.
-- Blake Stilwell can be reached at blake.stilwell@military.com. He can also be found on Twitter @blakestilwell or on Facebook.
Want to Learn More About Military Life?
Whether you're thinking of joining the military, looking for post-military careers or keeping up with military life and benefits, Military.com has you covered. Subscribe to Military.com to have military news, updates and resources delivered directly to your inbox.