LAS VEGAS -- While most gunmakers strive to improve on the AR design, Brownells Inc. is turning out new replicas honoring Eugene M. Stoner's original design that led to the AR-15.
At SHOT Show 2019's range day on Monday, Brownells showed off its newest Retro Rifle, which is based off "AR-15 Prototype Serial Number 1 as adapted from Gene Stoner's AR-10," company spokesman Roy Hill told Military.com.
The BRN Proto Retro Rifle, chambered for .223/5.56mm, comes out a year after the company unveiled its BRN-10 in .308, which was based on the original AR-10, he said.
"We had lots of questions of, 'Why don't you guys do an early style AR-15 prototype,' " Hill said.
Like the original, the BRN Proto features the trigger-style charging handle located inside the carrying handle. It also has the taller, early-design A-frame front sight and the three-prong flash hider.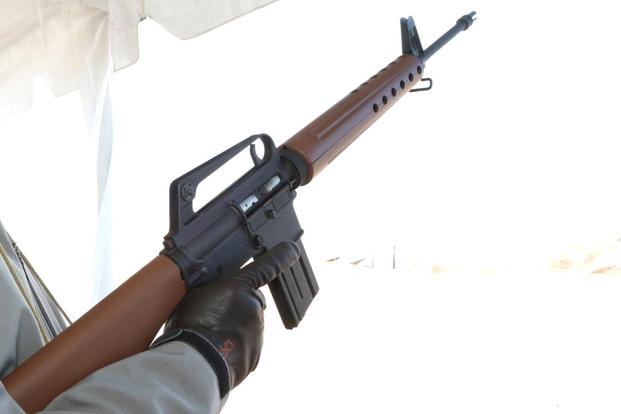 "Another thing that we are kind of excited about is, just like AR-15 Serial Number 1, the first one had a straight, 25-round magazine. So every one of these rifles will ship with, exclusive to us, a straight 25-round magazine," Hill said.
The BRN Proto uses the same brown handguard with heat shield used on the BRN-10, with matching brown pistol grip and buttstock.
It looks very different from the first M16s and M16A1s used by the U.S. military, but it feels and shoots just like those iconic black rifles.
It will be available to ship by the second week of February and will retail for about $1,500, Hill said.
Brownells also unveiled its take on another throwback rifle that was popular on the civilian market in the 1970s and early 1980s, the AR-180.
"We figured we could take the old AR-180 and sort of combine the old with the new," Hill said.
The BRN-180, chambered in .223/5.56mm, is a "complete upper assembly that -- unlike the original AR-180 -- this one is designed to be absolutely compatible with any standard AR-15 lower receiver," he said.
"It has the good features of the original AR=180, such as the short-stroke piston that you see on several modern designs today," Hill added. "It's got the reciprocating charging handle ... and the recoil system is just two rods and the springs contained in the upper, so that means you can very easily install a folding stock and it can be fired with the stock folded."
The new features include a free-floating M-LOK handguard and a barrel with 1:8 twist rifling for modern bullets, he said.
The BRN-180 will retail for about $800 and will be available by the end of this month, Hill said.
-- Matthew Cox can be reached at matthew.cox@military.com.