Military.com recently got the chance to get our hands on -- and taste -- the U.S. military's new Meals, Ready to Eat pepperoni pizza entrée.
The Defense Department's Combat Feeding Directorate unveiled this latest delicacy on the MRE menu earlier this year and was kind enough to send us a few of the pocket-sized pizzas.
We've been told these new pizzas are supposed to taste like pizza left over from the night before, so we decided to do a blind taste test with three frozen pizzas available at the grocery store.
To be clear, this was an extremely unscientific test. We just wanted to see how the MRE pizza compared to brands that you can find in the freezer aisle. For our test, we settled on personal-sized pizzas made by Celeste, Totino's and Screamin' Sicilian Pizza Co.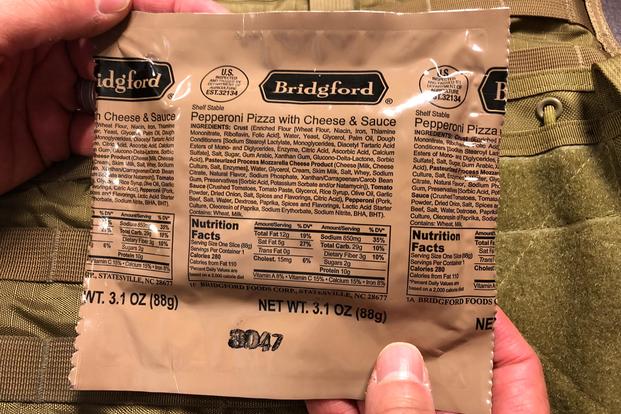 It may have been a mistake to heat the MRE pizza in the microwave, like the other pizzas, because it was pretty easy to pick out when compared to the three frozen brands. The microwave seemed to dry out the crust on the MRE pizza to where it was noticeably drier than the other brands.
Matt's Review
The MRE pizza can be heated in the MRE Flameless Ration Heater, but officials from the Combat Feeding Directorate said the idea is for troops to eat it straight out of the package.
We didn't have an MRE heater, so I tried it unheated and it definitely tasted better without heating it in the microwave.
The crust on the MRE pizza is much more bready than the frozen brands. It's just a little denser -- similar to the MRE wheat snack bread. The sauce tastes pretty much like processed pizza sauce, but there isn't much of it. It may be that less sauce is included to make it less messy for troops trying to eat it on the go.
The pepperoni is on the drier side, but tastes pretty good. The cheese is high-heat tolerant mozzarella, so don't expect it to taste like fresh mozzarella.
When the ingredients are all blended together, it tastes like pizza. Given the choice between MRE pizza and a slice of my favorite takeout, I'll take the takeout every time. But if you're living in the field and you're tired and hungry, I think it would taste pretty good.
On a parting note, I am surprised at how small the MRE pizza entrée is and that it contains only 280 calories. The full pizza MRE also includes cheddar and jalapeno cheese spread, Italian breadsticks, cookies, cherry-blueberry cobbler and a chocolate protein drink powder, so it may not matter.
Hope's Review
I've never served in the military, but once during an Afghanistan embed in 2014, I had a pepperoni sandwich out of a First Strike Ration, and it was pretty tasty. So I was optimistic when we got our hands on the new pizza MRE.
For an MRE entrée, it is pretty small. Anyone who has seen a soldier or Marine tear into a large pepperoni pizza from Domino's could envision troops putting three of the pizza portions away in a sitting without breaking a sweat. For that reason, the accompanying items, including jalapeno cheese spread and berry cobbler, will go a long way to round out the meal.
But here's what I noticed an hour after sampling a few bites of the pizza: The bready base continues to expand in your stomach the longer it sits with you. Once that sense of fullness sets in, you'll be ready for the all-too-familiar post-pizza naptime.
As Matt said, I definitely goofed when I microwaved the pizza for our first round of sampling. While the pepperoni eventually began to sizzle, the cheese resolutely didn't melt, and the crust, already fairly thick, got denser and drier.
Fresh out of the package, the way it was meant to be enjoyed, the pizza is pleasantly reminiscent of, well, pizza. The sauce and the pepperoni are almost indistinguishable in flavor, but work together to create that familiar sweet-heat combo that makes you think of frozen pizza rolls or other snack versions of this favorite.
While the cheese is not likely to get gooey no matter how diligently you apply your flameless heater, it does pack an enhanced flavor punch that helps sell the whole pizza experience.
Sure, nobody is going to reach for a package of this pizza at home while watching a football game, but that was never the point. For those pizza devotees looking for a slice of home in the field or downrange, this new offering may be just the ticket.
No word yet on whether additional toppings and flavors may be fielded down the road -- meat lover's or Hawaiian, anyone?
Stay tuned at Military.com for videos of our MRE-frozen pizza taste test and more!
-- With our thanks to the Combat Feeding Directorate for making this taste test possible.
-- Matthew Cox can be reached at matthew.cox@military.com.
-- Hope Hodge Seck can be reached at hope.seck@military.com. Follow her on Twitter at @HopeSeck.