If you're looking for energy bars to take on a hike or snack on after a workout, the array of available options is daunting; there's seemingly a bar for every taste and activity imaginable.
But in 2010, on a humanitarian deployment to Mozambique with his Marine Corps Reserve unit, Matt DeMaio realized what he really wanted: a bar that would deliver the same kind of nutritional punch as a meal, ready-to-eat, in a convenient grab-and-go format.
"When your op tempo's high, you're not always going to be eating an MRE," DeMaio, who left the Marines as a sergeant, told Military.com. "Because I still [conducted physical training], I wanted to make sure I was getting a good amount of protein and carbs. I wanted to see who was making something for us."
For DeMaio, now 32, that realization was a turning point. He returned home from the deployment and hit his kitchen, mixing up different energy bar recipes from scratch. His early home-cooked versions got positive reviews.
"I thought, this really good be something," he said.
Seven years later, DeMaio is about to mark the end of the second year for his company, Condition One. He's now providing energy bars to one NFL team and courting interest from other major-league sports teams. And he's on the crest, he says, of a wave of exciting new veteran-led business endeavors that are beginning to take off.
For DeMaio, the secret to standing out in the saturated energy bar market is in the freshness of his product. Soon after those early kitchen experiments, DeMaio reached out to a nutritionist who worked with Naval Special Warfare to optimize the diets of elite Navy SEALs for maximum performance.
He developed the recipes for his bars, which now come in four flavors, including chocolate coconut almond and pumpkin pecan spice.
Ready for production on a larger scale, he reached out to a manufacturer in Pittsburgh who was already making protein bars for other companies. But when DeMaio tasted what was coming off the production line in sample batches, he said he knew it wasn't going to work.
"In this big mechanized process, the entire dynamics of the bar changed," he said. "At the end of the day, my bar ended up tasting like everything else out there: dryer, chalky."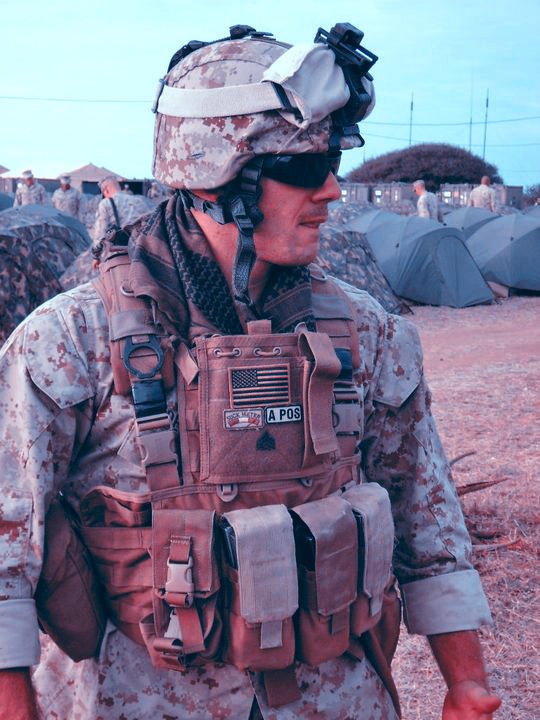 Matt DeMaio, a Marine corps veteran, is about to mark the end of the second year for his company, Condition One, which is now providing energy bars to one NFL team and courting interest from other major-league sports teams. (Courtesy photo)[/caption]
Alterations to extend the shelf life, he said, were taking a toll on his bar's quality. So he made a decision: he would manufacture his bars in small batches, as orders came in, to preserve freshness without any tradeoffs in taste and quality.
The bars are now made in Brooklyn, New York, using the order-bake-ship process. Word-of-mouth in the veteran community has helped to boost the brand's profile, as have strategic partnerships. Rudy Reyes, a former reconnaissance Marine-turned actor and model who became famous for playing himself in the Generation Kill miniseries, is an ambassador for the brand.
"It's always like, I'll run into a veteran and they'll say, 'man this is really cool, I know someone who can help you,'" DeMaio said.
In August, DeMaio said he received an email from a nutritionist for an NFL team asking for samples of his bar. While DeMaio declined to publicly name the team as the relationship is still new, he said he has now been supplying bars to the team for their whole season. A major league baseball team has also expressed interest, he said.
The company is now in the process of scaling in order to be able to produce and sell more. While Condition One currently sells 2,000 to 3,000 bars a month, the expansion will allow the company to produce 3,000 bars a day, maintaining the same bake-to-order strategy. DeMaio said he's also working to get the bars sold through Amazon.com.
"It's a big step, and I'm confident that once we get involved with Amazon, it's going to continue to snowball," he said.
For DeMaio, who served from 2004 to 2008 on active duty in the Marine Corps and then served another two years as a reservist, he's part of a swell of veteran entrepreneurs who are putting their military experience to good use. Risk management, problem-solving skills, creativity and innovation are all tools that a small unit leader in the military knows how to use, he said.
"There's definitely a movement going on," he said. "There are a lot of us doing our own thing that want to create."
He pointed to companies like the veteran-owned Black Rifle Coffee, named one of the top 25 veteran-owned startups in the country last year by Forbes, as an example of this movement. He's also proud of his own contribution to the successes of other veterans. He cited Marine veteran Thomas Karlick, who ate only Condition One energy bars while he ran the grueling 163-mile Trans-Pecos Ultra race last year. Karlick finished in first place with a time of 39 hours, 51 minutes.
DeMaio noted that all veterans have different reasons for starting companies.
"I think if I were to correlated one trait that ties the entire Veteran entrepreneur community together, it would be that we are a very action-oriented group of people and that is some we are taught to be as service members," he said.