Sig Sauer Inc., the New Hampshire-based subsidiary of the German-Swiss gun-maker, this week released a new product called the MCX Rattler short-barreled rifle.
The company made headlines this year when it was picked to develop the U.S. Army's new handgun and more recently when it issued voluntary upgrades to the P320 pistol -- upon which the service's Modular Handgun System (MHS) is based -- to better protect users from unintentional discharges.
Now, Sig is out with a new SBR to its MCX line: the Rattler.
"This gun was designed from the ground up to be as discrete as possible while retaining all the capabilities of the MCX," according to the company's website.
Sig recently demonstrated a full-auto version of the MCX Rattler, according to the National Rifle Association publication American Rifleman.
The semi-automatic Rattler comes in two versions -- PSB and SBR. Both feature a gas-piston operating system, 5-½-inch barrel, 300 Blk caliber round, AR-15 style magazine and free-floating hand guard. But the latter also features a thin, durable folding stock and retails for slightly more -- $2,727 vs. $2,719.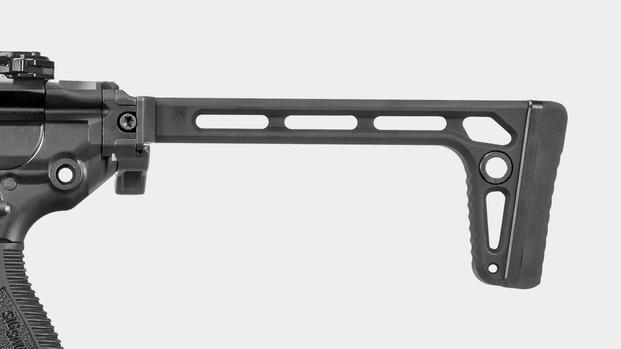 Sig Sauer's new MCX Rattler SBR featuring a folding stock (Sig Sauer photo)
Here are the specifications for each:
.tg {border-collapse:collapse;border-spacing:0;}.tg td{font-family:Arial, sans-serif;font-size:14px;padding:10px 5px;border-style:solid;border-width:1px;overflow:hidden;word-break:normal;}.tg th{font-family:Arial, sans-serif;font-size:14px;font-weight:normal;padding:10px 5px;border-style:solid;border-width:1px;overflow:hidden;word-break:normal;}.tg .tg-yzt1{background-color:#efefef;vertical-align:top}.tg .tg-9hbo{font-weight:bold;vertical-align:top} /*-->*/
| Specifications | MCX Rattler PSB | MCX Rattler SBR |
| --- | --- | --- |
| SKU: | PMCX-300B-5B-TAP-PSB | RMCX-300B-5B-TAP-SBR |
| MSRP: | $2,719 | $2,727 |
| Caliber: | 300 Blk | Same |
| Barrel Length: | 5.5 in (140 mm) | Same |
| Mags Included: | (1) 30rd Aluminum Mag | Same |
| Mag Type: | AR-15 | Same |
| Action Type: | Semi-Auto | Same |
| Stock Type: | Telescoping 3 Position Brace | Folding SBX |
| Barrel Material: | Carbon Steel | Same |
| Trigger Type: | SIG Enhanced | Same |
| Trigger Weight: | 5.5-9 lbs (24-40 N) | Same |
| Twist Rate: | 1:05 | Same |
| Overall Length: | 19.3 in (489 mm) | 23.5 in (597 mm) |
| Overall Width: | 2.8 in (71 mm) | Same |
| Height: | 8.0 in (203 mm) | Same |
| Threads: | N/A | Same |
| Accessory Rail: | M-LOK | Same |
| Operating System: | Gas Piston | Same |
| Weight: | 5.1 lbs (2.7 kg) | 5.7 lbs (24-40 N) |
And here are some more photos: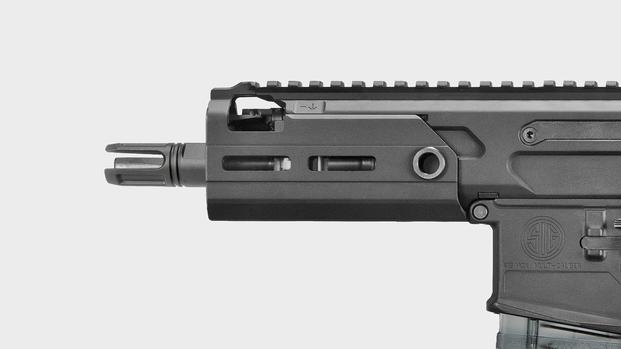 Sig's MCX Rattler features a 5-1/2-inch barrel (Sig Sauer photo)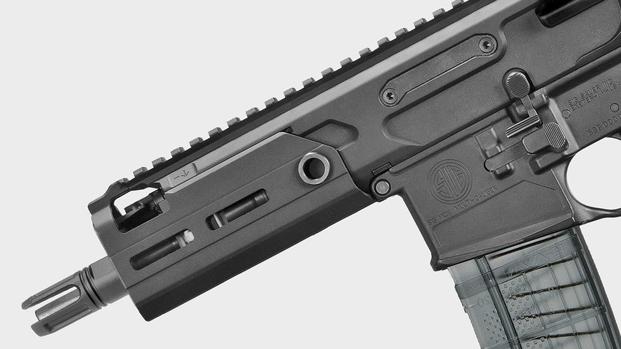 Sig's MCX Rattler includes a free-floating handguard (Sig Sauer photo)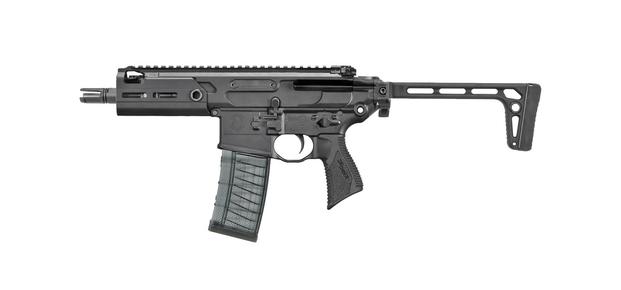 Sig's MCX Rattler SBR model features a folding stock (Sig Sauer photo)