Check out this infographic from the folks over at the online retailer TacticalGear.com comparing the Army's pick for its future service pistol, the Sig Sauer P320, to the service's current handgun, the Beretta M9.
It's a cheat-sheet that highlights many of the differences between the two pistols, including firing mechanism (stryker-fired vs. hammer-fired), capacity (17 or 21 rounds vs. 15 rounds) and frame type (polymer vs. steel), among other areas.
Of course, it's not exactly a fair comparison because the M9 dates to the Cold War while the P320 came out in 2014. A more accurate comparison -- at least for the purposes of analyzing the pistol choices before the Army in the Modular Handgun System, or MHS, program -- might have been using Beretta's M9A3, an upgraded version the company submitted to the service for the acquisition effort.
Also, the Sig used in the graphic is the commercial full-size model -- not the pistol the Army selected as the full-size MHS.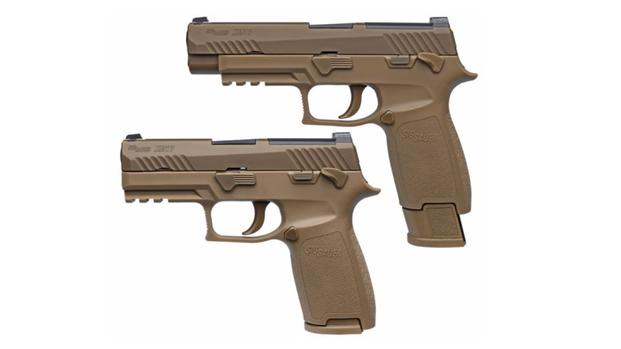 The Army's new Modular Handgun System is a version of Sig Sauers' P320 pistol. (Photo courtesy Sig Sauer)
As shown in the image above, the service's full-size version features a cut-back frame on the attachment rail, possibly for weight-savings, and a manual safety mounted on the frame. And it's worth noting that the service has not yet publicly released specific unit cost information, so take the cost references with a grain of salt.
Still, the side-by-side is noteworthy and highlights the evolution in small arms technology over the past few decades. The MHS program, meanwhile, continues despite a protest by Glock, which submitted its Glock 17 and Glock 19 models for consideration.
Check it out for yourself:
%embed1%