LAS VEGAS -- A new mounted machine gun sight by Trijicon that purports to take the guesswork out of sighting in on a target is now being tested by Marines and special operators and competing to meet an Army requirement.
The optic, designed for the Browning .50-caliber M2 machine gun and the M240 7.62 machine gun, is built to withstand the punishing vibration of rotary-wing aircraft and uses two different ranging dials and laser sights to help troops hit their target on the first attempt, eliminating collateral damage and wasted ammunition.
The sight was purpose-built in response to an Army request for information on a new mounted machine gun optic, which was first published in 2015. Logan Killam, project manager for reflex sights at Trijicon, told Military.com here at SHOT Show that accuracy with the most significant draw of the system.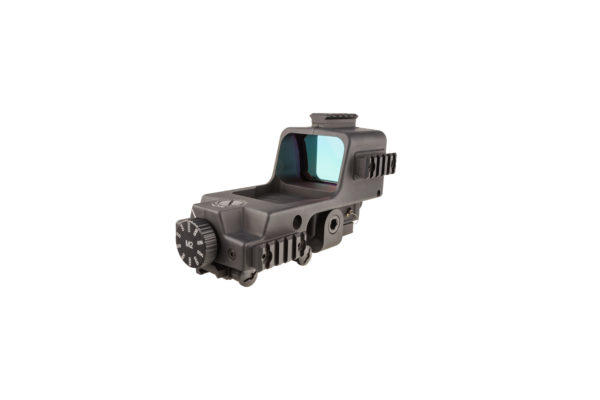 MGRS. Image via Trijicon.
"In the old days of deploying this with iron sights, the soldier or the shooter would walk in fire. So they would take the best estimate where the round was going to go, they would hold the trigger down and walk the ammo into the target," he said. "That causes a lot of problems, both logistically for supporting that rate of fire and also in collateral damage. So the Army has asked for an optic that would help their soldiers avoid that collateral damage, lessen the burden of having to field these machine guns, and that's the MGRS."
The optic, which retails for $5,000, includes seven brightness settings designed to meet shooters' needs from glaring daylight and snow conditions down to night vision. It's powered by a single CR123A lithium battery, which can last between 700 and 1,400 hours before needing replacement. The sight also includes a flip-down 3X magnifier and elevation and increment adjustments up to 100 minute-of-angle total travel, for firing accuracy.
"Typically when these systems are fielded, they fire tracer rounds. But tracer rounds burn out at 6-800 meters. This system allows for accurate fire beyond the range of tracers," Killam said. "You can see the vehicle-sized target out to 2,000 meters, you can accurately judge the target and engage it and see your impacts."
For the Army, Trijicon is expecting a competition downselect sometime in 2018. Meanwhile, other services are also testing out the optic. Trijicon staff said Coast Guard and Navy coastal riverine units have tried out MGRS, and field tests with Marine Corps Forces Special Operations Command units on the East Coast and West Coast are supposed to begin next month.
Killam said feedback from testing has been encouraging so far.
"We're finding that guys are no longer wasting that first 30-40 rounds of a string of ammunition before they hit their target," he said. "We're finding that first round out of the gun is on the target and that is with soldiers who are very very basic all the way up to expert gunners. Anyone can get behind this optic and make their weapon more lethal."