LAS VEGAS -- They look like sleek urban tools -- high end pens and flashlights -- but inside they contain much more.
Knife and tool maker SOG debuted its new line of baton multi-tools here at Shot Show. Each is about six inches long, the dimensions of the average ink marker, and each breaks open at the center to reveal high-quality tools and blades.
Bobby Derrick, a member of SOG's professional field staff, said the tools were ideal of men and women who might not be able to carry around bulky knives or multi-tools in their everyday work, but don't want to be without the capabilities.
"We're finding as the world is changing, people need this," he said. "We call this our urban set of tools."
The baton Q1, the slimmest of the line, features a pressurized "outer space" pen that will write in any conditions, Derrick said. Break it open, and it features a quality pair of scissors with sharp blades. Like the other tools in the line, the Q1 also features a pull-out bottle opener.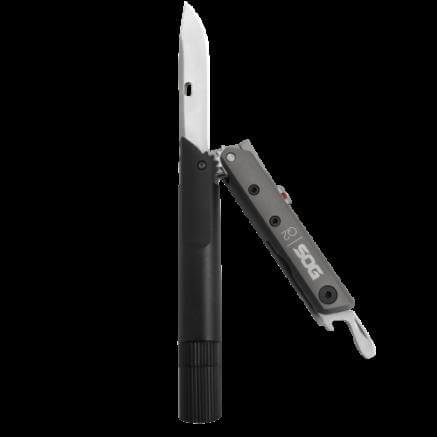 The Baton Q2. Image via SOG.
The Q2 masquerades as a fully-functioning 70-lumen flashlight while hiding a straight steel blade. The Q3's pocket-sized baton hides away an eight-feature multitool and a set of pliers, while the Q4 breaks open to reveal a hidden reversible screwdriver head that installs in the top of the baton via a magnet to turn the entire tool into a ratcheting screwdriver, plus four pull-out multi-tool blades. This tool also works with a separately sold accessory pack of head attachments.
The tools range in price from $54 to $120 and will go on sale in May, Derrick said. And while some might be attracted to the "James Bond" chic of an everyday item that hides a tactical tool, the batons
"I'm going to have one of these in my truck," he said. "It's perfect for that. It can do just about anything you might need, except jack up its wheel."