LAS VEGAS -- A new fabric by designer Honeywell aims to eliminate stitching and extra fabric on plate carriers for body armor, reducing the weight of the vest itself by 35 to 40 percent.
"In the last 25 years, we've had a series of improvements where we can achieve lighter weight for ballistic protection," Lori Wagner, armor marketing manager for Honeywell, told Military.com. "Well, you can get to a point where we continue to improve, and we're coming out with products that are 5 percent lighter or 10 percent lighter, and we're supporting our customers there. But when you look at a vest, there's a lot more than the insert for the vest. There's the carrier associated with it."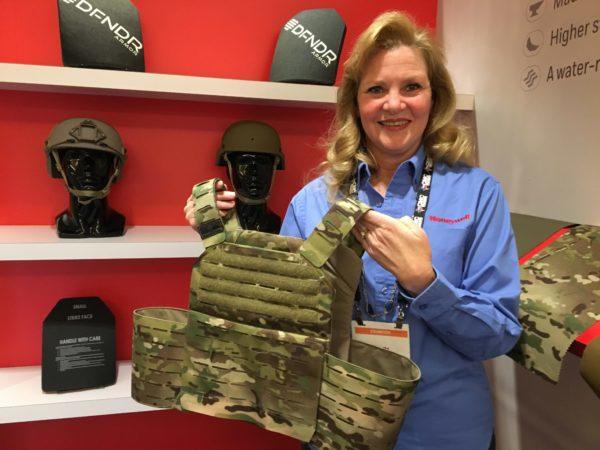 Lori Wagner of Honeywell displays an armored plate carrier made with the new Centurion fabric. Photo by Hope Hodge Seck
The trademarked fabric, Centurion, was unveiled here at SHOT Show as an alternative to modular lightweight load-carrying equipment [MOLLE] web designs that require sewn-on additions to the vests, adding weight and sometimes inhibiting movement. Rather, the fabric is designed to be laser-cut according to the user's needs with slits strong enough to hang and store gear without MOLLE attachments.
The tear-proof, waterproof and abrasion-resistant fabric is created with Spectra fiber, a polyethylene that the company claims is 15 times stronger than steel, pound for pound, yet light enough to float. Wagner said Centurion was designed with an overlayer of cordura nylon, enabling vests made out of the fabric to be died or colored to match any uniform or camouflage scheme.
Honeywell is marketing the fabric primarily to law enforcement agencies--the Army and the Marine Corps have other contracts for their plate carriers, with the Army set to receive new MOLLE-based body armor in 2019--but Wagner said the company is looking for military applications.
"The opportunity to lighten the load exists," she said. "So we will look at working with them as they develop their specifications ... so that the soldier can benefit from this type of innovative material as well as law enforcement."