LAS VEGAS -- Cabot Guns wowed at SHOT Show last year with a set of 1911 pistols carved from a single meteorite and retailing for a cool $4.5 million.
This year, the company's back with a new "wow" factor: a new 1911 with a grip and trigger hand-tooled from lead crystal. The gun was created through a year-long collaboration between Cabot and artist Brian Engel a military veteran, CEO Robert Bianchin told Military.com.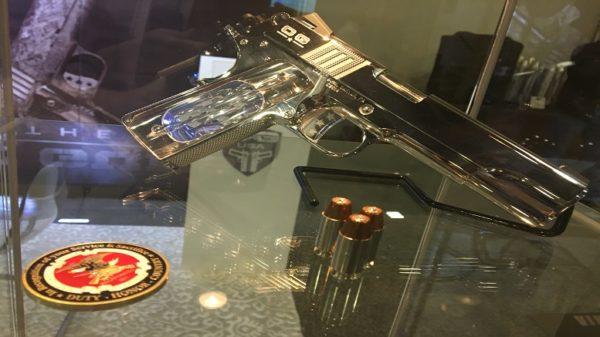 Photo by Hope Hodge Seck
"It's really a work of glass art, it just happens to embody a gun," Bianchin said.
The body of the gun is cut from a single block of stainless steel, according to a release. And the price tag is much more affordable: $3,999. It comes with a case designed by Engel out of blue lead crystal inscribed with instructions: "In case of emergency, break glass."
Still, Bianchin admitted, last year's meteorite was pretty tough to top.