LAS VEGAS -- A tiny bluetooth gun attachment can turn your cell phone or tablet into a real-time shooting trainer--even if you're just dry-firing from your couch.
Made by Illinois-based company Mantis, the MantisX is a training tool that fits on any weapon with a rail. Paired with a free iOS or Android-compatible app, the system can track shooters' movements as they aim and pull the trigger, show their accuracy rates and patterns, and even diagnose technique problems and explain how to fix them.
"It's the most portable system out there. It's the only system that works anywhere you shoot," Adam Allgaier, co-founder of Mantis, told Military.com here at SHOT Show.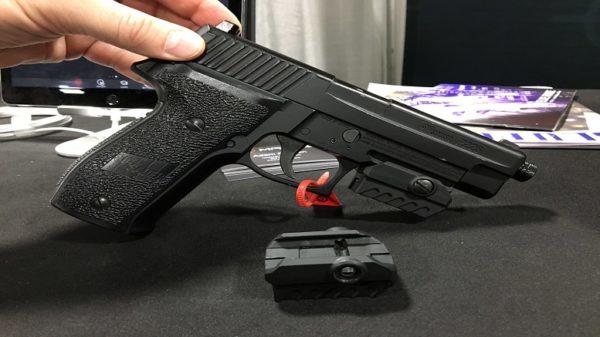 The MantisX fits on any gun with a rail. Photo by Hope Hodge Seck
At the range, the device can compile data in real time as users shoot and provide summary reports, accuracy rates, and even information on response to recoil and follow-through. During dry-fire training, it offers feedback on targeting and accuracy, even without bullets.
"It makes dry-fire practice meaningful," Allgaier said. "Suddenly you have something that's recording it and giving you feedback and coaching you on how to improve your trigger pull, and all of that stuff."
The MantisX is powered by a battery that can last eight to nine hours and charges with an included mini-USB cable. It's available for $149--a price point that the company hopes will make it accessible to every shooter who wants to improve technique.
"Our vision is, everyone who has a gun needs a Mantis," Allgaier said. "So we priced it so that everyone should and good have a Mantis."