LAS VEGAS -- Some 13 months after Oklahoma-based Hailey Ordnance introduced its innovative Adjustable Gas Integrated Suppressor (AeGIS) system, the company is back with a new development: a conversion system that works with AR-15s converted to fire .22 ammunition.
The new product features the same barrel system and adjustment valve that allows users to control escaping gas and the velocity of ammunition, easily reducing it from supersonic to subsonic range.
"Everyone's starting to put these .22 conversions into the ARs, so we said, let's go ahead and do this," CJ Hunter, machinist for Hailey Ordnance, told Military.com. "We're working our way up into typical AR platforms as well--5.56, .30-cals."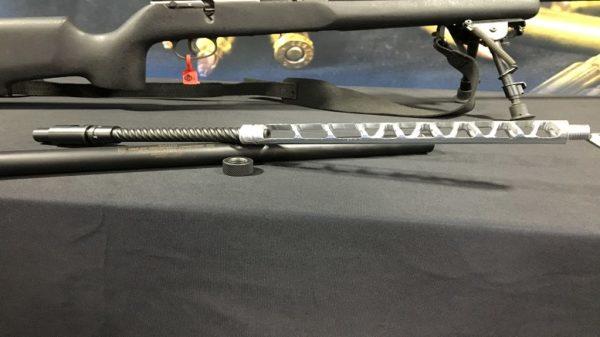 Hailey Ordnance's AeGIS suppressor system on display at SHOT Show.
Here at SHOT Show, the company also unveiled sniper barrel system designed for Aguila Ammunition's 60 grain .22 subsonic sniper round.
The design, which includes a Lothar Walther stainless steel barrel, serialized exterior sleeve, and adjustment valve and tension nut is designed for ease of use. And it also works really well, Hunter said.
"Hammer drop without a round is 111 decibels," Hunter said. "With a round in it, you may pick up 3 decibels at most. I've yet to get anything louder than that as a register."
The system retails for $550 to $700, Hunter said, with the option for users to upgrade to a titanium sleeve if desired.
In a news release ahead of the new AeGIS suppressors' debut at SHOT Show, Hailey Ordnance research and development head Matt Wilkes said the items were a response to consumer demand.
"Ever since we launched the AeGIS for the 10/22 platform, we have received numerous requests to develop versions of the system for use on converted, rimfire AR-15's, bolt-action's, and to properly stabilize specialty ammo like Aguila's 60 grain round. We were able to answer the call for all of these iterations," he said.