The U.S. Army has patented and plans to field a new groin protector to better shield soldiers from genital injuries, the service announced.
The harness, developed by engineers and designers at the Army Natick Soldier Research, Development and Engineering Center in Natick, Massachusetts, is designed to be worn outside the pants and shields the groin and femoral artery from blast fragmentation, according to a recent news release.
The Defense Department's Trauma Registry reported that between 2001 and 2013 while serving in Iraq and Afghanistan, 1,378 male service members incurred injuries to the genitals and other parts of the genitourinary tract.
Of 965 cases examined, 65 had severe injury to the penis or amputation, Dr. Jean Orman of the U.S. Army Institute of Surgical Research and the Joint Trauma System reported in December 2014 at the Bob Woodruff Foundation.
"The protection that existed before was letting debris in because it wasn't fitted close enough to the body," Cara Tuttle, a clothing designer and design lead at the center, said in the release. "Soldiers weren't wearing it often enough, and it didn't come down inside of the leg to protect the femoral artery."
The Army researchers settled on a design that features overlapping layers of Kevlar, a tough synthetic plastic fiber designed to stop bullets and knives, and used in the production of a variety of protective gear, from flak jackets to helmets, according to the release.
Kristine Isherwood, who leads the project, acknowledged team members were challenged to improve a soldier's coverage without crimping his or her ability to move. "Whether you had to climb in a window or kneel, [the harness] needed to stay in place, but also allow full range of motion," she said in the release. "The uniqueness of this design is that it's stable but moves with you."
The release didn't specify when the Army plans to begin field the groin protector.
Troops are expected to begin receiving them toward the end of fiscal 2017, which ends Sept. 30, according to an article by Meghann Myers, a reporter for Army Times newspaper.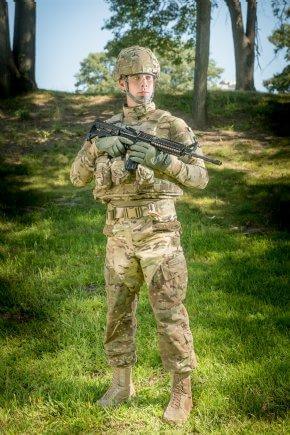 The harness is worn outside the pants and hugs the body without hindering movement. (U.S. Army photo/David Kamm)