A British camping tent maker has added solar power to his line of pop-up tents.
Cinch Tent makes two-, three-, and four-person tents that set up pretty quickly – pull one from its circular carrying bag, toss it to the ground and then open it up, much as you would any pop-up tent.
But company founder Jake Johnson has added to the tent roof a solar panel with a battery pack and a lead wire running into the tent's interior. The system allows you to charge cell phones or other electronic devices. With the battery pack fully charged – also via the solar panel – you've got the ability to recharge devices at night, as well.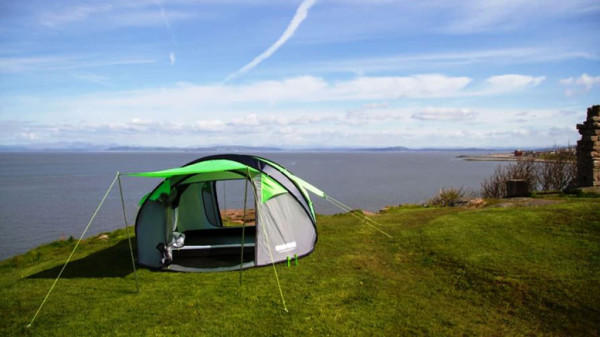 Cinch Tent has added to its line of camping tents a solar panel package, making it possible to keep cellphones and other devices charged.
Johnson says in one of several videos on the company website that he designed his pop-ups with convenience and comfort in mind. That means space to move around in as well as the solar kit.
Given the Cinch Tent's oversized carrying bag – not to mention its lime-green and metallic gray color scheme – it is obviously not designed for combat operations. But when the point is just to camp and relax, then it probably meets that mission requirement.
The two-person tent costs $194. The three-person tent goes for $220 and the three-person for $245. The solar kit is sold separately and costs $119. The kit includes a 7-watt solar panel, extended data wires, a waterproof junction box, a 4,000mAh storage battery and a cable lock for securing the panel to the tent roof.