Brownells, a 75-year-old maker and supplier of firearm tools and parts, has rolled out a pocket-sized tool set for making repairs or adjustments to weapons in the field.
The Iowa company calls it the MultiTasker Twist. The kit itself looks like a pen, complete with clip -- which doubles as a light-duty slotted screwdriver -- to secure it in a pocket.
It includes a 1/4-inch hex driver socket and 10 bits: 3/16" & 3/32" slotted, No. 1 Phillips, T10 and 15 Torx, and 3/16", 9/64", 1/8", 7/64" and 3/32" hex. The bits are stored in a rubber carrier strip that's also included.
In addition the set includes a 3/32" pin punch, radial carbon scraper, heavy-duty brass dental pick, an Aimpoint red dot sight turret adjuster, M16A2-style front site post adjustment tool.
Brownells says the product is built to last, with a housing of machined 6061 T6 aluminum with a Type III military-style hardcoat anodized finish. The set costs $49.99.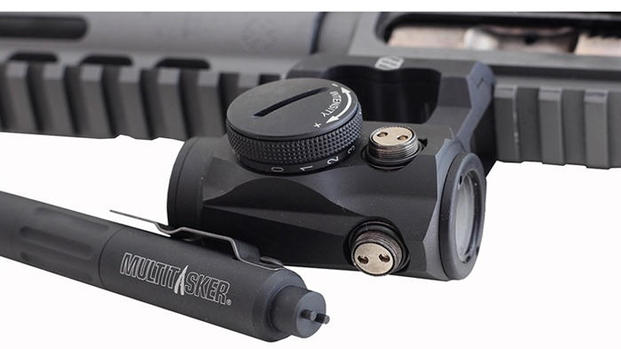 (Photo courtesy Brownells)