Story Of My Knife: This is my KA-BAR, there are many like it but this one is mine!
Mad Duo Nate
On the heels of last week's article discussing the KA-BAR Company's 115 year anniversary and inspired by many of your posts, I figured I'd share my own unique KA-BAR story. The allure of their fighting knife started during the Second World War, and exists to this day. It is universally recognized as a symbol of the United States Marine Corps, but it has been carried by all branches in literally every war since WW2.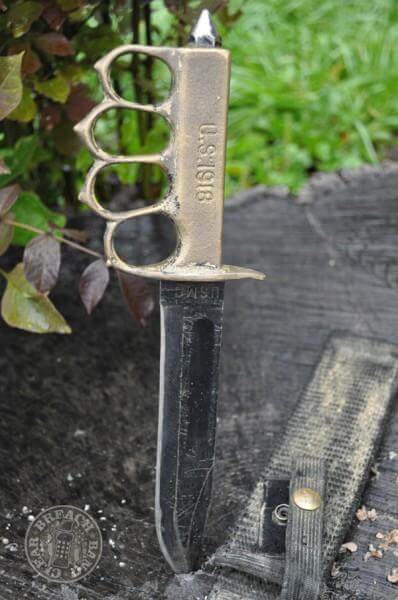 I've owned several over the years, including one of the originals carried by a young Marine in the Pacific.  I purchased the blade from the devil dog's widow at a yard sale in Oceanside, CA. When I asked her why she wouldn't like to keep it as a memory of husband's service, her answer was blunt. She said that she had plenty of things around to remind her of him, and frankly the big combat knife had always scared her. Well worn, with a few small nicks in the blade, the knife had obviously seen use.  I asked if he had used it much after the war, and she said that his KA-BAR went into a box along with his uniform and war souvenirs, which it had remained in till this day. It was a proud and eerie purchase.
My own KA-BAR was given to me as a birthday present by my grandfather at the age of 15. At the time, I wasn't really considering military service. He told me not to throw it, or pry with the tip. Apparently he had broken a few during the island hopping campaign that way. Brand new, I was in awe of its balance and size. I used it camping and as a utility knife until I joined the Corps. After boot camp it became a real fighting knife.  I modified the blade by adding a WW1 trench knife handle to it, replacing the classic stacked leather for a pound of brass. After hand threading the tang and setting the blade into the brass knuckles, the KA-BAR was the talk of my platoon.
During the early years of Iraq, My KA-BAR killed unknown numbers of MREs, and it was replaced with a smaller, more practical knife. I never killed a man with the vicious looking blade but if it would have been needed in such a role, I have confidence it would have been more than up to the task. It served me well in all the other roles a knife plays in combat. To this day, hanging on my wall, it's still a conversation starter.  That's the Story Of My Knife; we'd like to see yours! Send us a picture and a brief write up at breachbangclear(at)gmail.com, and share your part of the legacy of this historic blade.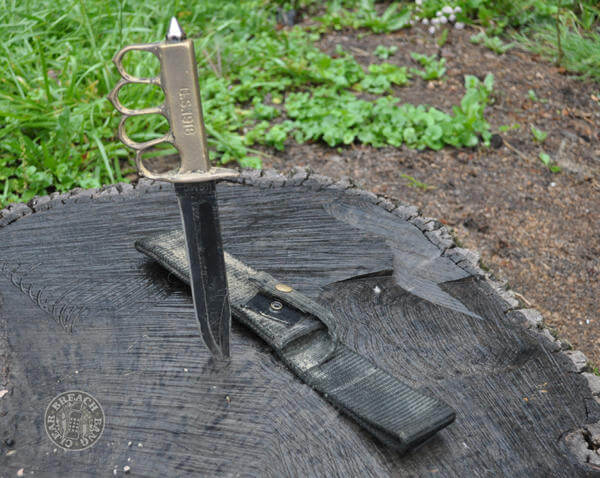 First contribution, from M.B. Libman:
Guys, I should be working but this is an issue that means something to me. And it's a lot more fun than work...
As a Boy Scout, I used my Dad's Ka-Bar, the USN Mk 2, on dozens of camping trips and along the Appalachian Trail. He had carried on Okinawa and later at Inchon as a young Marine. There really wasn't a lot of sentimentality attached to it- it was just a damned useful tool. More than anything else, the knife was great for chopping saplings as poles. I learned how to sharpen and care for a blade with it. I gutted my first deer with it.
Later, at The Basic School at Quantico, I picked up a newer Ka-Bar  (with no sense, in so many ways, as a new Lieutenant, of the saltiness of Pop's knife). You never saw anything else anyway. There was never a 'custom' blade in sight. I kept it in my aviator's survival vest throughout my active service. The little Camillus Survival Knife they issued had no heft to it and I had no confidence in it. The steel seemed too soft. I never had plans to slit a throat anyway. As the squadron's SERE Officer, I was more concerned about lean-tos, spears and field-dressing wild game. 'My' Ka-Bar was used to great effect on numerous survival exercises in deserts, jungles and forests.
I knew the tip of the blade was thinner and a potential weak point. If I needed to pry, I moved the pivot point down the blade. If I had to do something more delicate, the tip worked well- especially with a carefully sharpened top side. It never broke.
I got out and went to work for a federal 3-letter organization and spent over 27 years there. I ended up flying again although that wasn't the original plan. Remote terrain became a concern once more. Survival training and gear acquisition became one of my collateral duties. It was great. With a fairly generous budget, we equipped each of our aircraft with substantial survival kits. We refined those kits over the years but I always ended up placing a Ka-Bar into each kit in addition to a smaller knife. I replaced my old, leather-handled knife with one of the newer production blades. I like the new plastic sheath, too.
I retired and went to work flying, for a while, in a place described as "another planet's Hell." I started carrying a smaller, very stout, custom knife probably because there just weren't many trees. Aside from indoor plumbing, I missed my Ka-Bar and had it sent over. I really didn't care about 'contractor chic.'
I love to backpack, hunt and fish. I like knives. My Randall model 15 is a work of art yet exceptionally rugged. The old, little USN 'Diver's Knife' is remarkably useful. But after all these years, on any trip where the possibility of spending an unplanned night in the woods exists, I take my Ka-Bar.
Sincerely, MBL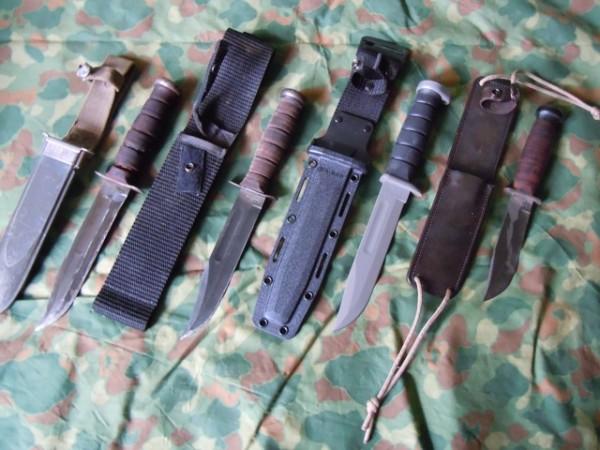 Second contribution: J. Johnstone
Army surplus stores had KA-BARS aplenty on their shelves after WW2 and Korea. As a young boy and teenager I bought three for personal use. I was a knife collector who enjoyed throwing knives's. Like anything else, the more you throw knives, the better you become at it. I must honestly admit I became very good at it and one of my favorite throwing knife's was the KA-BAR. One reason was it's balance and durability. The KA-BAR would eventually break, but stood up longer than other knives.
I could stand on the opposite side of a alley way and plant my KA-BAR in the center of a silhouette target from across the street. My knife would make two to three turns (depending on how I let it go) after leaving my hand. I could also take a playing card out of my buddies mouth, while he stood in front of a wooden fence, holding the playing card between his teeth. I would always be close when doing this,  at a one turn throw. I can't remember how many times I did this trick, but I do remember it was the last time he allowed me to do it. I layed my KA-BAR right against his lips. I practiced a lot with wooden crates and other objects.
I signed on to a DOD contract as a security officer in Vietnam during the war in March of  1966. I was pretty green and my main experience was while in the 82nd Airborne at Ft Bragg. Even so I had seasoned Korean Marines and various other 3rd world types under my charge. I was working the night shift at a huge supply depot in Tu Duc, on a  highway outside of Saigon. It was quite an adventure patrolling this high theft area at night. My assistant was one of these retired Korean Marines, a Takewando black belt. I could tell he didn't like this kid being in charge of him. He was the real deal and could break rocks with his fist on railroad tracks. I tried it and it only injured my hand.
One night we were on foot patrol together and walking through a warehouse of high value electrical items in crates. My Korean assistant did not know I carried my KA-BAR under my shirt. He asked me what I would do if I was attacked while on patrol? I in turn asked him where this attacker would be coming from, he pointed to a line of wooden boxes some distance from us.  I spun around and pulled out my KA-BAR--throwing it at a large crate. The KA-BAR buried its self through a one inch board and made this vibrating sound
I glanced at  my Korean assistant and he had the most surprised and startled look on his face. The next evening for the first time he brought me a cup of coffee. I know it sounds funny but when Kim finished his contract he came to my apartment for a beer  and presented me with a 33 & third album of Korean Marine marching music. It seemed like something special the way he handed it to me. In a real situation I don't think I would ever throw  my KA-BAR. I wish I would have known early on, that Kim would have been so impresssed with my abiity with my KA-BAR. A Korean Marine honors prowess with weapons.
J. J. Johnstone
Note: The weapons picture is taken in my apartment , on my bed in Saigon.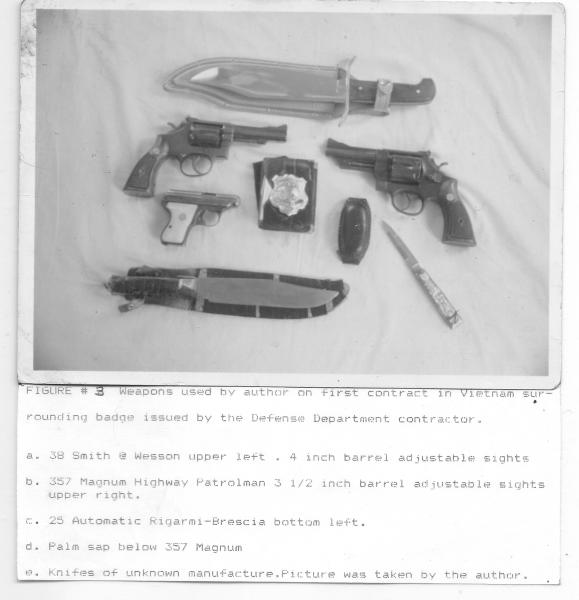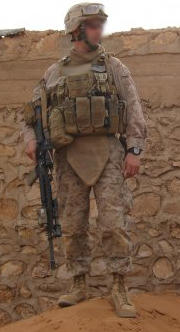 About the Author: Mad Duo Nate is a USMC Sergeant and graduate of the Camp Lejeune School for Wayward Boys. Formerly an Infantry Platoon Sergeant he is currently filling the billet of Scout Sniper team leader. He has many years of experience as a Lead Farmer spiral tube tech, is a fully qualified American Jedi and all around handsome badass. He has numerous deployments to the Middle East and Africa (combat and CFID), is something of an idiot savant when it comes to trigger-pulling and is probably best described as a Quixotic knuckle-dragger, tilting at Big Green windmills. He may very well have vestigial (grunts: vestigial) sociopath-philosopher tendencies. You can read more from him on Breach-Bang-Clear.