Since joining the U.S. Army, Capt. Julia Flores has jumped out of airplanes and been to places she never imagined going.
But she said nothing gives her a bigger thrill than her day job. Flores has worked in the Judge Advocate General's Corps, which concentrates on military justice and the law, for 5½ years.
"There are moments in your job where you're just looking around and you're like, 'I can't believe I get paid to do this,''' she said.
The JAG Corps, which includes active-duty service members and reservists, includes licensed attorneys who serve as judges, prosecutors and defense counselors in courts-martial. They provide advice in several areas of the law, sometimes teach and must meet certain requirements.
Acceptance requires a four-year service commitment. Judge advocates join as first lieutenants.
"The fact that I get to help soldiers, who I think are some of the best people in the nation, brings me extreme satisfaction,'' Maj. Keith Stewart said.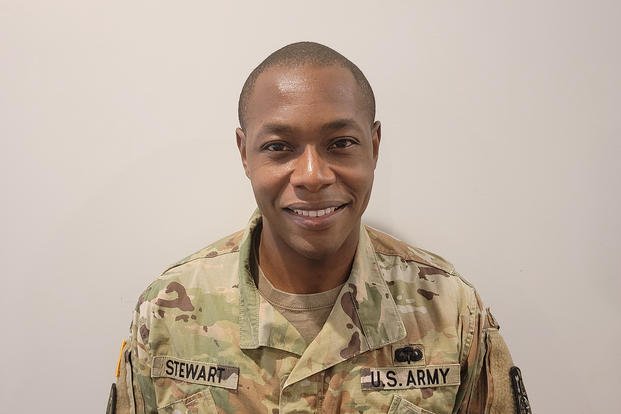 Stewart attended Georgia State University in Atlanta, his hometown, with designs on becoming a philosophy professor. He wrote well, liked to read and thought analytically, but he never thought much about a legal career until an instructor suggested he consider law school.
He earned his law degree in 2008 from the University of Illinois, where he interviewed with a field screening officer from the JAG Corps. Stewart, who has been in the corps for 12½ years, got a glimpse of his future.
"Not only would I find a meaningful way to apply my law degree, but I could serve my country, which I always felt that at some point I would do,'' he said. "It just seemed exciting to me, as well as having the opportunity to get in the courtroom a year out of law school really appealed to me.''
Once accepted, judge advocates undergo a six-week direct commissioned course on leadership skills and military tactics at Fort Benning, Georgia. That is followed by 10½ weeks of instruction on the JAG Corps and military law at The Judge Advocate General's Legal Center and School in Charlottesville, Virginia.
Stewart and Flores started as legal assistant attorneys -- Stewart at Benning in 2009 and Flores with the XVIII Airborne Corps at Fort Bragg, North Carolina, in 2016. 
Stewart was stationed at Benning until 2013, when he transferred to Bagram, Afghanistan, as a trial defense counsel for a year. He moved on to Monterey, California, filling various roles from 2014 to 2017 with the Presidio of Monterey and the Defense Language Institute Foreign Language Center. He became a brigade judge advocate for the 2nd Brigade Combat Team for the 82d Airborne Division at Fort Bragg from 2018 to 2020. Stewart is now a plans officer for the Office of the Judge Advocate General at the Pentagon, helping to execute corps policy.    
"The JAG Corps gives judge advocates the opportunity to develop expertise in several legal functions,'' Stewart said.
After her first job in the JAG Corps, Flores served as a special victims counsel at Fort Bragg. She worked as an operational/national security law attorney for the Combined Joint Task Force for Operation Inherent Resolve in Kuwait and Iraq in 2018 and 2019 before serving in Germany the past couple of years. 
Starting in July, Flores will be stationed at Fort Lee, Virginia, as commander of J Company, 262nd Quartermaster Battalion, 23rd Quartermaster Brigade.
Flores had wanted to become a pediatrician since she was in the second grade. After earning her bachelor's degree from the University of Connecticut in genetic sciences, she was working in Vermont when -- burned out, surrounded by doctors deep in debt and questioning her career choice -- she took the Law School Admission Test on a whim.
After an internship at Joint Base Lewis-McChord, Washington, Flores practiced law as a civilian for 10 years. Six of those were at a law firm, where she became disillusioned because "it's all about the billable hour," she said.
Flores was born in Mexico -- her mother is from the United States -- and said she "always wanted to give back.'' 
The JAG Corps appealed to her.
"You advise clients in the civilian world when you're at a law firm, but a lot of times, they're paying you to tell them exactly what they're doing or what they have to do or what the course of action is,'' Flores said. "What's really interesting in the military is we are the advisers, but we are not the ultimate decision-makers -- not unless you're in a command position, which is very rare in the JAG Corps.'' 
Stewart said the most active cases he has had at one time is about 16; both said the workload is not overwhelming. And each said they never forget they fill a bigger role than judge advocates: They're soldiers first. "Being a soldier makes us better legal advisers to our commanders, because you need to understand what they're going through or the lexicon that they're using,'' Flores said. "The best way of understanding it is experiencing it.''