There was a problem when President Donald Trump congratulated Finland earlier this week on a deal to buy F-18s from Boeing: There was no such deal.
As a puzzled Finnish President Sauli Niinisto sat beside him in the Oval Office on Monday, Trump went on about the benefits to the two countries from Finland's agreement to replace its aging fleet of 62 F-18s with the latest version of the F/A-18E-F Super Hornet.
"One of the things that is happening is you're purchasing large amounts of our great F-18 aircraft from Boeing, and it's one of the great planes, one of the great fighter jets, and you're purchasing lots of other military equipment, and, I think, purchasing very wisely," Trump said.
Much of the Oval Office meeting and a later news conference were focused on the response to Hurricane Harvey, and Trump may have been distracted and gotten ahead of himself.
Niinisto later said that there was no deal on what fighters Finland would buy and there would be no decision until 2021.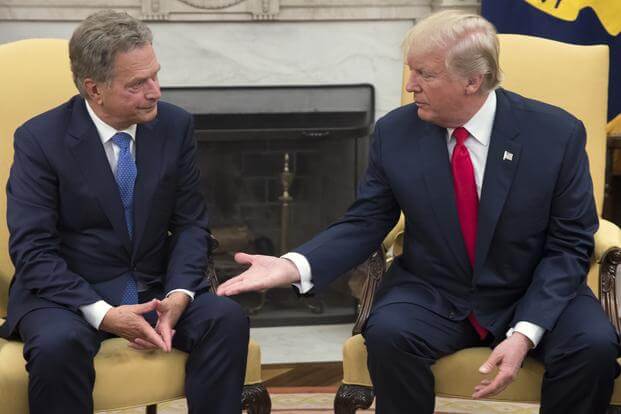 U.S. President Donald J. Trump, right, meets with President Sauli Niinisto of Finland in the Oval Office of the White House on Aug. 28, 2017. Getty Images
But at first, he added to the confusion by using Finnish vernacular in a Tweet.
"The news of the purchase of the F-18 fighter planes is a duck," he said.
By using the term "duck," Niinisto was actually saying that the deal Trump had touted was, well, fake news, Sanna Kangasharju, press counselor to the Finnish Embassy in Washington, told The Washington Post.
"The cultural interpretation -- a 'news duck' in Finnish means the news is totally not true," Kangasharju said.
Finland's Defense Ministry has identified five planes that could fit its requirements, including Boeing's F-18; Lockheed Martin's F-35 Joint Strike Fighter; and fighters produced by European competitors of the American firms -- Dassault's Rafale, Eurofighter's Typhoon, and Saab's Gripen.
Finland is not expected to begin considering which fighter to buy until after elections in 2019.