No matter which company wins the Air Force contract to build the Compass Call successor, warfighters who fly the EC-130H are hoping for the new jamming plane to sport similar if not smaller airborne electronic equipment -- and sooner rather than later.
"There's always a requirement to improve," Lt. Col. Matthew, mission commander with the 43rd Expeditionary Electronic Combat Squadron, said during a recent interview.
Military.com spoke with pilots and electronic warfare officers with the squadron, part of the 386th Air Expeditionary Wing, on a recent trip to the Middle East. They talked to this reporter on the condition that last names not be used, due to safety concerns amid ongoing air operations against the Islamic State of Iraq and Syria, or ISIS.
While tactics, techniques and procedures evolve, "you also need that hardware piece to keep up with adversaries too and that's what EC-X is going to provide," Matthew said.
Related content:
"We have old aircraft -- we have tails out there right now that are from 1973, and as the aircraft ages, we run into more and more maintenance problems," he said of the modified
C-130 Hercules
reconfigured for the job.
Compass Call reached full operating capability in 1983.
"There's newer technology that can reduce the size and weight of our weapons system, so it can be hosted on a different aircraft ... and there's potential for it to be more capable, so if you think about [it] ... the more room you have, the more capability there's potential for," Matthew said.  
The EC-130's mission is to "deny from the sky," meaning thwart an adversary's ability to conduct command-and-control communications, explained Capt. Joshua with the 43rd. While that usually means disrupting other weapons systems, in the fight against ISIS it often means jamming radio communications on the ground.
"ISIS is well trained and effective in their method of warfare," Joshua said during an on-board tour of the EC-130H. "So we counter that with our counter tactics, in a kind of game of cat and mouse as they advance their techniques."
The electronic attack platform will monitor, "exploit and receive" a signal, "and then target our package and effects toward specific signals on a radio frequency spectrum," Joshua said.
The aircraft is laden with antennas, receiving the radio frequency signals that are then analyzed by a team of airmen who "make a decision on how to affect the battlespace based on what we're receiving," he said.
"If it's emitting on an RF spectrum, we can target it," which could be for as little as a few seconds to a "longer duration," Joshua said, without giving specifics.
Matthew added, "Does the [weapons system] need to evolve with the adversary [as it evolves]? Absolutely. We're a flying transmitter. We like to say we're a communications jammer, and absolutely we are, but if you just scale it back, we're just a flying transmitter. So how can we take the hardware that we have and employ it effectively against new and emerging communications targets out there? There's potential for additional, quick-reaction capabilities."
Because "you always want to be more effective," Matthew said.
'Extremely Busy'
The Air Force's fleet of 14 EC-130s belong to Air Combat Command's 55th Electronic Combat Group at Davis-Monthan Air Force Base in Arizona. Airmen receive weapons and tactics training at the installation before deploying to the unsettled skies over Syria and Iraq.
The airspace in the Middle East is growing "more dynamic," the captain said, as aircraft from multiple parties such as Russia and Syria operate in the sky.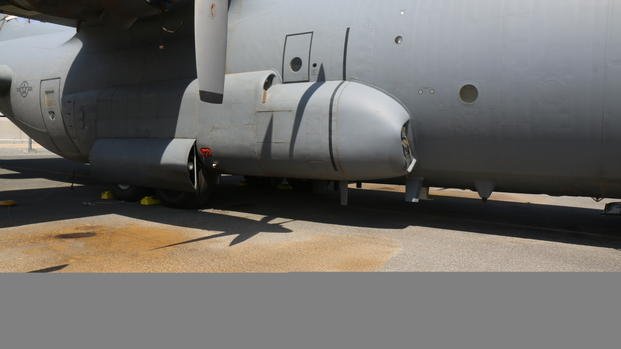 The EC-130H aircraft is laden with antennas (seen here under fuselage), receiving radio frequency signals that are then analyzed by a team of airmen. (Photo: Oriana Pawlyk).
"But we have well-trained crews with a lot of support from the ground forces, higher headquarters and organic support from our squadrons back home that provide feedback," he said.  
The mission commander said the EC-130s are extremely busy. "We're a low-density, high-demand asset," Matthew said of the 13-person crew.
Challenges, he said, have been "that integration piece."
"We're just that non-kinetic piece delivering airpower," Matthew said, but "there's the traditional bombs-on-target [players] and ... what's the desired effect for them? How do we support their mission as well as the ground force personnel?"
He continued, "If we're going to deny a section of the electromagnetic spectrum, we have to make sure we're not impacting other players."
But he said the focus is not on deconflicting with other airborne platforms -- for example, the E-3 Sentry Airborne Early Warning and Control System, or AWACS -- but instead "more of a concert."
As for ISIS jamming technologies, "we're an electronic attack weapons system so we're not really concerned with their jamming piece," Matthew said.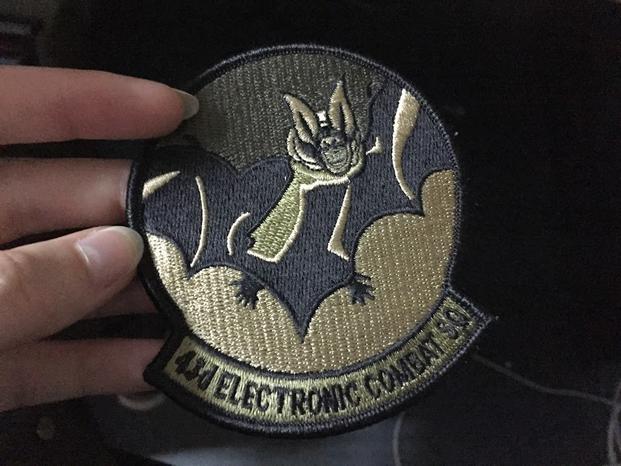 The 43rd Expeditionary Electronic Combat Squadron's insignia patch, given to Military.com. (Photo: Oriana Pawlyk).
Tasking for missions comes down to timing, the airmen said. The tasking will come from leaders at Combined Joint Task Force-Operation Inherent Resolve, which will then be processed through the Combined Air and Space Operations Center, where officials and liaisons will make sure the EC-130 "is integrated correctly with other airborne electronic attack" aircraft, and what's next needed in the mission, they said.
"What we do is autonomously just go out there, collect on the signal environment and, based on our mission plan, take these signals of interest as they're processed through our system and our linguists can put an ear on it," Matthew said. "Once they do that, they can determine target-non-target, friend versus foe, and then that's when the electronic warfare officer will … determine whether or not to jam that target in accordance with the mission plan."
Contractor Fight
The Air Force wants to allow L3 Technologies to essentially choose a new plane for the Compass Call mission, a move that has been contested by both Boeing Co. and Bombardier in recent weeks. The competitors feel that if the Air Force gives the reins to L3, they will be overlooked because the latter already has a business relationship with business jet-maker Gulfstream.
Lawmakers are also seeking to weigh in on the matter.
In June, the House Armed Services Committee added language to the fiscal 2018 National Defense Authorization Act that would block funding to the program until the Air Force's acquisition process "complies with law," according to a report from Defense News.
Lt. Gen. Arnold Bunch, the service's military deputy for the Office of the Assistant Secretary for Acquisition at the Pentagon, has defended the Air Force preference to primarily source the contract to L3, saying the move is cost-effective and timely.
"L3 has ... played that role as the systems integrator as we have modernized these aircraft for the last 15 years," Bunch told lawmakers at a House Armed Services Subcommittee on Seapower and Projection Forces hearing May 25. "They are the ones that are very familiar with the mission equipment that is on there."
L-3 Communications, now L3 Technologies, is the sole aircraft integration and depot maintenance contractor, while BAE Systems secures the mission equipment, according to the Air Force.
"That mission equipment is highly classified to be able to execute the electronic warfare mission that we ask that platform to do," Bunch said at the time. "They have all the tooling, they have all the existing knowledge, and they have the modeling and all the information to do that work."
But the airmen aren't too concerned with the politics of Washington.
"At our level, we don't have that answer," Joshua said. "But we will apply and figure out the next mission set as it evolves. A lot of these same concepts will be cross-deck to whatever future platform is decided upon."