Boeing's new T-X design has something the F-22, F-35 and F/A-18 all have in common: twin canted vertical tails.
To much hype and anticipation, the aerospace giant unveiled its T-X trainer jet sporting the sleek design during a ceremony on Tuesday at its St. Louis facility.
In addition to the tail design, the aircraft features "one engine … stadium seating and an advanced cockpit with embedded training," the company said in a statement. "The system also offers state-of-the-art ground-based training and a maintenance-friendly design for long-term supportability."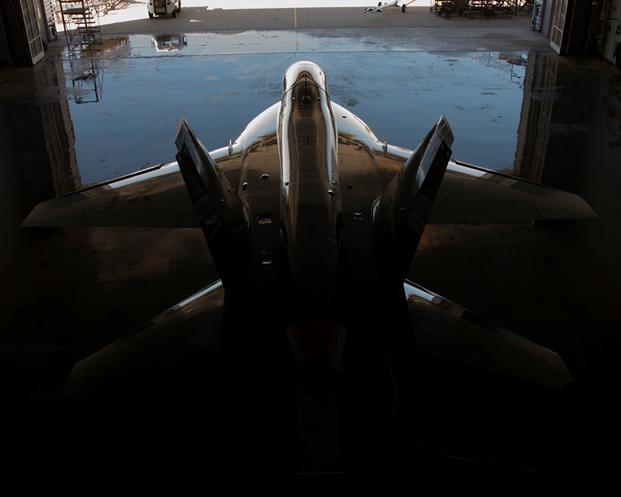 (Photo courtesy Boeing)
The canted tails are perhaps the biggest difference between the version from the Chicago-based company, collaborating with Saab, and that from Northrop Grumman Corp., its rival for the Air Force bid. Both companies are offering the service a new "clean sheet" design to train future pilots.
With the Air Force seeking more fighter pilots for its aircraft amid a growing shortage and ramping up fifth-generation fighter training, the move to have trainer jets mimic the combat aircraft pilots will fly is a logical step. More than 50 pilots have been trained to fly and operate the F-35A Lightning II at Luke Air Force Base, Arizona, since the first Joint Strike Fighter touched down at the base in 2014.
"Our T-X is real, ready and the right choice for training pilots for generations to come," Leanne Caret, president of Boeing's defense, space and security unit, said in a statement.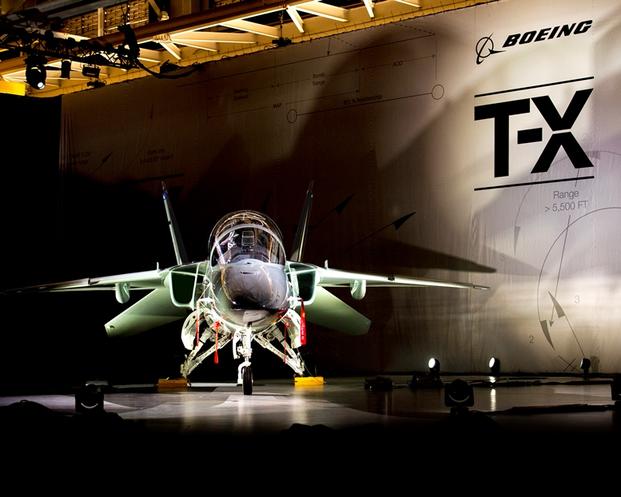 (Photo courtesy Boeing)
The Air Force wants a replacement for its T-38 Talon trainer aircraft, first produced by Northrop in 1959. The Talon is used to prep pilots for "front-line fighter and bomber aircraft such as the F-15E Strike Eagle, F-15C Eagle, F-16 Fighting Falcon, B-1B Lancer, A-10 Thunderbolt and F-22 Raptor," according to the service.
Northrop is partnering with BAE Systems, L-3 and Rolls-Royce on the project. Other vendor teams such as Lockheed Martin Corp. and Korea Aerospace Industries; and Raytheon Co., Leonardo-Finmeccanica and CAE Inc. are offering modification designs to current aircraft, but are not competing in clean sheet designs.
The Lockheed-led team will offer a modified version of KAI's T-50, which operates mainly in the Pacific. After Boeing revealed its design Tuesday, Lockheed posted a video on Twitter giving a sneak peek into its T-50A and said, "Good on paper. Better in the sky."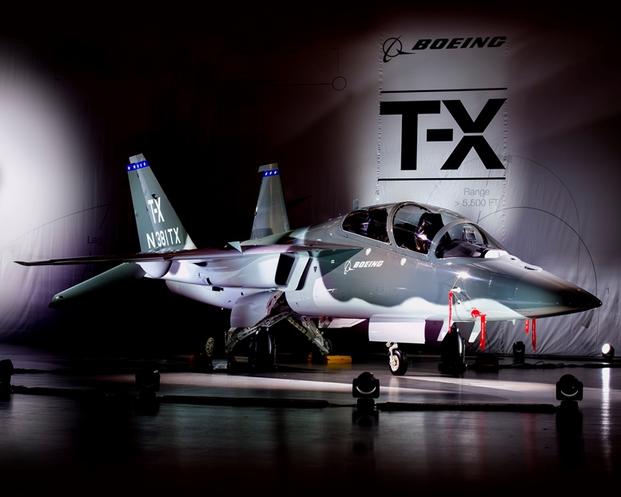 (Photo courtesy Boeing)
Meanwhile, the Raytheon team is modifying Leonardo's M-346 for their version of the T-X, dubbed the T-100.
The service hopes to buy 350 new trainer jets. Initial operating capability is planned for 2024.
Check out this cool footage Boeing released of its T-X design:
%embed1%