The U.S. Air Force's top civilian said she hasn't seen any proposal for a new-and-improved "super" A-10 aircraft and raised doubts about the service's ability to pay for such a plane.
Deborah Lee James made her comments on Tuesday in response to a question posed by Breaking Defense's Colin Clark during an event hosted by DefenseOne's Marcus Weisgerber.
"So far, I have read about this in the news," she said. "I have not actually seen a proposal on any of this that has come forward to me. So it, for sure, is pre-decisional. It hasn't been decided on. You just put your finger on it, where would we get the money? Not at all clear to me.
"But what is clear to me is that we are very, very committed to close air support as a mission in the United States Air Force," she added. "And we got the backs of the people on the ground who need that mission performed. So I'm just going to wait to see whatever this proposal is to come forward, but of course the money is the important thing and we have the A-10, we have the F-16 -- you're aware of all the different aircraft [that] are able to perform close air support."
U.S. Air Force leaders have recently signaled an interest in developing a new aircraft dedicated to the mission of close-air support as a replacement to the venerable A-10 Thunderbolt II, commonly known as the Warthog.
The service currently plans to keep the A-10 in the inventory at least until 2022 -- a proposal that came after back-to-back years of unsuccessful campaigns to retire the aircraft in favor of multi-mission fighters and bombers also capable of performing close-air support. As of fiscal 2015, there were 283 Warthogs in the fleet.
James also said she wasn't worried the proposal would raise questions about the F-35 Joint Strike Fighter's effectiveness as a close air support platform. She cited the service's plans to declare in coming months the Lockheed Martin Corp.-made fifth-generation fighter is ready to perform initial combat operations, a milestone known in acquisition parlance as initial operational capability, or IOC.
"Part of the declaration of the initial combat capability, the IOC, is that the F-35 can do the CAS missions that were designated as required as part of IOC -- not the full-up CAS but what's called the limited CAS," she said.
The requirements for initial operations call for 12 to 24 aircraft capable of performing basic close-air support, interdiction and limited suppression of enemy air defenses in a contested environment and operating from a deployed location, according to the Air Force.
The aircraft will come with software and weapons designed to support basic close-air support, including the Joint Direct Attack Munition, or JDAM; and GBU-12 laser-guided aerial bomb, officials have said. GPS and laser-guided weapons have been in the inventory for years and are primarily designed for use against fixed or stationary targets.
The F-35 is slated to receive additional CAS weapons, including the GAU-22/A four-barrel 25mm cannon and the Small Diameter Bomb II that can track and hit moving targets from up to 40 miles away. But the full complement of CAS firepower won't be ready until 2022, officials have said.
Editor's Note: This story was updated to remove an incorrect reference to the Advanced Medium Range Air to Air Missile, or AMRAAM, being a close air support munition in the 10th paragraph. We would like to thank the reader David Brown for pointing out the error. We regret the mistake.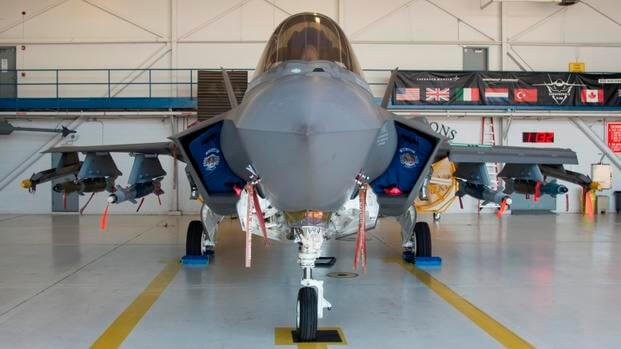 An F-35A from the 58th Fighter Squadron is loaded with weapons in its internal weapons bays and on external pylons July 20, 2016, at Eglin Air Force Base, Fla. The aircraft is capable of carrying weapons both internally and externally to adapt to mission needs. (Photo by Stormy Archer/U.S. Air Force)