Bell Helicopter made a point this week to differentiate its new tiltrotor, the V-280 Valor, from its old one, the V-22 Osprey.
Vince Tobin, vice president of Advanced Tiltrotor Systems for Bell Helicopter, hammered that home on Thursday during a day-long aviation symposium sponsored by the Association of the United States Army in Arlington, Virginia.
As my colleague Matthew Cox reported at our parent site Military.com:
"The V-22 has instructed on what tiltrotors can do, and that is great, but the V-280 is not a V-22," Tobin told an audience Thursday at an Army aviation symposium put on by the Association of the United States Army.

"We are going to do it better than we did on the V-22. The V-22 was designed in the 1980s ... and we have taken it under our imperatives to fix what wasn't perfect on the V-22 and get as close to perfect as we can on the V-280."
Bell appears to be wanting to highlight new advancements in tiltrotor technology. But it may also be trying to distance itself from the aircraft's safety record. Mishaps involving the aircraft resulted in three dozen fatalities, mostly in the 1990s during testing. Most recently, an Osprey last May sustained a hard landing during a training exercise in Hawaii in which two troops were killed and 20 more were injured.
Crew members now say the aircraft has one of the best safety records in the fleet. The Osprey is flown to transport troops, including casualties, and supplies in contingency areas. It has also been deployed to provide humanitarian relief, including in the Philippines in 2013 after Typhoon Haiyan devastated much of the country. FEMA is even considering using it for stateside emergency response.
Bell, part of Textron Inc., built the V-22 with Boeing Co. but is developing the V-280 with Lockheed Martin Corp. Interestingly, Boeing teamed with Sikorsky to develop the SB>1 Defiant -- a competing future Army helicopter design with coaxial rotors -- and Lockheed has since acquired Sikorsky.
Industry bedfellows aside, Bell in recent months accepted the first V-280 fuselage, built by subcontractor Spirit AeroSystems Inc. in Wichita, Kansas, and plans to complete the first flight of the aircraft in the second half of 2017.
The aircraft is being developed as part of the Army's so-called Joint Multi-Role technology demonstrator program, a precursor to the service's potentially $100 billion Future Vertical Lift program to replace as many as 4,000 UH-60 Black Hawk utility helicopters made by Sikorsky, AH-64 Apache attack choppers made by Boeing and other rotorcraft in the 2030s.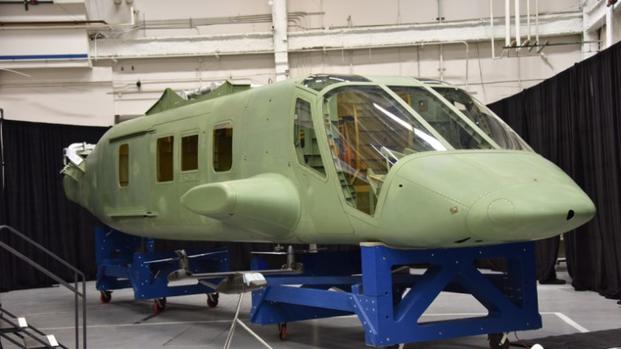 Spirit AeroSystems Inc. on Sept. 22, 2015, announced it has completed the first V-280 Valor fuselage for Bell Helicopter as part of the Joint Multi-Role Technology Demonstrator program (Photo courtesy Spirit Aerosystems)