The Air Force Research Lab is developing a liquid antenna that may streamline communications equipment on aircraft.   
"If you don't know what antenna you need in the field, you have to put on eight or nine different antennas, and each one would have a different frequency, a different operation," said Chris Tabor, research scientist at the lab in Dayton, Ohio.
Military.com recently interviewed staff members during a Defense Department lab exposition at the Pentagon.
The service uses various electronic gear and antennas on aircraft depending on the mission set, Tabor explained, but "if you realized you needed only one of those, then you've carried all that weight for no reason."
So the service's research arm is developing a channel system that can fine-tune antennas to adapt to specific frequency ranges needed for an operation.  
Once a channel system is built into the aircraft and filled with the liquid metal, "you can create an antenna that is reconfigurable for whatever frequency or direction you want your antenna to propagate," Tabor said.
It's also possible to use more than one channel system within a composite, and fill "whichever one you need to use" with liquid, he said. "If you can take the liquid and utilize the fact that it's fluid, and you can move it pretty easily, you can put it inside of the channel systems … [like] in an airspace composite.
%embed1%
"What we've tested is everything from 70 megahertz up to 7 gigahertz -- that's a pretty significant frequency range," Tabor said.
There are two ways the antenna could be added to an aircraft.
"If you physically move the metal around, you can change what your electronics look like," he said.
"Another way we can do that is put the liquid into a more flexible structure, and stretch those electronics as much as you'd like," Tabor said, referring to flexible hybrid electronics such as NextFlex. (Photo example below).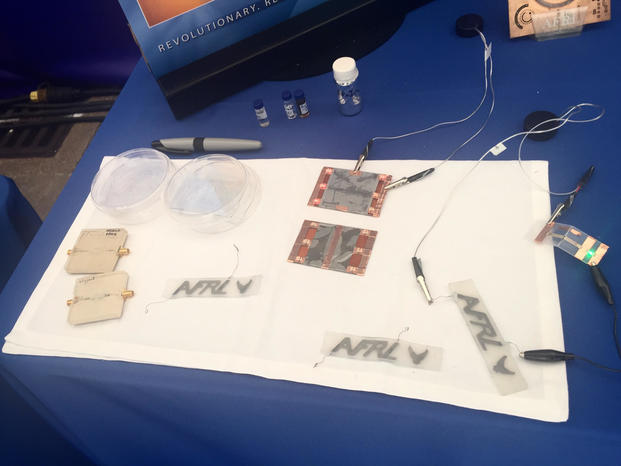 Flexible hybrid electronics -- the AFRL strips shown here -- are also being used to test malleable antennas. (Photo: Oriana Pawlyk)
In 2015, the Defense Department introduced a "Manufacturing Innovation Institute for Flexible Hybrid Electronics" partnership with 162 companies, universities and nonprofits led by the FlexTech Alliance for similar research.
The goal is to work with easily maneuverable liquid metals to move the antenna as easily as possible.
"There are not many metals that are liquid at room temperature -- mercury is one, but we don't want to throw mercury around," said 2nd Lt. Brent Young, a council member with the lab.
But gallium will melt at 87 degrees Fahrenheit. Gallium combinations are common in most electronics, Tabor said.
"If we want to increase that range … you alloy it with other metals like Indium, and that will suppress the melting point down to -19 or -17 [degrees]. It allows you to have a liquid at pretty much any room temperature," Young said.
So far, research and testing has been done at the lab level only, he said. But the next step will be to package and test it in a device that could be flown on an aircraft, such as an MQ-9 Reaper drone.
Young and Tabor said airmen and engineers could be using liquid antenna technology on planes within seven to 10 years.
3-D Printing for Link 16
The lab is also looking at ways to retrofit servo cover caps with conformal antennas for a complementary effect in order to use Link 16, a military tactical data exchange network used by fourth-generation fighter jets such as F-15 Eagles and F-16 Fighting Falcons.
"The problem that we're addressing through this program is that there's a big need for Link 16 on the MQ-9," said Dan Berrigan, lead researcher for additive manufacturing of functional materials at the lab.
A copper antenna can be "printed directly onto the surface" of a servo cover. (Photo: Oriana Pawlyk)
Unlike the liquid antenna research, the printed antenna research is specifically exploring the Link 16 gap.
"It currently doesn't exist on the aircraft. Because of that, the current challenge is, how do you put an antenna on an existing aircraft without drilling holes, without modifying the outer mold line?" Berrigan said.
RELATED: Future Air Force Weapon? Baby MOAB
Through 3-D printing, engineers are creating servo covers -- an actuator that controls the flaps on the drone -- with antennas "printed directly onto the surface."
The lab has partnered with a technology design company, Mesoscribe, which has "a unique capability to print copper onto arbitrary surfaces," Berrigan said, adding the lab has been working to build off that process.
General Atomics, manufacturer of the MQ-9 and MQ-1 Predator, has also been working with the lab on molding servo covers.
Once sprayed on by a robot, "that copper embeds itself onto the fiberglass," he said. Should the antenna design change, the computer program can modify the pattern as needed.
The fiberglass covers could be retrofitted onto the aircraft, "and then run the feed down to the radio once it's integrated," Berrigan said.
The process -- still in the prototype stage -- takes roughly one to two months to complete, he said.