TYNDALL AIR FORCE BASE, Florida -- It's the only non-offensive air operations center known as "America's AOC."
Nestled here at the base, the 601st AOC plans, directs and assesses air and space operations for the North American Aerospace Defense Command, or NORAD, and U.S. Northern Command.
With President Donald Trump's continuous travel back and forth between Washington, D.C., and Mar-a-lago in Palm Beach -- where Trump is set to host China's president Xi Jinping in April -- the skies, assessed around the clock, are getting a little more crowded.
The 601st does air defense "for the lower 48" states, explained Col. John Ferry, 601st Air Operations Center commander. Military.com got a sneak peek of the center on Feb. 27.
"You may have seen... the other day a couple jets go supersonic to go intercept … a civilian  airplane violating the airspace we put around President Trump to sanitize him, we did that out of here," he said.
Ferry was referring to a February incident in which a pair of F-15s, from Florida's Homestead Air National Guard Base intercepted an unresponsive civilian aircraft near the Palm Beach. The civilian aircraft, which was non-threatening and didn't have malicious intent, was unaware of the temporary flight restriction area -- established by the Federal Aviation Administration and supported by the Air Force, he said.
The FAA and NORAD together put out statements ahead of time to warn civilian pilots about the restriction -- but the message doesn't always get across.
When the extra restrictions are in place, aircraft "have to be on a flight plan, you have to be talking" to the appropriate air traffic control as part of the TFR, Ferry said. Should they violate it, Air Force fighters will go up and assess the violation -- either escorting the aircraft out of the TFR, or the inevitable.
The air defenses in the continental U.S. were bolstered after the September 11 attacks, and without disclosing exact criteria or locations, Ferry said the operations center works with a number of Air National Guard fighter jet units that sit on alert 24/7 as well as handful of air refueling tankers and a Boeing E-3 Sentry, commonly known as AWACS, or an airborne early warning and control radar aircraft.
When fighters go up, sometimes it's F-15 Eagles, F-16 Fighting Falcons, and on occasion, F-22 Raptors, Ferry said.
Manning for America's AOC primarily "comes from the 101st Air and Space Operations Group of the Florida Air National Guard," according to the service.
The center operations room is made up of a senior air defense officer, chief of combat operations, senior operations duty officer, Judge Advocate General, two intelligence duty officers, tanker officer, a FAA representative and a joint air defense operations center liaison, among dozens of other civilian, active-duty, joint service, and even some Canadian support personnel. Behind them in another operations room, dozens more personnel sit as part of a domestic events network, which evaluate domestic operations, or DomOps, for AFNORTH, monitoring the airwaves for any events with potential military ties, such as a fire, dam break or even an active shooter situation.
Massive screens hover above their duty stations showing a map of all the air traffic across the United States, a close up of a Special Flight Rules Area, or SFRA -- in this case, cameras were watching Washington's Reagan National Airport in D.C. -- and a national news station.
Col. Robert Bloodworth, chief of combat operations, explained the AOC sometimes gets tipped off from news segments before an alert comes through. When asked if the AOC has started to monitor social media websites like Twitter for tips, Bloodworth said they do not have a specific representative just for monitoring Twitter traffic, but do check out Twitter from time to time on specific events.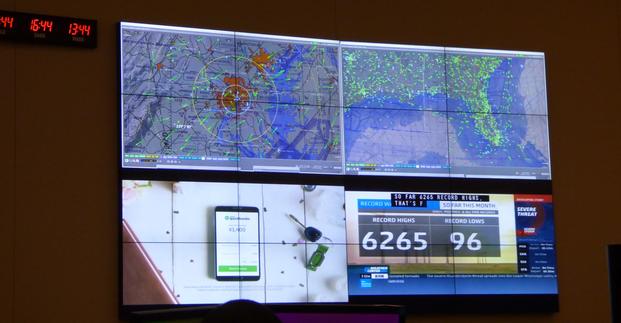 Screens hover above personnel at the 601st AOC ops room, watching all air traffic control across the entire United States. (Photo: Oriana Pawlyk/Military.com)
The center's second mission: "If Mr. Putin ever decided to send Russian bombers our way, or launch missiles our way, we also do a missile defense portion," Ferry said.
Ferry said that Gen. Lori Robinson, commander of NORAD and NORTHCOM, and her staff "are currently working on the evolution of North American air defense."
"At much higher levels, they're looking how they're going to evolve NORAD defense, the NORAD agreement," and other negotiations, Ferry said.
Meanwhile, the AOC is in constant preparations for say another 9/11-style attack or worse: a World War III scenario, Ferry said.
"We do on average five exercises a week on our floor where we do some sort of simulated event...throughout the entire NORAD system," he said. Additionally, the center is a part of a two-week long, national-level exercise called Vigilant Shield, a next-level war exercise prepping for a massive air defense and "pulling out all the stops of what we can provide," Ferry said.