The opinions expressed in this op-ed are those of the author and do not necessarily reflect the views of Military.com. If you would like to submit your own commentary, please send your article to opinions@military.com for consideration.
As we near the one-year anniversary of Russia's all-out assault on Ukraine, the political fractures inside Russia are on public display—among the Moscow elite, the Wagner mercenary group, the intelligence services, the official propagandists and the Russian Defense Ministry. The "special operation" that Vladimir Putin expected to take three days is now bleeding into an eleventh month of setbacks and atrocities, exposing the Kremlin's vaunted military might as both ineffective and cruel, with its strategy of targeting civilians with artillery and executions to break Ukrainians' will and force Kyiv into surrendering. The strategy is failing, however, as millions of its citizens remain defiant and resilient despite the ongoing onslaught of terrorist attacks.
Meanwhile, a power struggle is deepening between Russia's military and the notorious Wagner group, which has played a central role in Moscow's war crimes campaign. The Kremlin's armed forces have struggled to gain ground, exposing their might as a myth fueled by decades of propaganda and self-delusion.
And it's all out there for the world to see. During the Cold War , the CIA and Britain's MI6 struggled to obtain reliable information on weaknesses and troubles in the closed Soviet state, but today they need only monitor Russian commentators and military bloggers on Telegram and other platforms, where fierce complaints about the conduct of Russia's war play out publicly—unthinkable in the past. So as Russia's military losses have spiraled out of control, the Kremlin has completely lost a grip on its narrative that things are going as planned. Daily state-TV shows feature commentators expressing a multitude of disorganized reactions ranging from shock to anger over Russia's failed war, with some daring to question how Russia's military could perform so badly. Each battlefield loss, of course, brings fresh scrutiny to Putin's regime and his defense ministry from around the world.
It's come as a shock to longtime Kremlin watchers. Many observers, both domestic and foreign, evidently failed to predict the weakness of the Russian military because they never factored in the effects of decades of corruption and theft by Putin and his cronies. Vast sums meant for the Russian military have been siphoned off and parked abroad in yachts, villas and offshore bank accounts, a number of which have been seized by local authorities.
Russia spent decades in Ukraine planting agents, funding political parties, infiltrating the government and cultivating key figures, with the expectation that Kyiv would easily fall into its hands last February. Instead, it was surprised by the Ukrainians's fierce resistance, which revealed the Russians's ineptness and lack of discipline. Videos emerged of drunken Russian soldiers looting homes of TVs and appliances. Morale imploded. According to a U.S. senior official, Russian troops "deliberately punched holes in their vehicles' gas tanks" to avoid combat.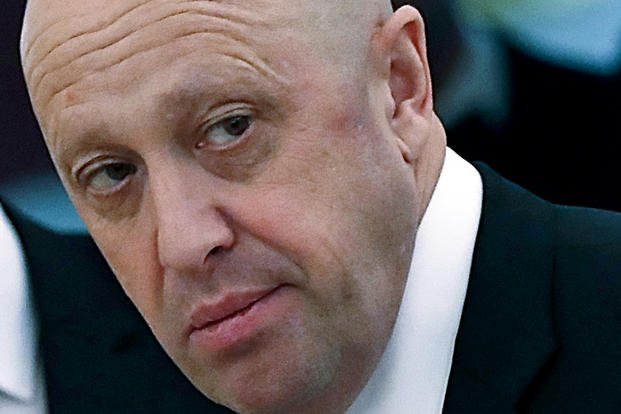 Wagnerian Opera
Putin's erstwhile close associate, Yevgeny Prigozhin, founder of the notorious Wagner Group, came to the rescue. A lawless mercenary outfit connected to Russia's defense ministry, the Wagner Group had been kept at arms length from the military over the past decade, providing the Kremlin with plausible deniability for its foreign operations. Its "little green men," deployed without insignia or unit designations, spearheaded the occupation and annexation of Crimea in 2014 and the later seizure of the coal-rich Donbas region. A savage mix of shock troops and cruel militants, the Wagner Group has left a trail of atrocities and war crimes wherever it's been active. Now Prigozhin, its increasingly public face, is publicly challenging the authority of Russia's Defence Ministry, its foreign policy elitists and the centuries old Chekist apparatus of secret police and intelligence agencies.
Prigozhin's partner in crime was a GRU lieutenant colonel, Dmitry Utkin, who co-founded the combat unit and dubbed it in honor of Richard Wagner, the German Nazis' favorite operatic composer. He was such an outright admirer of the Nazis that he'd adopted "Wagner" as his spetsnaz call sign and tattooed himself with the distinctive double lightning bolts of Hitler's Waffen SS, ironic symbols of Putin's preposterous claim that his invasion was a campaign to "denazify" Ukraine.
The main base of the Wagner Group is located in the Krasnodar district of southern Russia. It shares a facility with the GRU's 10th Separate Special Purpose Brigade—a highly unusual arrangement between an army unit and a private military company, or PMC (which, by the way, are officially outlawed in Russia). GRU personnel even guard the road leading to its base.
Wagner's ruthless operations in Ukraine, Syria, and across Africa—in Libya, Sudan, Mozambique, Mali, and the Central African Republic—had already earned Prigozhin a well deserved notoriety. But new evidence that Wagner was transporting weapons from North Korea into Ukraine provoked Washington to designate it this week as a "transnational criminal organization," which experts say will make it more difficult for the group to operate and move money globally.
It's hardly Prigozhin's first brush with the law. Known as "Putin's chef" for his Kremlin food contracts, Prigozhin was indicted by the U.S. Justice Department in 2016 on charges of interfering in the American elections via his St. Petersburg troll factory, the Internet Research Agency (IRA). In 2018, the FBI placed him on its Most Wanted list, offering a $250,000 reward for information leading to his arrest. Prigozhin now wears his place on the list like a badge. After many denials of involvement in the U.S. elections, he recently flaunted his role in the covert destabilization program, an apparent effort to elevate his profile in what increasingly looks like a power grab.
Kitchen to Table
It's been quite a trip from the criminal underground. As a teenager in Soviet Leningrad (now St. Petersburg) Prigozhin was a low level thief and thug. In 1979, he was sentenced to a dozen years in prison for thievery, assault and recruiting minors into his criminal activities. In late November a video surfaced on social media in which a purported prison mate of Prigozhin said the future mogul had provided sexual services to other jailbirds and warned prospective Wagner volunteers that they would be serving under "the flag of the rooster." The authorship of the video is unknown. But it was clearly designed to undermine Prigozhin's moral authority and make it harder for him to recruit prisoners for Ukraine.
Released from prison in 1990, Prigozhin started a business with his stepfather distributing hot dogs around the city. "The rubles were piling up faster than his mother could count them," the New York Times reported. Soon, he moved into casinos and restaurant enterprises, which were dominated by organized crime groups. After meeting Putin, then a deputy to the city's mayor, his wealth and influence expanded via fruitful catering contracts, even more so when Putin moved to Moscow and joined the Kremlin elite. Through all those years, Prigozhin stayed out of the public eye, emerging only after last year's full scale invasion, when he began to embrace his notoriety.
Prigozhin's loud ascent has annoyed some powerful Kremlin figures. Top officials in the Defense Ministry and the FSB, Russia's internal security behemoth, have grown wary of Prigozhin, who has taken to flaunting the Wagner Group's reputation for cruelty by posting horrendous videos from Ukraine, including one showing the execution by sledgehammer of one of his own mercenaries, who had briefly defected to Ukrainian troops. Asked for comment, Prigozhin crowed via a spokeswoman that the video should have been entitled, "a dog receives a dog's death." After the European Parliament branded Russia a state sponsor of terrorism, Prigozhin doubled down on the grotesquery, sending it a sledgehammer painted with fake blood. Not even the thuggish Soviets crossed such boundaries.
Prigozhin seems to be courting enemies. Last September he publicly attacked the governor of St. Petersburg, Alexander Beglov, accusing him of not supporting the Ukraine invasion and urging city residents to turn to himself to fix "problems that Beglov does not notice." He also demanded that the Kremlin's prosecutor general and the FSB investigate the governor and his entourage for corruption.
According to the Russian publication iStories, Prigozhin has also crossed swords with Sergei Kiriyenko, the first deputy head of Putin's presidential office, saying he had "invaded his area of ​​​​responsibility and is trying to influence the appointments and dismissals of officials." Prigozhin even went after the old guard, Putin's friends from the 1990's-era Ozero Cooperative, a real estate investment group the ex-KGB agent helped found outside St. Petersburg, many of whom landed high-ranking, lucrative positions in the city, people like Yuri Kovalchuk,the principal owner of the St. Petersburg bank Rossiya, and Dmitry Medvedev, a Putin protégé in the city administration and later Kremlin.
Medvedev, a caretaker president from 2008 to 2012, now holds a seat in Putin's national security team. Last month, he, too, became a target for Prigozhin, who ridiculed the adviser's rosy global political and economic forecasts for 2023 (which included the collapse of the European Union and a civil war in America), as "erotic fantasies." Positioning himself as a populist, Prigozhin also called for the seizure of assets from the oligarchs and wealthy businessmen.
"They like comfort," Prigozhin sneered. "They all want to dive into the warm pool in the evening and have fun. At some point, you need to understand that you need to give up what is seductive in the world—restaurants, resorts, summer cottages, swimming pools." All such luxury and money should be "taken away" from the oligarchs, "the sooner the better," he said, adding ominously: "It is necessary to do this by force, then all people will have equal rights." It was his baldest threat to date to Putin and his circle of oligarchs.
Alternative Facts
Each Russian setback in Ukraine, meanwhile, provokes the country's nationalistic military bloggers into new rounds of biting criticism of the armed forces and, by extension, Putin. Such attacks have managed to put the Kremlin's once unassailable propaganda organs back on their heels. When Defense Ministry spokesman Igor Konashenkov claimed on Jan. 8 that Russia had killed 600 Ukrainian soldiers in '"retaliatory"' strikes, he was quickly and widely ridiculed. Russia's own war correspondents, its state media, and even official Kremlin propagandist Anatoly Shariy, brandishing photos of minor damage to a single building, called Konashenkov's claim outright "bullsh*t." Eventually the ministry put the death toll at only 89. That pratfall was followed by even more chaotic commentary among military experts, Kremlin figures and government officials, with the Defense Ministry blaming its own soldiers for a devastating Ukrainian missile strike that it said was enabled by their careless use of personal cell phones.
The same chaos exists in the military space in Ukraine, with Wagnerites and Chechen paramilitaries carrying out the torture and executions of soldiers caught trying to desert or surrender to the Ukrainians. Indeed, the Chechen leader Ramzan Kadyrov has joined Prigozhin as a vocal critic against top Ministry of Defense officials, calling their leadership of the Ukraine campaign not just ineffective but often harmful. Kadyrov and Prigozhin also leveled a personal attack on a retired general and parliament member who had defended the Defense Ministry's ban on beards, de rigueur among the Chechens. "Apparently, Lieutenant-General Viktor Sobolev has a lot of free time…since he has nothing to do but reread the military code of conduct," Kadyrov wrote. Such effrontery will not bode well for them if their usefulness to Putin in Ukraine expires.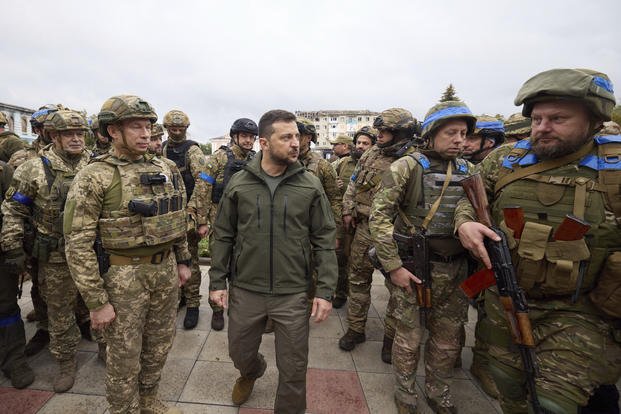 Putin's carefully curated alpha male image, meanwhile, has been shattered by the war. While Ukraine's President Volodymyr Zelenskyy visits the frontlines to meet with his troops, Putin organizes staged events that have become less frequent over time. In December, he even canceled his annual televised marathon press conference, no doubt to avoid having to face uncomfortable questions over Russia's failures in Ukraine and the flight of some 700,000 Russians abroad to escape conscription and the economic fallout from western sanctions. Last year's announcement of a "partial" mobilization of 300,000 men for the war triggered spectacular scenes of police yanking men out of Moscow subway stations and chasing them around courtyards, all videotaped and dropped into the global media sphere.
It turned out that the draft evaders had good reason to hide or flee. Reports emerged of minimal training and shortages of basic items like bandages and winter sleeping bags, forcing enlistees to buy their own. Then came reports and videos of enlistment offices set on fire across Russia. Rumors abound of Russia closing its borders.
In sharp contrast to all this, Prigozhin is often seen on the frontlines with his fighters, further enhancing his image as a wartime leader. Even the Russian army's soldiers are questioning Putin. In September the Ukrainians circulated an intercepted phone call from a Russian soldier to a relative saying, "Putin is a fool. He wants to take Kyiv. But there's no way we can do it." But Prigozhin has been embarrassed, too. Last week a former Wagner commander fled to Norway and asked for political asylum, saying he had witnessed "a host of human rights abuses and war crimes while serving in Ukraine," according to the Russian human rights group Gulagu.net. In Russia's conspiracy-soaked rumor mills, some suspect Putin's allies didn't mind the mud thrown at Wagner.
Blame Games
In a staged event to display strength and provide scapegoats for his military's failures, Putin recently scolded a defense industry minister in a televised meeting. To deflect blame for logistical failures, he publicly accused Deputy Prime Minister Denis Manturov of dragging his heels on producing civilian and military planes for the fight. When Manturov began offering excuses, Putin interrupted him. "I know that there are no contracts at the enterprises, the directors told me," he angrily declared. "What are you, really—playing the fool? When will the contracts be signed?"
Grasping for a victory, however small, the Russian media recently celebrated the alleged capture of Soledar, a small Ukrainian salt mining town in the northeast. Yet even that served to illuminate political fissures in the war effort: Prigozhin claimed his Wagner group was solely responsible for the capture, while the Defense Ministry not only touted its army's participation, but insisted that the town is still partly under control of the Ukrainians. The U.S. also cast doubt on the claims of victory.
All this came as casualties piled up for the Wagner group in the Soledar-Bakhmut area, with a reported 4,000 mercenaries killed and 10,000 wounded. Currently, Washington estimates the group's strength at 50,000 fighters, but only a fifth of them military professionals. The rest were recruited from penal colonies across Russia, where Prigozhin, trailed by cameras in a major p.r. move, flamboyantly promised them money and amnesty should they survive the war. Following his lead, the Defense Ministry has also turned to emptying out prisons to send to the frontlines.
The sudden surge of convicts into the ranks, however, some of them hardened criminals, aggravated tensions between Prigozhin and FSB counterintelligence, the heart of the Kremlin security establishment. For starters, the FSB was expected to assist in recruiting the prisoners, and the mogul's public call for his thieves and murderers to kill, torture, and "at least cut the throat" of Ukrainians was not the FSB's clandestine style. But it also knew that it would fall to the FSB to deal with a flood of trained killers after their military discharges.
Even the Russian Orthodox Church is said to have taken a role in the barbarity. According to some media reports, the church created a mercenary group, St. Andrew's Cross, a few years ago and began actively recruiting to send a volunteer battalion to Ukraine. In an interview, its coordinating director, Vladimir Khilchenko, said that this is "in fact the first PMC [private military company] under the Russian Orthodox Church." The church later said a "tactical training center" was stood up for several PMCs but was not specifically church-run.
The Russian army's difficulties, meanwhile, have given Prigozhin's troops a certain swagger. In late December a video surfaced of Wagnerites cursing Putin's top general, Valery Gerasimov.
"To the Chief of the General Staff: you are a faggot and a fucking devil," the mercenaries declared. "We have nothing to fight with, we have no shells. There, the guys are dying for us, and we are sitting here, fucking not helping. We need shells, we want to fuck everyone. We are fighting against the entire Ukrainian army near Bakhmut. Where are you? Help us. Finally there is nothing more to call you, whore. Except for one word—faggot."
When journalists asked Prigozhin about the video, he said it was real but otherwise had nothing to add—in effect endorsing their rude message to the chief of the general staff. He later released a video showing himself visiting his troops and inquiring about their living conditions.
Running Out of Room
Putin has attempted to walk a fine line with Prigozhin, dodging his provocations because he has no alternatives to backing both the Defense Ministry and the Wagner Group in Ukraine. For years he'd been a master at playing rifts among his inner circle and close Kremlin supporters, always keeping criminals like Prigozhin at arm's length. The renegade oligarch's recent public insults would seem to have demanded a response, but Putin has moved cautiously. In response to a question about the war's progress from Russian journalist Pavel Zarubin, Putin attributed the alleged successes in Soledar and elsewhere on the front to the Russian Defense Ministry. Putin's press secretary, Dmitry Peskov, meanwhile, attributed the reported friction between the Russian military and Wagner to foreign enemies and domestic rivals—a classic Putin ploy.
"Basically, this conflict exists, of course, in the information space," Peskov said, according to Russian media reports. "As with all conflicts…these are mainly products of information manipulations." He attributed some of that to "our information opponents"—meaning Ukraine and its Western allies, namely the U.S., but said "sometimes our friends themselves lead us so that no enemies are needed."
In the latest shakeup of his military command, Putin put army chief of staff Gerasimov directly in charge of the war in Ukraine. His predecessor had lasted only three months. None of his generals have delivered anything but humiliating defeats, high losses and savage attacks on Ukrainian civilians and infrastructure.
Dmitry Medvedev, once seen as a "reformer," has also stepped up his public rhetoric, regularly issuing extreme threats of nuclear attacks against the West and death to anyone criticizing the invasion or Russia's war crimes. He recently went on Telegram to threaten Russian critics abroad with assassination, calling them "traitors who have gone over to the enemy and wish their Fatherland to perish, including some insignificant pieces of shit who, until recently, considered themselves to be among the so-called intellectual elite."
The onetime Russian president added that "the bosses" have discussed "how to act"—"according to the law" or "justice."
"I'll have to give a clarification," Medvedev went on. "Of course, only by law. But if the law does not work or does not reach the goal, then according to the special rules of wartime.
"Let us recall the experience of the Great Patriotic War, and other countries as well," Medvedev added. "In times of war, there have always been such special rules. And quiet groups of impeccably inconspicuous people who effectively perform them." In effect, Medvedev's utterance was a blatant endorsement of the escalating number of unsolved murders of Russians abroad and at home.
Hit Teams
Moscow is notorious for ordering the assassinations of critics, whistleblowers and defectors, the poisonings of Alexander Litvinenko, Sergei Skripal, Alexey Navalny and Vladimir Kara-Murza being only the most prominent. From the 1940 ice-ax murder of dissident Bolshevik Leon Trotsky in Mexico onward, Russian intelligence services have demonstrated their global reach. But only recently has the West taken notice of the increasing frequency of murders by defenestration.
Over the past year, it has become even more dangerous for out-of-favor businessmen, especially those critical of the war, to get near a hotel window. Over Christmas week alone there was a spate of four deaths. Two died within days of each other at the same hotel in India—first, businessman Vladimir Bidenov, allegedly from a heart problem, and then two days later, his friend Pavel Antov, a meats mogul, politician and war critic who "fell" from his hotel window. Russian authorities quickly cremated Bidenov's body and put out a statement that they were aware of the deaths but had found nothing suspicious about them. In 2022, there were 23 prominent Russian deaths, ranging from back-to-back double murder-suicides (in Moscow and Spain, to strokes and suicides to several bizarre accidents, such as poisoning from a toad toxin, falling out of a speedboat and fatal stair falls.
Toil and Trouble
Ukraine setbacks, rival military factions, mass emigration, international sanctions, economic decline, assassinations—altogether such turmoil would suggest that Russia is headed for collapse.
The bleeding wound, of course, remains Putin's sociopathic invasion. The underreported death toll continues to climb, with a higher butcher's bill in the near future as Moscow gears up for a major spring offensive. The defense minister claimed last September that (only) 5,937 Russian troops had been killed in the war, but in November U.S. officials put the figure much higher, estimating that the casualties were "well over 100,000 Russian soldiers killed and wounded."
Putin seems as much unmoved by the carnage as his Soviet forebear Josef Stalin, who during World War Two rationalized sending hundreds of thousands of under-trained, under-armed soldiers to their certain death against Nazi tanks with the shrewd, if flippant remark that "quantity is also quality." But rallying Russians to support a misguided foreign expedition will prove to be a lot harder than organizing mass resistance to Hitler's invaders.
While Russians in general continue to support the war, with few qualms over their troops' s trail of war crimes and genocide, they are starting to balk when authorities knock on their door with death notices or draft calls. If history serves, Putin will increasingly turn to the intelligence and security agencies to defend the regime, just as his predecessors Stalin and Leonid Brezhnev depended on the chekists to protect them. But Russian history is soaked in paranoia and betrayals, new rounds of which are almost certain to come no matter how the Ukraine campaign fares, whether in utter failure or a Pyrrhic victory condemned by the world.
No doubt the KGB's successors in the FSB and SVR can see the writing on the wall and are preparing for either scenario. In time they may well look to install a neutral, relatively unknown figure who could reopen bridges to the West, as they did after the collapse of the Soviet Union.
Back then Western governments and investors virtually swooned, embracing the "new" Russia with open arms and bottomless wallets. But the funds meant to build Russia into a capitalist democracy ended up falling into the hands of the intelligence agencies, the Russian mafia and corrupt politicians (often all in one), while trillions worth of state funds and assets disappeared. Eventually Putin and his cronies in the secret services would dip into the loot to fund operations to subvert global democracies, cultivate political figures in the West, fund terrorist operations and run endless disinformation and division operations abroad.
The Ukraine invasion has crimped their hands. Under law enforcement scrutiny abroad even before the invasion for their covert interference in foreign elections, the Russian intelligence services have found it increasingly difficult to carry out undetected operations in Europe and the United States. Hundreds of "diplomats" have been expelled. The clandestine movement of money via western institutions to fund operations is also being newly monitored and investigated, while the oligarchs and businessmen employed to cultivate influential Western figures have been sanctioned.
For decades the West failed to hold Russia fully accountable, despite the grisly chemical-weapons assassinations on their soil, its war crimes in Chechnya, invasion of Georgia and its atrocities in Syria. When the West failed to punish Putin severely for his seizure of Crimea, he obviously concluded that he could devour the rest of Ukraine without crippling penalties. What he failed to anticipate was the united front that would emerge from the fractious NATO alliance by unleashing the first full fledged, armor and air-supported ground war in Europe since 1945—a massive strategic blunder. Now Russia is surrounded by even more implacable foes, with Sweden and Finland rushing to join NATO and Ukraine itself likely to be welcomed once the war ends in its favor.
All of which bodes very poorly for Putin. But should his regime fall, it's imperative this time for the West to avoid the mistakes made after Soviet communism's demise in 1991. This is not just Putin's war, it's Russia's war, the latest link in a centuries-old chain of systematic corruption and barbarity. Only fools think somebody better will arise from Putin's ashes.
Olga Lautman is a senior fellow at the Center for European Policy Analysis and co-host of the Kremlin File podcast. Jeff Stein, a former natonal security correspondent for Newsweek, is editor-in-chief of SpyTalk.