The man charged with plowing a Humvee into the 3rd Infantry Division's headquarters building at Fort Stewart, Georgia, is a retired Iraq war veteran, Army officials said Tuesday. Images of the wreck, with the vehicle half enveloped in the crumbled glass facade of a building, quickly took over social media shortly after the incident Monday.
Treamon Lacy, 39, was immediately arrested after the incident and charged with theft of government property and destruction of government property. As a retired soldier, Lacy had access to the base, though he did not have any authority to drive military vehicles, according to court filings.
"Fort Stewart Police, along with Department of the Army Criminal Investigation Division agents, detained Lacy at the 3rd Infantry Division headquarters building immediately following the incident," a service spokesperson said in a statement.
Read Next: Senate Plan Would Force the Army to Revert to Old Fitness Test But Would Allow New Events
Authorities say Lacy stole the Humvee from the 87th Combat Sustainment Support Battalion's motor pool Monday morning and within minutes intentionally crashed it through the front doors of the 3rd Infantry Division headquarters.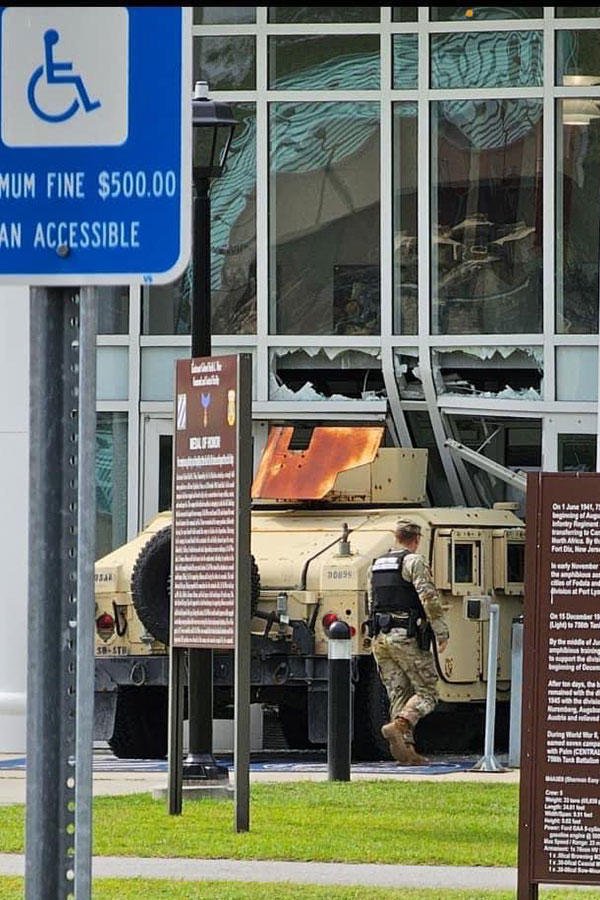 No one was injured. It is unclear what motivated the crash.
Lacy served in the Army from June 2002 to July 2013 as a wheeled vehicle mechanic. He left the service as a staff sergeant.
Like most military ground vehicles, Humvees do not require keys. Units will sometimes use a tool to lock the steering wheel in place, or a bolt lock on the outside of the doors on some models. But if unsecured, the vehicles can be driven off with ease.
The Humvee was the go-to ground combat vehicle in the early years of the Global War on Terrorism, until they were replaced with Mine-Resistant Ambush Protected, or MRAP, vehicles, which were much better at withstanding blasts from roadside bombs.
Humvees are still used in typical garrison duties and training. While the vehicles can be easily outfitted with heavy weapons like the M2 .50-cal machine gun, MK 19 automatic grenade launcher and TOW missile system, they are not outfitted with those during day-to-day duties outside of a training or combat environment.
In an unrelated incident, California authorities have been on the hunt for an Army National Guard Humvee stolen from a 579th Engineer Battalion armory in Santa Rosa since July 3. In 2021, another California National Guard Humvee was stolen from the 40th Brigade Support Battalion; it was eventually found under a bridge in Los Angeles.
-- Steve Beynon can be reached at Steve.Beynon@military.com. Follow him on Twitter @StevenBeynon.
Related: Have You Seen a Humvee? The Military Would Like it Back, Please