Warning: This story includes discussion of suicidal ideation and details of a suicide attempt.
It was a cold March day in Poland, and no one had seen Spc. Austin Valley in hours.
Valley, 21, had sent his parents a suicide note. During a frantic search, soldiers followed footprints in the snow into the dark woods, where they heard gurgling noises.
It was Valley, a young infantryman, attempting to hang himself. The soldiers swiftly cut him down, and his unit sent him back to Fort Riley, Kansas.
Read Next: On the Front Lines with a Ukrainian Artillery Unit
Exactly 30 days after the suicide attempt in Poland, Valley died by suicide outside of his girlfriend's apartment 60 miles from Fort Riley -- the Army base where his family assumed he was getting the help he needed and was under proper supervision.
The following day, his parents took him off life support.
Valley served in Headquarters and Headquarters Company, 2nd Battalion, 70th Armor Regiment, 1st Infantry Division. He was the assigned driver for Command Sgt. Maj. Ryan Dilling, the top enlisted leader for the battalion.
The unit's response to Valley's first attempt to kill himself raises questions over whether the Army's suicide prevention efforts provide clear, concise response plans for units. His parents believe he never got the care he needed at Fort Riley.
Military.com reviewed numerous text messages between Valley and soldiers in his unit, including noncommissioned officers responsible for his well-being, and interviewed three soldiers in his unit. It also reviewed GPS records tracking Valley's movements in the days leading to his death; his mental health care appointment schedule, provided by his parents; and the 911 call after his suicide.
It remains unclear whether Valley ever received inpatient care: His parents say no, but the Army will not say, citing medical record confidentiality. Valley also appears to have had little supervision after his suicide attempt, and his command allowed him off base for hours at a time.
Over the course of Easter weekend, he was granted a four-day pass, according to his parents.
Valley was tasked with texting a noncommissioned officer once a day to check in. He was also on a so-called "no weapons profile," meaning he was forbidden from handling military firearms.
Before his death, Valley loved to spend time outdoors fishing and hunting, and had been a talented trap shooter in high school. He always knew he wanted to be in the Army, according to his family.
In the fourth grade, he was given an assignment on what he wanted to be when he grew up. On the top line, he wrote "Army," and used the rest of the space to draw an airplane with the word "Army" on the side and a paratrooper jumping out.
"Some days are better than others. I'm just trying to keep busy," his father, Erik Valley, told Military.com.
Stephanie Valley, his stepmother, is an intensive care unit nurse and a first lieutenant in the Army Reserve. But she recently submitted a letter resigning her commission.
She believes the Army failed her son.
"They're backed up in their appointments; they don't have enough manpower. At one point, they sent him away because they were so busy that day," Stephanie Valley told Military.com. "The Army just didn't do its job. [It's] black and white."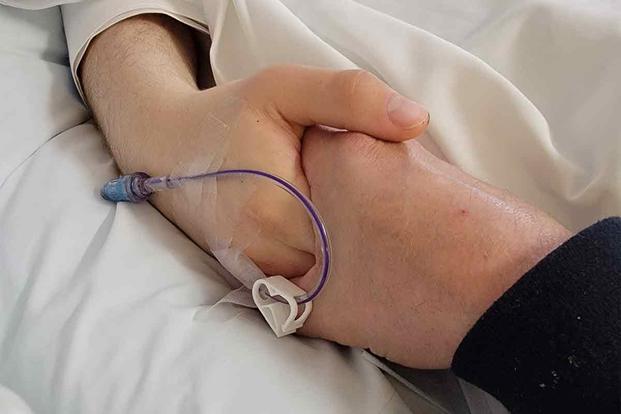 Lt. Col. Jefferson Grimes, a division spokesperson, declined to comment to Military.com on whether Valley was ever provided supervision or inpatient care, citing federal medical privacy law.
"Mental health concerns and suicide ideations are taken seriously, and help is provided as quickly as possible either through an on-site mental health professional or in-person appointments," Grimes said in a statement to Military.com.
The Army doesn't have a uniform policy on how long to monitor soldiers after a suicide attempt or what that watch should look like, giving commanders broad latitude to respond how they see fit, based on a Military.com review of numerous Army behavioral health and suicide prevention policies.
The service has been promising for nearly three years to consolidate existing guidelines and overhaul its suicide prevention policies. A string of delays was first detailed by Army Times.
In 2020, the Army gave a statement to CBS News vowing more resources and better prevention efforts. Nearly a year later, the Army issued a servicewide message that revised regulations were coming in the fall of 2021, only for a press release to come out that November shifting the timelines to early 2022. But the new rules and resources never came.
However, the current rules are strict on ordering units that soldiers under watch, such as Valley after his attempted suicide, should never be left alone.
"He had an attempt. That's a serious, serious matter," said Robert Alvarez, founder of the Uniformed Services Justice and Advocacy Group, which provides legal counsel and other services for troops and vets.
Alvarez, who worked as a military mental health counselor at Fort Carson, Colorado, told Military.com it was "a miracle" that Valley survived the first suicide attempt in Poland and that he should have been monitored long term.
"He should've been put in patient care for maybe a couple of weeks for observation," he said.
Even after his suicide attempt, Valley made frequent trips off base after returning to Fort Riley, often to a storage facility, a Walmart and a park, among other places -- all 30 minutes or more outside of base. Much of that travel was on weekends, according to GPS records.
On the day he died by suicide, he drove to his girlfriend's apartment in Topeka, Kansas.
Valley's check-ins with a staff sergeant who was seemingly in charge of providing supervision, based on screenshots of the messages, consisted of him texting "up" once per day and the NCO "liking" the update.
"Part of this is it's a bureaucratic mess. How to respond can be confusing, and it's for sure not intuitive for a young soldier or junior leader," one command sergeant major told Military.com on the condition of anonymity because they were not authorized to talk to the press. "There's a bunch of websites, pamphlets and sources.
"The Army's heart is in the right place, but it needs to simplify response," the sergeant major said.
Valley's parents said it appears he did not get any in-patient mental health care at Fort Riley following his suicide attempt in Poland. The Army declined to provide any details on Valley's care and suggested just before publication that Military.com file a request for confidential medical records.
Valley did have several outpatient behavioral health visits, but all with different care providers and on a scattered schedule, according to health records provided to Military.com by his parents. He had appointments scheduled for April 5, April 6 and April 11, the day he died.
Valley was also interested in getting care outside of the Army -- even willing to pay out of his own pocket -- but he told his parents that his unit discouraged it, saying he wasn't authorized to seek care outside the Army's network. Generally, there is no Army rule prohibiting soldiers from getting outside medical care if they pay out of pocket.
He did eventually make an appointment with a civilian clinic, but he died before that visit.
"We have to open up the network so soldiers can get care off post. Soldiers are being told they can't go off post," Tara Fields, a former Army mental health clinician, told Military.com. "A lot of these stressors come from the military, so it makes sense to open up resources ... especially when the system can't handle the demand."
The Army has a lack of mental health care providers. It's a servicewide issue Army Secretary Christine Wormuth has brought up to Congress on multiple recent occasions.
The problem is caused by a confluence of factors, including pay that's not competitive with the civilian sector, or at times even with the Department of Veterans Affairs. Many Army bases are also in rural and somewhat remote locations such as Alaska, and the onboarding process for health professionals sometimes takes months.
Grimes said Fort Riley has initiatives aimed at making sure mental health appointments for soldiers are completed as soon as possible.
"This includes, but is not limited to, creating developmental positions with appropriate oversight for counselors that are still receiving their clinical hours for independent practice; utilizing non-clinical resources in conjunction with [behavioral health] including Chaplain and Military and Family Life Counselors (MFLC) providers; and, when appropriate, allowing soldiers to receive off-post care with approval," he said.
The military has long struggled with suicide in the ranks, a trend that slightly outpaces the general population.
As it searches for ways to reduce the deaths, senior leaders in the Army have pointed to tackling quality-of-life issues as key to boosting morale -- identifying and removing poor leaders, granting soldiers more generous parental leave, and improving the quality of barracks, some of which have had mixed results.
Veterans and service members experiencing a mental health emergency can call the Veteran Crisis Line, 988 and press 1. Help also is available by text, 838255, and via chat at VeteransCrisisLine.net.
-- Steve Beynon can be reached at Steve.Beynon@military.com. Follow him on Twitter @StevenBeynon
Related: These Troops Bought Guns on Base. Then They Used the Firearms to Take Their Own Lives.