Jennifer Barnhill is a columnist for Military.com writing about military families.
When I first interviewed Amy Zinicola in 2020, she was sick. Her children were sick. All had some combination of coughs, runny noses, migraines and extreme fatigue that wouldn't go away.
She didn't have COVID. Her family had been exposed to black mold in not one, but two of the homes offered by their privatized military housing company in Monterey, California.
We met just nine days after the Defense Department released its Military Housing Privatization Initiative Tenant Bill of Rights in February 2020. I naively thought that the mold-in-military-housing situation was resolved, or at least on its way to some version of better. By that point, stories like the Zinicolas' had motivated Congress, the DoD and military-focused nonprofits to hold privatized housing companies accountable, to ensure they provided safe housing for military families.
The Tenant Bill of Rights (TBR) outlined 18 provisions designed to give military families leverage if they found themselves stuck between a government contract holder and a toxic living environment. These "rights" included requiring the housing company to provide seven years of maintenance history, the creation of a formal dispute resolution process, and the ability to withhold rent payments during dispute resolution. They became available for families in the summer of 2021, but as of March 2022, five installations are still not abiding by the new standard.
When this "bill" was published, it was like any other DoD memo. It felt like pie in the sky, clearly intended to help, but something to be digested with a grain of salt. The military family community grabbed our popcorn and sipped our tea, as we watched the TBR fade into the background of the conversation like the Homer Simpson meme slowly backstepping into the bushes. In the military community, it's common for attention to subside swiftly as a solution begins to be put in place -- out of sight, out of mind.
Slowly, but surely, I started to hear rumblings about unsafe housing conditions again and was reminded that even the best of policy intentions can fall apart during implementation. The Zinicolas' problems pre-dated the TBR, but other families found that the new rules were written narrowly enough to exclude them from their protections. Others worried that by using the TBR they'd be putting a target on their backs, labeling themselves troublemakers.
Some families reported improved work order processes that resulted in improved tenant satisfaction. Others expressed frustration with excessively complex dispute resolution workflows and suspicious privatized housing company policies. Because TBR implementation is dictated by the privatized housing contract holders, families don't know what to expect from one location to another, forcing them to take matters into their own hands.
Has Facebook Replaced ICE Complaints?
In January 2023, a Luke Air Force Base Facebook group's posts began to go viral across the Arizona installation. Instead of seeing offers for free moving boxes or donations of children's clothing, families started sharing pictures of black mold in their ventilation systems.
Comments and posts came in daily, with new families uncovering their vents only to find that they too had black mold. They complained that maintenance workers were dismissive, saying it was dirt, or appeasing the tenants by wiping it off and painting over it. Families shared how work orders placed with their landlords were frequently closed before work was completed, leaving many feeling helpless. At least they weren't getting gaslit on Facebook.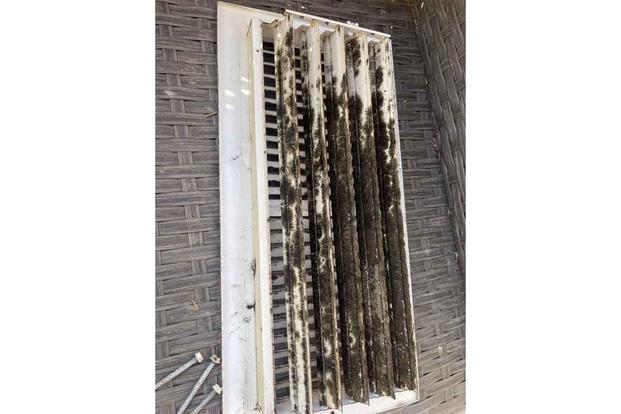 "They consistently lie to the residents, I mean bold-faced lie," said Luke Air Force Base resident Brittany Tippens, describing a series of interactions with the privatized housing company after reporting brown water flowing from her taps.
Despite a stream of calls from residents, Tippens said, "They consistently told people that they were the first person to call, and they hadn't heard about this issue before."
Within days of the original Facebook post, Luke AFB leadership held a town hall meeting, convening families, installation leadership and representatives from the privatized housing company, Balfour Beatty Communities (BBC). They discussed the mold issue and the rumors that BBC had been closing work orders before work had been completed.
"What I've heard [BBC] communicate was they had a problem economically, making sure that they were fully staffed on the maintenance side," said Col. Anthony Mullinax, 56th Mission Support Group commander at Luke. "And that led to some [work order] process issues."
Mullinax indicated that Luke's leadership intends to continue offering town hall meetings, so residents have a way to air their concerns without beginning a formal complaint process, but also to move the problem away from Facebook and toward leaders who can help enforce the TBR, including BBC.
"The health and safety of our residents is our number one priority," said a spokesperson from Balfour Beatty Communities in a statement sent via email. "Like many employers, we had difficulty hiring staff in the second half of last year, a direct function of the challenging labor market. It was wholly unrelated to compensation. While we worked to recruit and hire permanent staff, we used third-party contractors and vendors to supplement our team and ensure work orders were being addressed in a timely manner."
The representative also shared that Tippens was likely incorrect in thinking she was lied to by BBC workers, saying "multiple residents had immediately called in the issue -- some to the work order call center and some to the community office. Given the circumstances, it is likely that this resident spoke to someone who was hearing about the issue for the first time."
However, it's not surprising that families are skeptical of BBC. In December 2021, the company pleaded guilty to defrauding the federal government for engaging in behavior similar to what the Luke residents were complaining about on Facebook and at town hall meetings, including falsifying work order processing timelines in order to collect performance bonuses that the DoD dangled in order to encourage housing companies to complete work more quickly. BBC was ultimately required to pay $65 million in fines and restitution. It is still under investigation for "ongoing mistreatment" of military families.
Many residents I spoke to were terrified of sharing their names for publication, despite the safety of privatized housing being a top concern for military leaders, with one sharing that they were worried about retribution from the company for having spoken with a journalist. One mentioned they had to sign a nondisclosure agreement as a condition of being offered financial restitution for the damage caused by the mold. Another discussed how awkward the dispute resolution process was, and that they did not feel comfortable airing their dirty laundry in front of installation leadership, something that is required in the Luke dispute resolution process. Others just didn't trust the housing company. Despite having a lot to say on Facebook, those posts did not necessarily translate into informal or formal complaints.
"Most people give up when they get to the dispute resolution process because it's so arduous," said Kate Needham, executive director of Armed Forces Housing Advocates, an organization that seeks to protect "current and future military families from MHPI companies that care about profits over people".
"It can be frightening for some people," said Needham. "They often will step back and say, 'Forget it. I don't want to deal with it. We're going to be out of this house in six months anyway.'"
Rich Linkus, who works in the Military Family Housing Office at Luke, said he has seen only two instances where the formal dispute resolution process was pursued. And informal disputes are also infrequent, according to Linkus. "In the last year that I've been here, we've only had three residents come up to myself or [the] office to actually initiate that process," he said.
Are People Able to Use the TBR?
It may be that families are not even aware of the TBR when they share photos of their homes on social media. Research conducted by the Military Family Advisory Network in 2021 indicates that nearly 40% of respondents were unaware of the Tenant Bills of Rights and only 10.6% of those individuals had used the TBR in its early days.
Some military-connected residents know about the TBR but are not eligible to take advantage of its protections because they are no longer serving on active duty.
"We were noticing, like, burning smells and burnt outlets. And then we would lose electricity in the dining room as well as the living room. And we had to keep resetting the circuit breaker, and it just wasn't working," said Lamiya Brown, spouse of a Marine Corps veteran living in privatized military housing in Monterey, California. Their home is managed by The Parks at Monterey Bay -- Michaels Organization, the same company that maintained the Zinicolas' home and the same company that has been sued by military families for alleged failure to provide safe housing.
"I think The Parks came out a total of eight to 10 times because of my constant work orders," said Brown. Fast-forward a few weeks, and she had to call the fire department because they smelled something burning. After Cal Fire cleared their house, the power company discovered that the meter needed to be replaced, along with rewiring every internal outlet.
"They were trying to fix one single outlet inside the house, and it wasn't the problem. So, they were just trying to fix stuff that was basically cosmetic," Brown said. Because the Browns are no longer an active-duty family, they are not protected by the TBR and must work within the housing company's dispute-resolution system without DoD oversight. And because the housing company has a "partnership" with the United States Army, filing a lawsuit doesn't seem feasible to the Browns.
According to Oscar Ordonez, the Army's chief of housing for the Presidio of Monterey, who oversees The Park properties, less than .01% of issues are elevated to his office for resolution, and none has been elevated to an informal or formal dispute resolution process. "Our data pretty much supports the fact that our partners are doing the right thing out there and taking care of people's needs," said Ordonez.
And he may be right. According to Ordonez, tenant satisfaction rates have gone up, earning the installation's housing office awards. But that doesn't help the Browns, who are no longer on active duty and therefore ineligible to use the protections in the Tenant Bill of Rights. They must work directly with The Parks to obtain a resolution.
The Parks did not respond to a request for comment on these accusations. It also did not respond in 2019 when I first reported the Zinicolas' story.
Does TBR Go Far Enough?
"I think there are pockets of installations where things are slowly improving. And I think that there is a majority of confusion elsewhere because the process is not standardized," said Needham. "Because there are still organizations that have not been committed, not implementing the entire kind of Bill of Rights until there is a standardization, third-party oversight and an enforcement mechanism that is real, this problem is not going to be solved."
Because the DoD has to live up to its existing housing contracts with private companies, it can't unilaterally impose the new Bill of Rights on those firms. That means not every housing company has to follow the Bill of Rights, and those that do are following different processes, depending on their contracts. This requires families to be their own advocates in the face of multimillion-dollar contractors.
For instance, the TBR requires that military families be provided with a seven-year maintenance history before moving into housing. But the TBR does not require that this history be detailed in any way. I obtained numerous maintenance histories, and very few of them indicated that mold was found in the home. They simply say "sink repair" or "water damage." This provision requires families to be detectives and squeaky wheels.
If the Zinicolas lived in their previous mold-infested home today, less than three years later, they could request more details about the house's history.
"Let's say they do see one [an entry on their 7-year maintenance history] with just water intrusion or water damage, they can call and get specifics," said Ordonez. "It would probably be grossly different now than it was back then."
After my earlier story was published, the Zinicolas found more mold and had to throw away 90% of their belongings -- beds, baby blankets, clothes and the couch I sat on during our interview. They spent their last days in Monterey sleeping on cots during the height of COVID, praying for travel bans to be lifted. Had they been covered by the TBR, they could have vetted their second house more thoroughly before relocating, possibly saving some of their belongings, but they would have had to know to ask for more information.
Needless to say, the Zinicolas vow never to live in military housing again. "They have really nothing invested in the health of the home," said Navy Lt. Cmdr. William Zinicola of privatized housing companies. He believes that the housing companies "do as much or as little really to keep the cash flow coming in until they're satisfied or until the government deems the contract null and void."
-- Follow Jennifer Barnhill on Twitter @more_than_mommy.