Hundreds of soldiers are now receiving layered protection suits capable of withstanding temperatures as low as minus 65 Fahrenheit, marking the end of a five-year quest for elite cold protection that was capped off by a six-month race to develop and field the gear.
The first soldiers began receiving the Cold Temperature and Arctic Protection Systems, or CTAPS, in February, according to an Army announcement. The system's five layers are designed to adapt to varying levels of cold while mitigating chill-inducing factors like external moisture and internal sweat to keep soldiers safe and even comfortable while operating in the world's most extreme temperatures.
According to the Army's announcement, the system includes the following components:
Base layer: a long-sleeved top and bottom that sits next to the skin, like long underwear, and wicks sweat and other moisture to keep the core warm.
Lightweight layer: this top and bottom adds thermal insulation. The shirt has vented armpits for "increased range of motion, moisture management, and cooling during movement." This layer is for milder days, to be worn under the outer shells.
Softshell uniform: This is the first outer layer and replaces the Army Combat Uniform in cold environments. It includes the familiar operational camouflage pattern.
Cold-wet weather uniform: Designed for extended time out in freezing rain or other cold and wet conditions, this layer includes a breathable hard-shell top and bottom designed to keep the rain out.
Extreme cold-weather parka/trousers: The bulkiest layer, this outer shell is reserved for the very coldest conditions and scenarios, such as standing post outdoors when it's cold enough to kill. Photos show this outer shell includes a neck guard and quilted/heavily insulated arms and legs.

"CTAPS can be worn in any combination of layers depending on the mission requirements and needs of the individual Soldier," the Army said in a release. The service added that it will come in 15 sizes.
The Army released its Arctic strategy, "Regaining Arctic Dominance," in 2021, acknowledging increased global competition in the Arctic region and the need to be prepared to operate and even fight in the cold for extended periods. One strategic goal emerging from the document was improving the materiel readiness of Arctic-capable units.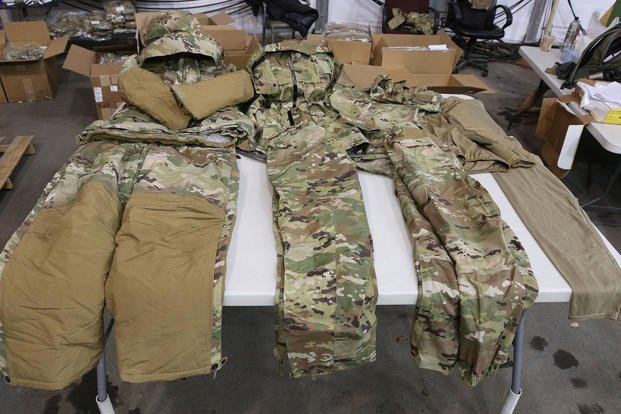 CTAPS, however, was on the Army's wish list well before then. The first sources-sought solicitation for the system was published in 2017 and called for a lightweight and easily packable replacement to the legacy seven-layer Extended Cold Weather Clothing System Generation III (ECWCS).
"The effort will develop a multi-layer system that will provide a minimum of no melt and no drip next-to-skin layers, environmental protection from wind and water, and provide tailorable protection for temperatures spanning a range from 45˚F to -65˚F in as few garments as possible," the solicitation stated.
Last July, the Army inked a $10.6 million contract with SourceAmerica, out of Vienna, Virginia for CTAPS suits, having received a single bid, according to an announcement at the time.
According to the Army's recent release, though, the rapid fielding of the system to soldiers in Alaska took just six months to complete, culminating in its issuance to troops with the 11th Airborne Division at Fort Wainwright in February. The service issued a requirement last June to get soldiers at Alaska bases new gear that they could wear for winter field training exercises. The existing system, ECWCS, was just not up to the challenge in Alaska, where the record low temperature is minus 80 and temps of minus 30 degrees can be experienced from November to March. The Army had conducted prototype testing with CTAPS as far back as 2020, and it was a strong candidate to meet the urgent need.
"We test a lot of gear, and we knew we had developed a unique system with CTAPS, when we showed up to a post a year and half after our initial tests and saw Soldiers still wearing it," James Murdock, a project officer with Product Manager- Soldier Clothing and Individual Equipment, said in a statement.
In January 2022, six months prior to the June directive, Murdock's department selected 18 soldiers at Fort Greely, Alaska to participate in a human factors evaluation of CTAPS that included five days of foot marches and obstacle courses. The tests were designed to ensure that the system was not only warm, but functional and easy to move in.
After the directive came down, according to the Army release, the department had to race to suit out two brigade combat teams within the 11th Airborne Division prior to a large-scale cold-weather training exercise happening in March. Within three days, officials said, experts were huddling and developing a plan to review and finalize the design and get it ready for production.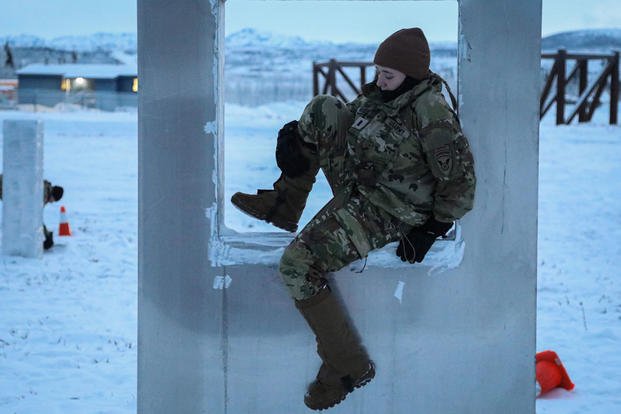 "The sheer number of people that have come together to make this happen has been nothing short of amazing," Murdock said in a statement. Each vendor has really prioritized this effort despite other work they were doing, to get CTAPS in soldiers' hands as fast as possible… We will have people on the ground in Alaska for up to four months to support every soldier receiving this premier system."
The Army is now fielding CTAPS to soldiers at a rate of up to 500 per day, according to the release.
While this is a major aspect of the Army's push to get combat-ready in the Arctic, it's far from the only initiative in the works: the service has also contracted with BAE Systems to build a cold-weather all-terrain vehicle, Beowulf, to help soldiers cover distance in the cold and snow.
Read the original article on Sandboxx.