Pete Reed was dressed in a Hawaiian shirt, one of his favorites, when he and his wife were finally reunited in early February. Volunteers had done their best to clean up the Marine veteran, 33, who had been providing medical aid in the eastern Donetsk region of Ukraine when his ambulance was struck by Russian munitions.
Reed's head had been gently wrapped in towels. He was draped in gold foil blankets, the kind usually handed out after disasters or at the end of marathons to keep people warm.
Standing over her husband at a morgue in Ukraine, Alex Kay Potter knew she'd been lucky. Two volunteers -- one a fellow Marine -- had gone in to retrieve Reed's body after the area of the ambulance strike had been cleared, a kindness that would help her bring his remains home quicker.
Read Next: Trading on Patriotism: How Extremist Groups Target and Radicalize Veterans
Potter had been to conflict zones before, having met and fallen in love with Reed in Northern Iraq years prior where he was providing casualty care to Iraqi and Kurdish forces while she reported on the war against the Islamic State. But this time, her purpose was different as she began the arduous process of trying to get Reed's body out of war-ravaged Ukraine.
Reed is the most recent of seven Americans known to have been killed fighting in Ukraine since the Feb. 24, 2022, invasion by Russia. Although the U.S. isn't officially involved in fighting in the conflict, the anniversary of the war marks a devastation felt by loved ones just the same as those lost in the War on Terror as hundreds of Americans have rushed to the country, some to fight, some to provide other aid.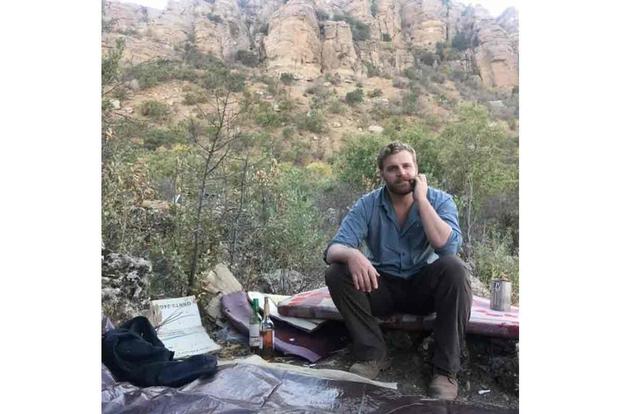 The process of laying to rest those killed in the conflict, however, hasn't been marked by flag-draped caskets on C-130 Hercules or escorted returns through Dover Air Force Base, Delaware. Instead, it's brought to light the uncertainty of fighting in a foreign war that does not promise to leave no man behind. Families can spend months waiting to learn the fates of their loved ones, before being forced to trudge through mountains of paperwork and interminable delays before they can lay the fallen to rest.
Potter was working a night shift as a registered nurse Feb. 2 when, around 4 a.m., she got a phone call from the founder of Global Outreach Doctors, the organization Reed was working with to provide medical aid to those trapped in the war raging in Ukraine, telling her of her husband's death.
Immediately, Potter tried to get confirmation from anyone she could, calling dozens of people and contacts with various organizations in the area, the State Department, and friends or colleagues. Some told her he was in an ambulance on route to Dnipro, alive and well. Others told her he had been killed immediately.
"The time where we were questioning where he was, was torturous for me," Potter said in a recent interview.
After about 18 hours, her worst fears were confirmed when a friend sent her a video of the attack that was circulating on social media. It showed her husband being struck. She was able to identify his prone form even in the blurred footage.
"I know what my husband's body looks like," she said.
A phone call from the Federal Bureau of Investigation added another layer of confirmation that Reed was gone. The FBI got involved because an attack on civilian medical personnel is considered a war crime, and the targeted strike on Reed's ambulance appeared to fit the bill.
It was only after Potter had herself confirmed her husband's identity through photos of his Marine Corps tattoo and other volunteers on the ground that she was contacted by the State Department about his death, and how to bring him home.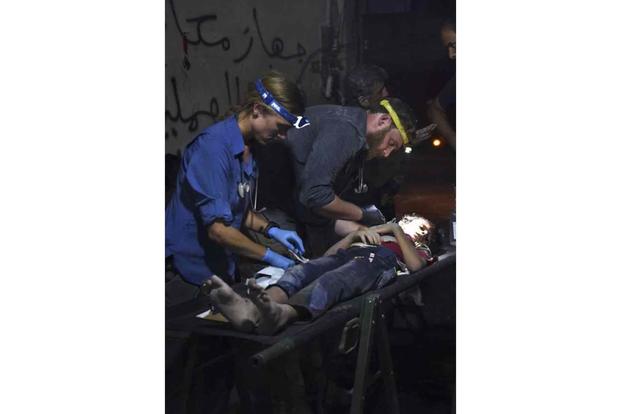 Who Helps Bring an American Home
When an American is killed abroad -- whether in a foreign conflict or simply during touristic travel -- the Department of State's Bureau of Consular Affairs is the government agency on call. To the best of its abilities, the BCA is supposed to confirm the death, and then inform and help families and friends procure the necessary documents to bring their loved one back and settle their affairs.
A year into the war, the hardest part of retrieving a fallen American is getting the deceased to a location safe enough for them to be exfiltrated. Volunteers or soldiers fighting in Ukraine have largely been responsible for retrieving American remains.
According to Potter, loved ones don't typically retrieve the bodies themselves, but she wanted to be there for him one last time.
"The official process is that you're supposed to work with a funeral home who facilitates the paperwork and transfer," she said. "It's a logistical nightmare."
Paperwork needed includes an autopsy report, a death certificate, a cremation permission certificate if that's preferred over burial, and -- among other more minor documents -- a Consular Report of Death Abroad. The document is issued by a U.S. consulate or embassy, confirms the autopsy report, and aids insurance companies and benefits agencies in handling the deceased's estate once back in the States.
As part of its role, the State Department is supposed to help facilitate the arduous process, explaining and signing off on required documents and providing a reliable list of mortuaries, funeral homes and crematoriums that can be used. When Potter went to go get her husband, she was told the entire process could take weeks, if not longer.
"I was like, 'Absolutely not,'" Potter said of the idea. "So I did it more of the journalist way, which is to work with a local, a fixer, who basically cut out the middleman and was able to get us all this different necessary paperwork."
If Potter hadn't gone in person to bring Reed back though, she added, it would have taken at least more than a month to get him home.
"When you're abroad, you're under the jurisdiction of that legal entity, that country," a U.S. government official with knowledge of the Bureau of Consular Affairs' "death abroad" process said in an interview. "A combat death especially is a unique death," they added. "Whether it's in a conflict in South America or somewhere else, it complicates the situation."
In the case of 24-year-old Joshua Jones, who was killed in August of last year, his remains finally made it home Feb. 7. His family spent more than five months struggling to wade through the turmoil of a foreign war and international customs and logistics policies; Jones' remains had to first be returned to Ukrainian allies as part of a hostage swap in October, and then an investigation into war crimes and problems with DNA testing to confirm his identity stalled the process further.
Misty Gossett, Jones' mother, told CNN that, after voicing her frustrations at how long it was taking to bring her son home, she received a terse text message from an official with the International Foreign Legion of Territorial Defense of Ukraine.
"Pay attention to the fact that a [sic] number of Ukrainian deceased soldiers is enormous, their parents and wives want to identify their bodies as hard as you do," the text read. "However, we have only one institution of Office of Chief Medical Examiner and people wait for half a year to achieve results."
Jones has since been laid to rest near his family in Memphis, Tennessee.
Veterans Affairs and Funerary Costs
Beyond the paperwork and the pain of waiting to lay a loved one to rest, the process can also lead to thousands of dollars in bills.
Responsibility for the cost of repatriating a fallen American's remains lies with the next of kin. Recent official estimates from 2017 show an average of around $3,000 to repatriate remains from neighboring Poland, as Ukrainian airspace is still closed. That number doesn't include the cost of getting remains out of war-torn Ukraine, and according to the U.S. Embassy in Poland, also doesn't include the cost of preparing the remains. The shipping preparation of ashes and remains ranges from $790 to $2,900. Cremation fees, which is how Reed wished to be laid to rest, could cost about $155.
Potter said she was grateful that a number of groups have worked to help honor Reed. "I've gotten [financial] support from Go Docs and [Global Response Medicine]," she said. "I had to pay for very, very little. He just had such a huge network of people." Global Response Medicine is the humanitarian aid organization the couple helped found after meeting in Iraq.
For service-connected veterans, the Department of Veterans Affairs may be able to offer some financial support. A burial allowance is available to the next of kin of a qualified veteran: one who was discharged under all conditions other than dishonorable and who qualified for veterans' benefits at the time of their death, among other requirements. As of 2014, this can amount to $300 for non-service related deaths -- which would include fighting in Ukraine -- and more than $700 for plot interment fees if not buried in a national cemetery.
According to a VA spokesperson, veterans fighting in Ukraine will likely not forfeit any of their benefits, as it doesn't count as a return to active duty unless it's for the U.S. military. Ultimately, if a veteran ends up making the ultimate sacrifice, the benefits they earned in life won't be lost with their death.
"Generally, an insured veteran serving in a military unit in Ukraine would not forfeit life insurance coverage," the spokesperson said. "However, a caveat to this concerns a veteran who has life insurance coverage, and their premiums are waived due to total disability."
As a veteran with the "complete and total" disability rating should not physically be able to fight, one who does may forfeit the benefits usually entitled to a person with that rating. If a veteran travels to Ukraine and gets involved as a paid consultant -- which the VA may determine is "gainful employment" -- the premium waiver would also be discontinued.
For the Americans who have gone over to Ukraine to repel the invasion or provide aid, the possibility of death and the burden it would place on loved ones are not typically front of mind.
"No one expects to die, but you need to remember they can," Potter said.
When Reed first left for Ukraine, Potter had been worried about her husband, but only minimally because of their time spent together in other war zones. "We went everywhere together, we did treatments together, assessments together, and in pretty sketchy scenarios," she said. "And there was never a time that I was with him that I felt like I was in danger, because he was incredibly smart."
The pair hadn't talked about the logistics of a potential loss of life before Reed died, because even though he was headed into a war zone, it hadn't seemed like a necessity.
"Remind each other that you love each other," she said, and then, in the irreverent humor shared by all military families, "and remember to share your passwords and documents."
-- Rachel Nostrant is a Marine Corps veteran and freelance journalist, with work published in New York Magazine, Insider and Military Times.
Related: Former SEAL Dies in Ukraine; 6th Known American Killed in War