The U.S. and allied countries around the world are sending armored vehicles, advanced air defenses and billions of dollars in other weapons to Ukraine in hopes of quickly bolstering its forces ahead of a potential Russian offensive later this year.
The latest tranche of American aid was unveiled Thursday, including a brigade's worth of armored Stryker vehicles, and was valued at $2.5 billion -- following a $3 billion package with Bradley Fighting Vehicles on Jan. 6. Defense leaders from about 50 countries huddled at Ramstein Air Base in Germany on Friday to discuss the aid and the path forward.
"Russia is regrouping, recruiting, and trying to re-equip," Defense Secretary Lloyd Austin, who attended with Joint Chiefs Chairman Gen. Mark Milley, told the gathering, according to a transcript of his speech. "This is not a moment to slow down. It's a time to dig deeper."
Read Next: Sailors Can Finally Use New Family Leave Policy After Weeks of Delays, While Soldiers Still Wait
The 11-month-old war may be approaching a crucial inflection point as intelligence points to Russia working and planning to rebuild its military and national industrial base -- essentially putting what President Vladimir Putin has called a special military operation onto a true war footing.
Analysts say Putin is likely setting up a major offensive that aims to turn the tide of the war and reclaim territory lost to Ukraine in a series of embarrassing battlefield defeats in recent months.
Last fall, Ukraine launched two counteroffensives against Russia. In the northeast of the country, it was able to reclaim an area around the city of Kharkiv from the Russians and push deeper into nearby territory, and in the south, Ukrainian troops reclaimed Kherson and surrounding territory.
For now, the fighting has remained intense, but neither Ukraine nor Russia has made significant advances in weeks, despite reports the Russians may have seized territory around Bakhmut, a violently contested city in the breakaway region of Donbas, where Russian separatists have fought for years.
"I just think both sides have probably dug in on their defensive positions, which makes it hard for either side to make a breakthrough," Colin Kahl, the undersecretary of defense for policy, said during a briefing with reporters at the Pentagon on Wednesday.
The billions in U.S. aid over the past two weeks have aimed to help the Ukrainians punch through the lines and shift the dynamic in their favor as a Russian assault looms.
The administration of President Joe Biden initially pulled National Guard trainers out of Ukraine and began sending less advanced aid such as Stinger anti-aircraft missiles and Javelin anti-tank missiles after Russia's invasion. U.S. officials have repeated that they would avoid direct confrontation between American and Russian troops, and at first there was concern that providing advanced weapons to Ukraine could be viewed as a provocation.
But as the fight ground on over the months and Ukraine proved a worthy opponent to Russia, the American aid packages have included increasingly valuable and complex military hardware and weapons, along with increased training by U.S. troops of Ukrainian forces.
More recent shipments have included M777 howitzers and High Mobility Artillery Rocket Systems, or HIMARS, which are wheeled and can fire multiple rockets. In December, the U.S. announced it was sending a Patriot air defense system.
The latest packages have focused on armored vehicles and, for the first time Thursday, the U.S. announced it will send Strykers -- 90 with 20 mine rollers to protect against explosive ordnance.
The $3 billion in aid earlier this month included Bradleys, and the latest package sends 59 more with 590 TOW anti-tank missiles and 295,000 rounds of 25mm ammunition, according to the Biden administration. The aid this week also includes Avenger air defense systems and more munitions for the National Advanced Surface-to-Air Missile Systems, or NASAMS, sent earlier.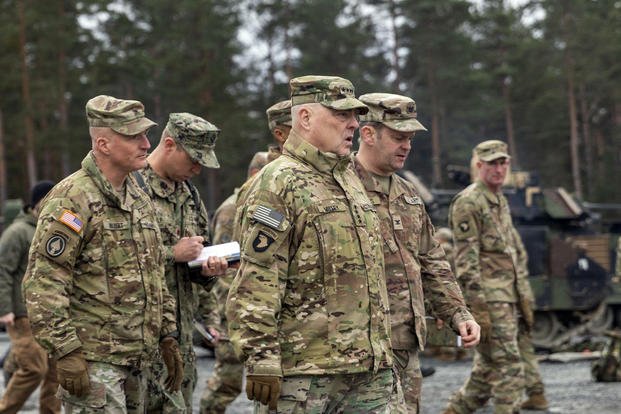 "So this is a very, very capable package. And if employed properly, it will enable them to be successful," Austin said during a press conference in Germany on Friday. "Now, we're going to ensure that we're doing everything necessary to ensure that they have the ability to employ it properly."
The signs of an impending offensive by Russian troops are building.
The Russian defense ministry has announced plans to restructure the military, and it was confirmed this week that Russia has plans to swell the ranks, after Putin said in September he would call up 300,000 veterans from the military reserves.
Ukrainian intelligence officials reported that Russia plans to increase its military to 2 million troops, up from about 1.35 million, and that the "Russian military command is in 'serious preparations' for a potential second wave of mobilization," the Institute for the Study of War wrote in a Jan. 15 assessment. Putin signed orders in November allowing the conscription of convicts.
"There's widespread anticipation among intelligence analysts that a new Russian offensive is being planned for later this winter or in the early spring," said Nicholas Lokker, a research assistant for the Transatlantic Security Program at the Center for a New American Security, a Washington, D.C., think tank.
Lokker said the signs include a change in military leadership at the top. Last week, Gen. Sergei Surovikin, reportedly nicknamed "General Armageddon," was replaced as theater commander by Gen. Valery Gerasimov, chief of the general staff of the Russian Armed Forces and the country's highest-ranking military leader.
"I think it's clear that Western countries who have been providing support to Ukraine throughout the conflict are aware of this increasing urgency, and they need to make sure that they're taking action now so that Ukraine is prepared," Lokker said.
Kahl said Wednesday that the armored vehicles will allow the Ukrainians to break the Russian lines with "fire-maneuver through the use of more mechanized forces."
Like the Bradley, the Stryker's overall purpose is to support dismounted troops on the battlefield, and there are nearly a dozen variants, from infantry transports to mortar carriers to anti-tank missile versions. The eight-wheeled vehicle has been in the U.S. arsenal for more than 20 years and was developed as a fast, lightly armored vehicle midway between the heavier Bradley and the scantly protected Humvee.
The vehicle does come with some drawbacks.
Unlike the Bradley, which is once again on its way to Ukraine in this package, the Stryker has wheels, not tracks, which means that it can travel faster on various surfaces, but is not as agile.
Its ceramic armor can generally withstand heavy machine gun rounds. Slat armor -- often referred to as a "bird cage" -- can be added to the chassis to protect against rocket-propelled grenades, but it lacks the organic protection that would be found in heavier vehicles like the Bradley.
The Ukrainians have been clamoring for tanks, and the U.K. has agreed to send some of its Challenger 2 battle tanks. Poland has also pledged tanks. But all eyes were on the U.S. and Germany this week in anticipation of an announcement of the American M1A2 Abrams tank and German Leopard 2 tank.
"I think you may have heard the German minister of defense say earlier that they've not made a decision on the provision of Leopard tanks," Austin said when questioned about it. Kahl said the Abrams did not seem practical because it requires expertise and a high amount of upkeep -- and it runs on a jet engine that guzzles fuel.
The U.S. and Germany have both contributed Patriot air defense systems to Ukraine. The U.S. military started training Ukrainians on the system this week at Fort Sill in Oklahoma.
The Pentagon has also ramped up its training programs for the Ukrainian forces. Last weekend, the military at Grafenwoehr, Germany, began schooling 500 to 600 troops on combined arms maneuvers. That training includes how to use the Bradleys and armored vehicles effectively against the Russians on the battlefield.
The hardware, weapons and training could prove key if and when the Russians launch their offensive. If the Ukrainians are not prepared, Moscow could claw back its losses, Lokker said. A prepared Ukraine could shift the war and move it closer to some ultimate victory.
"We have a window of opportunity here, between now in the spring or whenever they commence their operation, their counteroffensive, and that's not a long time," Austin said. "And we have to pull together the right capabilities."
-- Travis Tritten can be reached at travis.tritten@military.com. Follow him on Twitter @Travis_Tritten.
-- Drew F. Lawrence can be reached at drew.lawrence@military.com. Follow him on Twitter @df_lawrence.
Related: Pentagon Ramps Up Ukrainian Troop Training as Bradleys Are Added to Flow of Weapons