As Hurricane Ian grows in strength and shifts slightly eastward, military personnel and units throughout Florida are battening down the hatches and moving out of the storm's path, even as they prepare to respond to emergencies that may occur in the coming days.
Pentagon officials said Tuesday that more than 3,200 National Guard members were on state orders, ready to deploy to areas affected by the storm, with another 1,800 on standby.
An additional 2,000 Guard members from five neighboring states will be available "should the need arise," Pentagon Press Secretary Brig. Gen. Patrick Ryder told reporters during a press conference.
Read Next: Secretary Austin to Visit Hawaii as Navy Prepares to Defuel Tanks that Caused Contaminated Water
Ryder said that the Guardsmen will provide route clearing, search and rescue support, flood control and security if needed, with helicopters and other aircraft available.
"The department continues to watch closely as Florida prepares for the arrival of Hurricane Ian, an extremely dangerous storm that's expected to bring heavy rain, wind and storm surge to the state's west coast," Ryder said.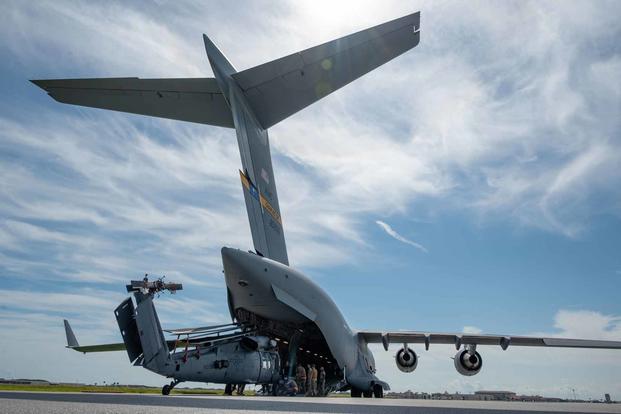 Meanwhile, Florida-based Air Force, Navy and Coast Guard personnel are on the move as Ian, a Category 3 storm with sustained, 115-mph winds as of Tuesday, bears down on the state's west coast.
The Coast Guard and Air Force have been conducting storm overflights, with Coast Guard C-130Js monitoring all maritime commerce and recreational vessels in the region and broadcasting safety messages at sea. The Air Force Reserve and National Oceanic and Atmospheric Administration hurricane hunter aircraft have been measuring and tracking the storm, with at least three flights a day, according to NOAA.
Military forces and their dependents started clearing out Monday, with MacDill Air Force Base among the first to order mandatory evacuations. MacDill, home to more than 54,000 people, sits on a low-lying peninsula on Tampa Bay. The installation is expecting high winds and a storm surge that could cause significant damage, officials said.
All Air Force and Space Force installations in Florida are being particularly cautious after Hurricane Michael's Category 5 winds caused an estimated $4.7 billion in damage to Tyndall Air Force Base -- located near Panama City.
The last major hurricane to hit Florida, in 2018, Michael rendered base housing at Tyndall unlivable, and many of the 11,000 airmen and families received permanent change of station (PCS) orders. Nearly 250 homes are no longer available for service members because of the storm.
Additionally, 17 F-22s had to be left behind at Tyndall during the 2018 evacuation. The jets were eventually repaired and flown again. As of Tuesday afternoon, the base had not ordered evacuations but urged base personnel and families to be prepared.
On Monday, the Air Force's 920th Rescue Wing, based at Patrick Space Force Base near Cocoa Beach, Florida, began moving their aircraft – HC-130J Combat King II aircraft and HH-60G Pave Hawk helicopters – to other locations in preparation for Hurricane Ian.
"The decision was made to relocate the aircraft to areas that would prevent them from being damaged," a Monday Facebook post from the 920th Rescue Wing read.
At nearby Kennedy Space Center, NASA decided to quickly roll the Artemis I rocket – being used for the latest uncrewed mission to the moon – from the launchpad back to the hangar on Monday, according to a statement issued on Twitter.
Sailors assigned to Naval Air Station Key West were among the first in the U.S. to feel the effects of Hurricane Ian. Base officials closed the installation to non-essential personnel as conditions began to deteriorate late Monday evening, according to the base's Facebook page. On Tuesday, remaining personnel were ordered to shelter in place.
The National Weather Service expected flooding rainfall in Key West of four to six inches through Thursday night, and a storm surge of one to three feet above normal high tides.
On Florida's West Coast, the Navy's 4th Fleet ordered all ships to prepare for the storm, either by completing heavy weather mooring or leaving Naval Station Mayport. The first to leave was the littoral combat ship Little Rock, leaving Mayport at noon Tuesday with more to follow throughout the afternoon.
Military Sealift Command ships, such as the Jack Lummus, also were put to sea.
Navy aircraft also were ordered to be secured in hangers or evacuated. Many began leaving Tuesday, flying to locations as far north as Michigan to escape the storm, according to the website globe.adsbexchange.com.
"Hurricane preparations were made months ago through a Navy-wide exercise ahead of the hurricane season," Rear Adm. Jim Aiken, commander, U.S. Naval Forces Southern Command/U.S. 4th Fleet, said in a news release. "Our sailors will now focus on the safe execution of those planning efforts to enable sustained fleet operations."
All naval installations in and near Jacksonville remained open as of Tuesday morning but are expected to close to non-essential operations by Wednesday.
The Coast Guard has spent the last few days closing ports along the Gulf Coast, including Tampa, banning inbound and outbound traffic while issuing safety warnings and urging mariners to find safe haven and prepare their vessels for a storm.
The Coast Guard's 7th District has spent the last several days prepping supplies and readying its ships and aircraft for search and rescue operations to be conducted after the winds calm down to acceptable levels.
Small boat stations in the region have removed their vessels inland while all 87-foot patrol boats from U.S. Coast Guard Southeast have been staged in Freeport, The Bahamas, for the duration of the storm. According to a statement posted by the Coast Guard on Facebook, their crews "will be integral for any search and rescue, and port reconstitution necessary when the worst of the storm passes.
On Tuesday morning, the Coast Guard also moved four C-130s and five MH-60 helicopters to drier land and authorized evacuation travel for civilian employees and dependents residing in 14 Florida counties.
The Defense Department has designated four installations as federal staging areas for emergency response if needed. According to Ryder, the bases are: Maxwell Air Force Base, Alabama; Moody Air Force Base, Georgia; Warner Robins Air Force Base, Georgia; and Marine Corps logistics base Albany, Georgia.
Staff writers Travis Tritten and Konstantin Toropin contributed to this report.
-- Thomas Novelly can be reached at Thomas.Novelly@Military.com. Follow him on Twitter @tomnovelly.
-- Patricia Kime can be reached at Patricia.Kime@Military.com. Follow her on Twitter @patriciakime.
Related: National Guard Surging to Louisiana for Hurricane Relief, California to Combat Fires