As the Marine Corps' wheelchair basketball team neared the completion of its first game at the 2022 Department of Defense Warrior Games on Tuesday, it held an insurmountable lead.
With less than 10 seconds remaining in the second of two 15-minute halves, the Marines had scored all of the game's 28 points. Salvation from a scoreless outing for Team Canada came when one of its players made two free throws. As the first foul shot went through the hoop, spectators cheered their encouragement and relief.
Although theoretically the competition is to determine basketball supremacy, Master Sgt. William Pieczarka, who played for the Marines, shared the crowd's support for the Canadians.
"They're putting their heart into it, just like we're doing," Pieczarka said. "You don't want to dominate and crush their soul. They're already here, trying to face their demons. It's awesome that they can score and not go out with a shutout."
Moments after time expired, the Marines and Canadians posed together for photos on the court at Walt Disney World near Orlando, Florida. It was an example of the camaraderie that unites the roughly 300 athletes spread across teams representing the Marine Corps, Army, Navy, Air Force and Special Operations Command, along with competitors from Canada and Ukraine.
That bond tends to be stronger for those who share a court with other wounded, injured or ill active-duty service members or veterans in the three team sports contested at the Warrior Games. Wheelchair basketball joins wheelchair rugby and sitting volleyball among the 12 adaptive sports events at the games, adaptive sports being the title for competitive sports designed around those with disabilities.
Retired Staff Sgt. Carlos Cruz-Tejeda is competing in every team sport at the Warrior Games.
"I've bonded with every single one of them [his teammates]," said Cruz-Tejeda, who sustained nerve damage in his lower right leg after a rope that he was climbing snapped in 2009. "Everybody has their own story. Everybody has their own troubles. When we come and compete together, we become one."
Members of the Marines' wheelchair basketball team -- 14 players, including alternates, are listed on the squad's roster -- were selected in trials in March at Camp Pendleton, California, and Camp Lejeune, North Carolina. Those selected then participated in a couple of weeklong camps, where the team-building process really began.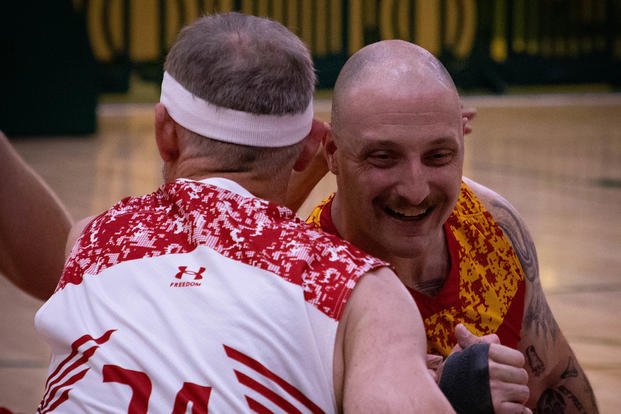 Staff Sgt. Michael Scott likened those camps to starting a new job.
"You've got to see who's who in the zoo and see how you're going to fit in and what your role's going to be," Scott said. "We really got to meet each other, [do] intros, share a few jokes, stories."
While it might be difficult for a service member to discuss what has happened to them with someone outside of the military, being part of a team tends to remove those walls, or at least lower them. The Marines said it is not uncommon for teammates, if they are comfortable, to discuss their military experience with one another.
"When we have downtime during practices and stuff, we sit down and talk to each other," Cruz-Tejeda said. "If we're going through some trouble or anything, they can tell and go, 'Hey, what's going on? Talk to me.' We're very, very close."
Pieczarka suffers from PTSD.
"The camaraderie is just the most amazing part about being here," he said. "Back in the rear, you don't get this type of support."
Because most athletes at the Warrior Games compete in multiple sports, the Marines playing wheelchair basketball don't have a lot of extra time to hang out, but they do what they can. They exchange phone numbers. They try to attend events in which they are not competing to support teammates, which can be a challenge when following the schedule for an athlete like Pieczarka, who is entered in seven sports.
And even after the games, which began Aug. 19, conclude on Sunday, the Marines expect to remain in touch. There is talk about starting a Facebook group.
If that doesn't happen, Scott -- whose left knee was reconstructed after he was injured playing football -- still plans to be proactive about maintaining relationships with his teammates.
"One hundred percent," Scott said of the probability that he will remain in contact with the other Marines on his wheelchair basketball team. "I wouldn't say we'd talk every day, but if I'm ever in the area where they live, hey, we're going to link up. We're going to have fun. We're going to talk. We're going to bond all over again, like we didn't even miss a beat."
-- Stephen Ruiz can be reached at stephen.ruiz@military.com.