Camp Lejeune, located on the North Carolina coast, is home to more than 30,000 Marines and another 30,000 families. It's hardly an out-of-the-way post. In fact, it's a major installation that is host to more than 10 units and training schools.
Yet despite its size and significance, the base's hospital is struggling to provide care to pregnant Marines and expectant family members.
"If I see a patient in clinic today and I tell her to follow up in two weeks, I'm either opening up my lunch, staying after night shift, or forgoing that two-week follow-up and seeing her in about six weeks, because my next available appointment is about six weeks out," a provider at Naval Medical Center Camp Lejeune told Military.com.
Read Next: Mercury, Other Contamination Found in Water Tests at Pearl Harbor-Hickam as Navy Announces New Fuel Spill
The U.S. military health system is in the middle of seismic changes that will send many of its civilian patients to private care. While planned reductions in uniformed medical personnel have yet to begin, the shift to private care is underway in some places -- often leaving patients waiting months for appointments, including expectant mothers who require consistent care to avoid potentially life-threatening complications.
It's not just happening at Lejeune: Military family members and lawmakers have reported appointment access problems in the Pacific Northwest, California and Japan.
In these affected areas, the civilian network of doctors who are supposed to help support military patients doesn't really exist.
The provider who contacted Military.com explained that there is only one actual obstetrician who handles deliveries in the immediate area of Jacksonville -- the small town that hosts Camp Lejeune.
"Basically, our patients keep coming back because they say, 'That person they referred me to doesn't do OB care,' or 'They no longer practice GYN surgery," they said. "They're just not your full-scope OB/GYN. They are now women's health clinics."
Some of those physicians are likely registered as board-certified OB/GYNs -- giving potential patients and health care administrators the impression that care is available -- but in reality, the doctors have stopped doing deliveries or surgeries because of insurance costs, according to the provider.
Ongoing reforms of the military health system may make the problem worse.
The Department of Defense has sought to manage the rising cost of health care since at least 2013, when it established the Defense Health Agency to handle functions that existed in triplicate across the Army, Navy and Air Force medical commands, such as administration, training and logistics.
At the time, the DoD's health care budget had ballooned to nearly $49 billion, up 300% from 2001. Under the Obama administration, DoD health officials sought to manage costs by bringing patients back into military hospitals and clinics.
But increasingly, there has been a shift toward sending civilian patients to care in the communities surrounding bases -- a move the DoD hopes will be cost-effective with the restructuring of Tricare and non-active duty families paying a larger portion of their health care costs.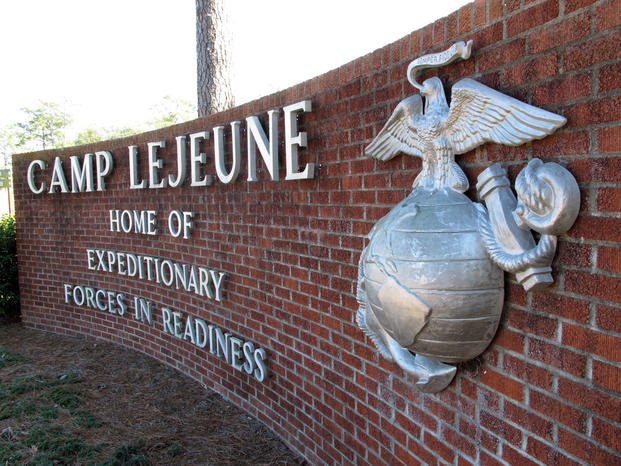 In 2017, Congress gave the Defense Department broad authority to reevaluate and potentially scale back its facilities. The agency began instructing military medical commands to focus care on active-duty personnel while shifting the bulk of health services for non-military beneficiaries to contract or private care.
As part of the plan, the military services are expected to cut roughly 12,800 military health billets and the Defense Health Agency will downsize or close 50 health facilities in the next four years.
The Navy stands to shed 5,169 uniformed medical billets, including 80 OB/GYN specialists and obstetrics nurses. Naval Medical Center Camp Lejeune is slated to lose 141 military medical personnel, including 109 physicians, nurses and corpsmen.
Exactly how many are in the OB/GYN clinic is not stipulated in downsizing documents presented to Congress last year.
But already there are signs of a shortage of care, according to a Marine wife who went 12 weeks without a prenatal appointment after moving to Camp Lejeune from Quantico, Virginia.
For the first three months of her pregnancy, she received care at a military health clinic in Virginia.
After arriving at Camp Lejeune, she contacted the medical center for an appointment and was told she needed a pregnancy test and positive result before starting any paperwork to get care.
Then, she learned she would be referred out to civilian care anyway, first to a place an hour away.
"Shouldn't they have been able to get my records from the [Virginia] clinic? They should have had access to them, right?" said the spouse, who requested anonymity out of concern for reprisal for speaking to the press. "Instead, I missed 12 weeks of appointments and tests."
A hospital spokeswoman said in February the OB/GYN clinic currently has 10 active-duty physicians, nine midwives, a civilian nurse practitioner and eight family medicine doctors who can provide obstetrics care.
According to the OB/GYN clinic provider who contacted Military.com, the facility is expected to downsize to one active-duty doctor by 2024.
"[There's] a thought that they will hire a few civilians to help supplement the patient load here," the provider said. "The plan was to decrease our OB delivery -- projected deliveries -- by 50% for the month of March by again, with the new OB appointments coming in, deferring them to the network."
But with appointments scarce in the community, according to both the provider and the patient, any further cuts would likely put even more stress on expectant mothers.
A spokeswoman for Humana Military, the company that manages the Tricare network in North Carolina, said there are 65 OB/GYN providers in the area, and during the week of Nov. 15 identified "five OB/GYN providers located in the immediate area of Jacksonville, N.C., with confirmed appointment availability within 7 to 14 days."
"Humana Military strives to provide a robust network of civilian providers throughout TRICARE's East Region. We monitor network adequacy and access to care on a continuous basis to ensure our beneficiaries are able to receive the care they need within a reasonable timeframe," said Humana Military spokeswoman Nan Frient in an email.
The provider who works at Naval Medical Center Camp Lejeune, however, said the case of the expectant mother who had so much difficulty finding an appointment is more the norm than the exception. And under the DoD's current plans, the medical center became a Level III trauma center in 2018, serving as the primary medical facility for severely injured patients in the region, including civilians who need highly specialized care.
That change means an increase in the number of orthopedic surgeons, neurosurgeons, anesthesiologists, emergency medicine specialists, radiologists and critical care providers -- specialties often needed in combat care.
But the OB/GYN clinic will downsize, even though it gets great reviews from military spouses on a Marine spouse Facebook group.
"I gave birth at Onslow [Memorial Hospital, in Jacksonville] in May of 2019 and it was a terrible experience. I just gave birth at Naval and it was amazing," wrote one patient in response to a question about the quality of care at Naval Medical Center Camp Lejeune.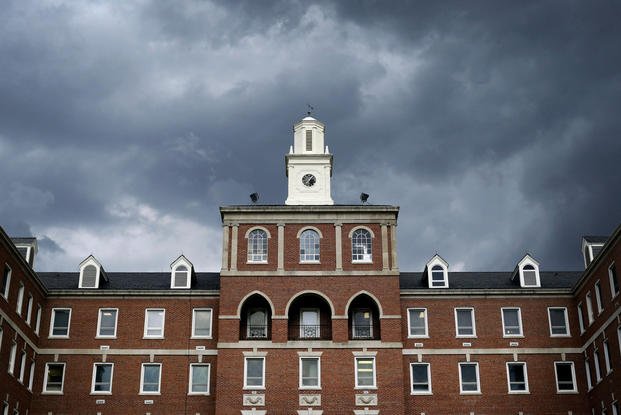 Riley Eversull, the public affairs officer at Naval Medical Center Camp Lejeune, said there have been delays in appointment wait times as a result of the COVID-19 pandemic and "common occurrences such as military mission readiness needs, which may pull staff away from our facility for a time."
In February, she said, the average wait time for an initial appointment was 18.9 days, while the average wait for specialty care was 17.4 days -- shorter than the average national wait time of 26.4 days for care, according to a 2017 survey by Merritt Hawkins, a recruiting and staffing firm.
In the six months that ended in March, the clinic made 106 referrals for routine OB care, an average of 17.6 referrals a month, to the Tricare network, she said, adding that the patient relations office at the hospital has not "observed any trend of complaints regarding access to our OB care."
In the wake of the COVID-19 pandemic, the Defense Health Agency is reviewing its plan to restructure the medical care provided to service members and their families and must submit an update to Congress before resuming changes.
David Smith, who is performing the duties of assistant secretary of defense for health affairs, said March 29 that the new plan contains modifications as a result of changes in the medical infrastructure that occurred in some communities because of the pandemic but declined to give specifics, noting that the plan is still being vetted through the Department of Defense.
But, he added during an interview with Military.com, the DoD plans to monitor access to care and appointment times in the Tricare network to ensure that patients are getting the care they need.
"The clear intent is to do conditions-based assessments, so if we're getting feedback -- and that's also why we're going to take up to four years to transition because we want to make sure that everywhere we are doing it, [it's working]," Smith said. "Clearly, industry has assured us that they can do this right, but the proof will be in the pudding."
The provider who spoke to Military.com said the shortage of OB/GYN appointments is much broader than Camp Lejeune.
"It's definitely Navy-wide [and military-wide]," they said.
The Marine spouse who spoke to Military.com had a baby boy in late February at Onslow Memorial Hospital. He had a medical complication that caused him to be hospitalized for a few days but is doing well and is healthy, she said.
It wasn't a terrible experience, she said, but it wasn't like her first delivery at a private health facility in San Diego. She said she didn't learn there was a shower down the hall until the day she was discharged.
"Pregnancy is a very vulnerable time for a woman, with their bodies and their health in general. To not have access to proper health care, proper appointments, it's super stressful," she said.
Editor's note: This story was updated April 6 to accurately reflect the status of Camp Lejeune as a trauma center and to clarify the number of obstetrics referrals made to the Tricare network.
-- Patricia Kime can be reached at Patricia.Kime@Military.com. Follow her on Twitter @patriciakime.
-- Konstantin Toropin can be reached at Konstantin.Toropin@military.com. Follow him on Twitter @ktoropin.
Related: Navy Reconsidering Plan to Cut Medical Staff in Light of COVID-19 Pandemic