A day before the insurrection at the U.S. Capitol, people from three different states wheeled cart after cart laden with weapons and ammunition through an otherwise unremarkable Comfort Inn Ballston hotel located in Virginia, just a stone's throw from the Pentagon, according to prosecutors.
The guns were stashed in several hotel rooms and in cars parked inconspicuously outside, along with enough food and water to last 30 days. The group, all affiliated with the Oath Keepers, were preparing for battle.
The Oath Keepers, a far-right militia that is led by Army veteran Stewart Rhodes, created the military-style fast-reaction force as part of its plans to keep former President Donald Trump in power after he lost the November presidential election. At the last moment, the group decided not to deploy the armed force waiting around Washington, D.C., but a division of its members breached the U.S. Capitol as part of the Jan. 6, 2021, riot. The event marked the first time in American history the transfer of presidential power was not peaceful.
Read Next: House Approves Bill to Automatically Enroll Vets in VA Health Care
The recent indictment of 11 Oath Keepers members on sedition charges, including Rhodes and four other veterans, has revealed many new details about what the group had planned for that day. Those details, drawn from hundreds of pages of court documents, disclose a willingness to take up arms against the government that nearly half of those members had served.
The Oath Keepers weren't lacking in resources or motivation. The anti-government group is heavily inspired by the U.S. military, with its logo a clear nod to the Army's elite Ranger tab -- the mark of a soldier who has perfected fundamental ground combat skills. Federal law enforcement agencies say recruiting veterans is a key goal of the extremist organization.
On Thursday, USA Today reported that at least 81 troops signed up for the Oath Keepers while still serving. At least 20 of those members are still in the military, according to the newspaper.
However, despite the seeming danger of the alleged plans as laid out by prosecutors, experts who spoke to Military.com say the scheme was a haphazard effort -- and those veterans had limited military experience.
Military.com reached out to the lawyers for the eight Oath Keepers named in this story. Several provided statements, and Jon Moseley, one of the lawyers for Kelly Meggs, spoke with Military.com on the phone. Those remarks are included in this story. A voicemail left at the Comfort Inn at Ballston was not immediately returned. Military.com reached out to the hotel's parent company -- Choice Hotels -- but did not receive a response before publication.
There's a dichotomy, the experts interviewed warned. It's easy to dismiss the far-fetched plans and those who crafted them as loony conspiracy theorists who like to dress up like soldiers long after their service has wrapped. But they had a plan that resembles the skeleton of any military mission: There were rehearsals of the Capitol siege, leadership figures were established, the militia had multiple means of communication, a so-called "quick reaction force" was set up, members performed reconnaissance of the Capitol grounds, and they had loose plans for secondary missions after an initial attack.
"If you have some clue and some money, you can do some damage. That's the scary part of this," a retired special operations noncommissioned officer told Military.com on the condition of anonymity because of concerns about speaking publicly on extremism. "This was an actual plan."
Gun Boxes, Rifle Cases and Suitcases Filled with Ammunition
Just days after the election, Rhodes floated the idea of an armed group positioned outside the capital with its stricter gun laws. On Nov. 10, 2020, he told conspiracy theorist Alex Jones that the Oath Keepers had "men already stationed outside D.C. as a nuclear option in case they attempt to remove [Donald Trump] illegally, we will step in and stop it." Rhodes emphasized that these people were "armed" and "prepared to go in, if the president calls us up."
On Dec. 23, Rhodes explained to the Oath Keepers in an open letter that "many of us will have our mission-critical gear stowed nearby just outside of D.C." The letter, which is referenced in his indictment, goes on to say that he and others may have to "take to arms in defense of our God given liberty."
Rhodes was the clear force behind the plan taking shape, as seen by his careful management in texts released by the prosecution. Jon Lewis, a researcher for the George Washington University Program on Extremism and an expert on the Oath Keepers, explained that Rhodes is "the lifeblood of the direction of the organization."
"By and large, the Oath Keepers are what Stewart Rhodes makes of them," Lewis told Military.com in an interview. He added that "it's not local chapters, who on their own, are deciding to mobilize -- it is Rhodes."
According to the sedition indictment, at some point the idea of an armed reaction team took on the name "QRF" or quick reaction force. Typically, the term is used by the military to describe a team that can quickly respond when troops are engaged by enemy forces. Several of Rhodes' accomplices were positioned at the Comfort Inn Ballston in Arlington, Virginia, eight miles from the Capitol. The hotel also served as the home of a weapons cache and a base of operations ahead of the assault -- the idea of the QRF being that the assigned Oath Keepers could respond to the Capitol with weapons to assist others who might be entangled with law enforcement or National Guard troops. There were also plans for a follow-on insurgency, presumably in D.C. and northern Virginia.
Moseley said that the plan was "focused on the idea that the president might invoke the Insurrection Act and they would be called up as militia."
"They wanted it to be in case there was a civil disorder," he added.
In addition to the plans, Rhodes purchased nearly $20,000 worth of weapons, including a shotgun and an AR-style rifle, ammo, night vision goggles and other gear.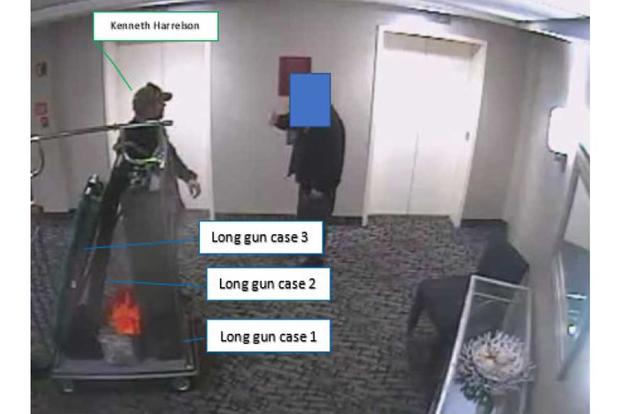 All of this would be in an effort to keep the then-defeated Donald Trump in power by stopping the certification of an election that he had lost, a goal that was backed by the mob of thousands at the Capitol on Jan. 6 who assaulted police and called for the execution of Vice President Mike Pence.
According to prosecutors, this QRF team was led by two men: Thomas Caldwell and Edward Vallejo.
Much of the logistical planning seems to have been done by Caldwell, a 65-year-old retired Navy Reserve member who served from 1976 to 1995 as an intelligence officer, according to the service. He retired as a lieutenant commander, but records do not give any indication as to why he left just one year shy of the typical 20-year mark that would have granted him a pension.
Little else is known about Caldwell's service since older service records are transferred to the Military Personnel Records Center in St. Louis, Missouri, and are not readily accessible by the service branches or the public. His lawyer, in arguing for his release from pretrial detention, told the court that Caldwell went on to work as a "section chief" for the FBI from 2009 to 2010 and also formed a consulting firm that performed "often classified" work for several government agencies, although these claims could not be verified.
In late December, Caldwell, who lives in Virginia, decided that the Comfort Inn, located minutes from Arlington National Cemetery and the Pentagon, would serve as the base for the Oath Keepers force.
The main sedition indictment alleges that at least three rooms were rented out by Oath Keepers teams from North Carolina, Arizona and Florida. "These QRF teams used the rooms to store and guard the firearms that they and other co-conspirators contributed," the indictment said.
In a filing arguing for Vallejo's detention pending his trial, prosecutors noted that Oath Keepers from Florida "dropped off at least three luggage carts' worth of gun boxes, rifle cases, and suitcases filled with ammunition with their QRF team." Meanwhile, "a second QRF team from North Carolina consisted of four men who kept their rifles ready to go in a vehicle parked in the hotel lot," the filing said.
"Later, Vallejo and other members of the Arizona QRF team wheeled in bags and large bins of weapons, ammunition, and essential supplies to last 30 days," prosecutors allege.
Kelly Meggs, head of the Florida Oath Keepers chapter, said he personally brought "a few thousand" rounds of ammunition in a group chat, according to court documents.
Meggs' attorney noted that he is pushing to see the full transcript of many of the exchanges cited by the prosecution.
Several other Oath Keepers, including Joseph Hackett and Kenneth Harrelson were also spotted by surveillance video from the Comfort Inn rolling in what prosecutors say were rifle cases. Both men were later arrested and found in possession of AR-style rifles. Harrelson served in the Army from 2007 to 2011 as a machinist. According to an Army spokesman, he never deployed overseas. As a machinist, Harrelson's duties likely focused more on maintaining combat vehicles and equipment, instead of training for combat itself.
Caldwell himself contributed a .22 caliber rifle, which he later tried to downplay as "a beginner gun" to federal officials, according to his detention filings. "Yet Caldwell felt the need to conceal this 'show and tell' item under a sheet when carrying it through the hotel," the filing pointedly added.
When activated, the plan, as described by the Oath Keepers' own text messages in court documents, was to bring the guns to the teams at the Capitol either by road or water.
"1 if by land[,] North side of Lincoln Memorial[,] 2 if by Sea[,] Corner of west basin and Ohio is a water transport landing !!" Meggs wrote in a chat conversation with other Oath Keepers leaders.
That landing spot for a boat in D.C. would put them still roughly two miles and a 40-minute walk, while laden with weapons, from the Capitol.
The plan was serious enough that Caldwell texted a person associated with the Three Percenters militia on Jan. 3 asking whether there was a boat available.
"If we had someone standing by at a dock ramp (one near the Pentagon for sure) we could have our Quick Response Team with the heavy weapons standing by, quickly load them and ferry them across the river to our waiting arms," Caldwell told the unnamed contact, according to a court document filed by prosecutors opposing his release.
Caldwell's message went on to suggest that the people in the boat could "more or less be hanging around sipping coffee and maybe scooting on the river a bit and pretending to fish, then if it all went to s---, our guy loads our weps [sic] AND Blue Ridge Militia weps and ferries them across."
Caldwell, through his lawyer, said that he is "totally innocent of these ridiculous charges."
"I challenge the DOJ to set forth one scrap of evidence that either myself or any Trump supporter had a specific plan to forcibly enter the Capitol building," he added.
"Just say the word."
On the day of the riot, Vallejo was eager to deploy. Prosecutors say that at 2:24 p.m., shortly after rioters first began to breach the Capitol, the Oath Keeper from Arizona said in group chat: "Vallejo back at hotel and outfitted. Have 2 trucks available. Let me know how I can assist." And then again 14 minutes later: "QRF standing by at hotel. Just say the word ..."
Around this time, a "stack" of unarmed Oath Keepers clad in paramilitary garb, including five named in the sedition indictment, had breached the Capitol building after marching up the east steps in formation. The "ground team lead" for this group was Harrelson.
Harrelson's attorney, Bradford Geyer, said his client is "a disabled veteran who served his country honorably" and that he is "totally innocent of all charges."
Jessica Watkins, another Army veteran, was also in this team. An infantryman who served from 2001 to 2003, Watkins deployed to Afghanistan for four months in 2002 and left as a private, according to the Army, whose records show she served under a different first name.
According to the indictment, she spent the weeks leading up to the siege texting people she called "recruits" about "military style basic" training classes her Ohio-based militia was holding.
There's scant evidence veterans are more likely to fall into extremist ideology compared to the general population. Yet experts warn veterans not only bring their own tactical expertise to the table but inherent social credibility, possibly serving as a force multiplier for radical groups.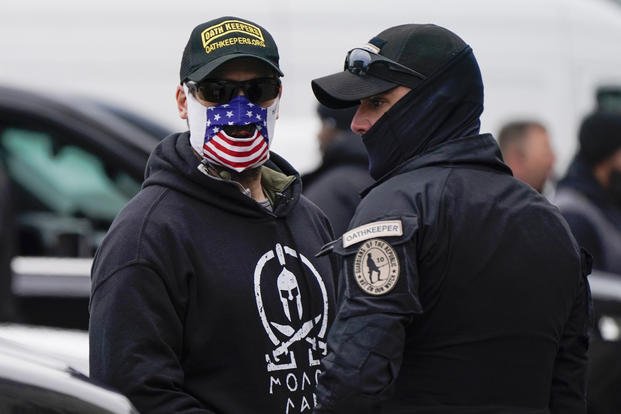 About an hour after the first Oath Keepers made it into the Capitol, a second stack that included three militia members who were later indicted, moved into the building through the same set of doors. This second group was led by Joshua James, an Army veteran who served as an infantryman from 2006 to 2008 and deployed to Iraq for four months in 2007, according to information provided by the service. According to reporting from Time, James earned a Purple Heart before being medically discharged after sustaining injuries in a bomb blast in Iraq.
At one point during the day of the riot, Vallejo tried, but failed, to launch a "drone with a 720p cam for recon [reconnaissance] use," court documents allege.
Ultimately, the QRF was never sent to the Capitol. The Oath Keepers never had a clear plan as to the conditions when the armed teams would mobilize, court records suggest. While Rhodes seemed to envision using them "in the event of a worst case scenario, where the President calls us up as part of the militia to to[sic] assist him inside DC," others envisioned a full-blown conflict.
A member of Vallejo's team from Arizona told a podcast recorded on Jan. 6 that "The question is: Is there a shot heard round the world moment? The possibility definitely exists." The quote, cited by prosecutors in Vallejo's detention filing, apparently references the Revolutionary War battle of Lexington and Concord.
Ultimately, prosecutors allege that "a deployment ... proved unnecessary, because the co-conspirators were able to breach the Capitol with the forces they had."
Moseley pointed to this fact as important context. "The most significant thing is, although they brought guns to Virginia, they did not, in fact, use them," he said.
Instead, many of the Oath Keepers went back to their hotels and then an Olive Garden in Virginia for dinner, where the conversation topic ranged from the news of the killing of Ashli Babbitt to Trump's relationship with veterans, and invoking the Insurrection Act, according to one interview log filed with the court.
'Yet They Went to Olive Garden'
Lewis, the extremism researcher, noted that the group really doesn't have a strong track record for military-style operations. It had laid plans for past actions, but "very few of them ended up in anything close to violence."
"The planning does suggest ... at least on paper, in their own words, a desire to embrace a kind of military style, operational plan," Lewis said.
Current and former members of U.S. special operations, who are often tasked with training militias overseas, said in interviews with Military.com that the Oath Keepers could have done devastating damage at the Capitol despite weaknesses in their plans.
"They had poor tradecraft," a current Special Forces officer, who requested anonymity because they were not authorized to speak to the press on the matter, told Military.com. "But they had a basic layer of procedures, a level down maybe from a platoon or squad leader. They were moderately skilled maybe, but not enough to be intimidating to someone familiar with a military environment. These people didn't look like professionals."
Ultimately, it's not clear that the military service of Rhodes, Caldwell, Watkins, James and Harrelson played any direct role in the plan for the QRF or the events of Jan. 6 that couldn't have been achieved by a similarly motivated group of civilians. Rhodes and Caldwell's service concluded more than 15 years ago, while the three younger Oath Keepers all did brief military tours.
Prosecutors allege in court records that, after the events in Washington, the teams and weapons that had assembled for that day split up. Rhodes and James met up in Alabama, the latter's home state, gathered up "all available firearms" and went to Texas. Vallejo ended up joining them instead of driving back to his home in Arizona. When James asked whether Meggs and the other Florida Oath Keepers would join them, he was told that "Fl stays home until shots are fired!"
Rhodes is now in federal custody, arrested in Texas on Jan 13 -- just over a year after his team of Oath Keepers stormed the halls of Congress. Vallejo was arrested the same day in Arizona. The rest of the group had already been facing charges for other crimes stemming from the attack on the Capitol, and most remain in jail. Caldwell was released in March 2021 on medical grounds, and he remains under house arrest while his case continues to move forward.
Lewis explained that the allegations paint the image of a "really weird dichotomy" where the Oath Keepers use military language and have QRFs ready "and yet they went to Olive Garden."
"They use these encrypted messaging applications and codenames ... and tried to have good OPSEC [operational security], but then some of them just posted pictures of themselves on the steps of the Capitol on Facebook," Lewis said.
-- Konstantin Toropin can be reached at Konstantin.Toropin@military.com. Follow him on Twitter @ktoropin.
-- Steve Beynon can be reached at Steve.Beynon@military.com. Follow him on Twitter @StevenBeynon.
Related: Oath Keeper Militia Members Including 5 Veterans Indicted on Sedition Charges for Jan. 6 Riot