SIMI VALLEY, California -- The United States and China are squaring off in a global competition with a scale unseen since the Cold War, as the two nuclear powers race for military dominance and new weaponry that ranges across the seas, space, cyberspace and beyond.
It's a rivalry that includes everything from what U.S. officials say are near-daily low-level attacks on satellites such as blinding them with lasers, to U.S. Navy operations challenging China's claims in the South China Sea, to a race fielding hypersonic missiles that can evade air defenses.
Stuck in the middle is Taiwan, one of the most valuable pieces on the geopolitical chess board -- and one many worry could be the flashpoint for war between the United States and China.
Read Next: Oklahoma Guard Leader Tells Vaccine Refusers to Prepare for 'Career Ending Federal Action'
A war with China over Taiwan would be larger than anything the U.S. military has faced in recent decades, when it has been focused on counterterrorism and counterinsurgency rather than preparing to fight against a peer adversary.
China has been stepping up military drills around the island in what Defense Secretary Lloyd Austin recently said appear to be "rehearsals" for an invasion.
Defense officials and analysts worry Taiwan is not well enough defended, as lawmakers and commentators debate whether the U.S. military should intervene if China tries to take Taiwan by force.
"Nobody wants to see this develop into a conflict in this region," Austin said Dec. 4 at the annual Reagan National Defense Forum. "So we're going to do everything in our power to help prevent conflict and dial down the temperature whenever possible."
The status of Taiwan, an island that's a little bigger than the size of Maryland and home to roughly 23 million people, has been in limbo for more than half a century.
While Taiwan lacks assets that countries traditionally fight over, such as natural resources, it has taken on an outsize importance in U.S.-China competition as both countries see it as symbolic of their larger goal for regional dominance. The island's location off the coast of China and between southeast and northeast Asia would also make it a strategic asset during any global conflict.
U.S.-China tensions have been flaring over a raft of issues, from the COVID-19 pandemic to trade disputes to China's oppression of Uyghur Muslims, which the United States has declared a genocide.
Beijing's rapid military rise especially has caused alarm. U.S. officials point to its leaps forward on hypersonic weapons, an expanding nuclear arsenal and anti-satellite capabilities.
But even as the concerns stack up, it's Taiwan that is the focus of increasing tension, and the risk of escalation between China and the U.S.
Austin had a broader message for the national security elite gathered at the annual Reagan forum in Simi Valley, California, earlier this month: Don't panic.
The Taiwan Conundrum
Under decades-old policy, the U.S. maintains what's called "strategic ambiguity" toward Taiwan, remaining purposefully vague about whether it would come to the island's defense if China invades.
The policy is meant to deter China from attacking and discourage Taiwan from formally declaring independence -- a move opposed by Beijing -- by keeping them both guessing.
After the Chinese Revolution brought the Communist party to power in 1949, the previous government fled to Taiwan and established what they called the new, true capital of China in Taipei.
Since then, Beijing has considered Taiwan a breakaway province, and current Chinese President Xi Jinping has vowed to pursue "reunification."
The United States sees Taiwan as a democratic bulwark against authoritarian China's expanist ambitions. However, as part of normalizing relations with China in the 1970s, the United States does not officially recognize Taiwan as an independent country.
But stepped-up Chinese war games around the island in recent months have made the thought of an invasion seem more realistic and reignited questions about how the U.S. would respond.
During October drills, China flew a record 56 military flights around Taiwan in one day, part of a total 149 flights over four days.
Earlier this year, U.S. Indo-Pacific Command chief Adm. John Aquilino testified during a congressional hearing that the possibility of China trying to invade is "closer to us than most think," though he declined to endorse a specific timeline. His predecessor, Adm. Philip Davidson, told lawmakers weeks earlier that he thought China could try to invade within six years.
Talking to reporters on the sidelines of the Reagan forum, Aquilino suggested there are elements of psychological warfare in China's near-constant drilling around Taiwan.
"It has a coercive nature. … It's a form of a pressure campaign," he told reporters.
While there's Chinese activity near Taiwan almost daily, Aquilino also said the spikes that make headlines are "a bit of a tit-for-tat" response to U.S. activities. For example, the October Chinese drills came after the United States and five of its allies conducted a massive naval exercise in the Philippine Sea that included two U.S. aircraft carriers, a British carrier and 15 other warships.
Bonnie Glaser, director of the Asia program at the German Marshall Fund think tank, said she does not believe war is imminent, despite the ramped-up military presence.
"The Chinese are training in a very realistic way," she told Military.com in a phone interview. "A rehearsal doesn't mean that they have the intention to invade."
Glaser pointed specifically to congressional testimony from Joint Chiefs Chairman Gen. Mark Milley, who told the Senate Appropriations Committee in June that China has "little intent right now or motivation" to take Taiwan "militarily."
But some lawmakers want deeper assurances that the U.S. is prepared.
The bipartisan annual defense policy bill that is on track to become law includes a similar statement of support for Taiwan. The National Defense Authorization Act would make it U.S. policy to "maintain the capacity of the United States to resist a fait accompli that would jeopardize the security of the people on Taiwan," while also specifying the policy should be consistent with the U.S. law that sets the basis for strategic ambiguity.
That does not go as far as some other lawmakers in both parties have proposed: preemptive authorization for U.S. military action to defend Taiwan.
How War Might Play Out
Should war over Taiwan come, it could include everything from clandestine skirmishes to all-encompassing combat.
Senate Armed Services Committee Chairman Jack Reed, D-R.I., predicted that China could start with tactics that fall below the traditional threshold of war, known as grey zone warfare, such as certain types of cyber operations.
"Looking at the issue of Taiwan in particular, I don't think it would be the traditional D-Day because that would take months to organize your landing forces, and we would know that, and we would have time to either take action or to negotiate," he said during a panel at Reagan.
Rather, Reed compared a possible Chinese invasion of Taiwan to Russia's 2014 invasion of Crimea in Ukraine, saying it could entail "cyber operations, infiltrating, getting people in there quickly via air."
Ukraine serves as an easy stand-in for Taiwan, with the invasion of Crimea a warning that countries caught between great powers are serving as proxy battlefields. Despite Russia's claiming of Ukrainian territory, and international condemnation over the annexation, an equilibrium had been reached until earlier this year, when tens of thousands of Russian troops began amassing near the Ukrainian border, leaving western officials scrambling to head off a possible Russian invasion. Recent news reports said U.S. intelligence has found Russia is planning a military offensive for early 2022 that could include as many as 175,000 troops.
Much like when he spoke about Taiwan, Austin expressed hope at the Reagan forum for avoiding conflict, despite the escalation.
"There's a lot of space here for diplomacy and leadership to work," Austin said. "We're going to remain engaged with our allies in the region, our partners in the region, and we're going to continue to do everything we can to help provide Ukraine the capability to protect its sovereign territory."
Taiwan's ambiguous status in U.S. policy has made defense officials reluctant to go into detail about how the American military might step in during an invasion, and whether a clear military response would even be triggered.
About 375,000 U.S. sailors, soldiers, airmen, Marines and civilian personnel are focused on the Pacific, with hundreds of ships and more than a thousand aircraft spread across the region and U.S. military bases in Hawaii, Guam, South Korea and Japan.
In October, Taiwanese President Tsai Ing-wen confirmed in an interview with CNN that a small number of U.S. troops are on the island training Taiwanese forces.
But Austin sidestepped a question at the Reagan forum about making those troops more visible. Instead, he spoke in general terms about how the U.S. is going to "look for ways to do more" to help Taiwan.
How many U.S. troops would be needed to defend Taiwan depends on an exact invasion scenario, Glaser said. For example, trying to remove Chinese forces after they land in Taiwan would mean an enormous commitment of military forces, compared to countering a Chinese blockade.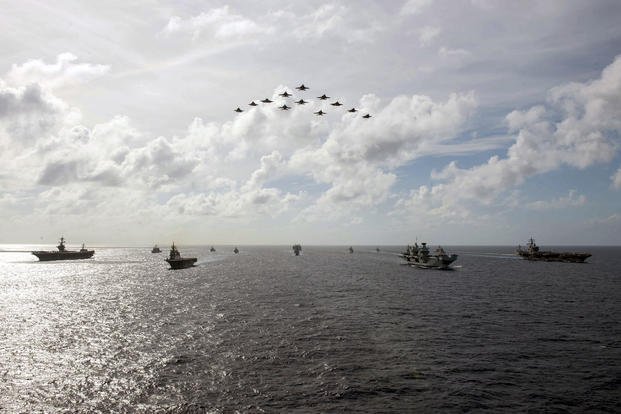 The United States does not have enough military resources in the region to defend Taiwan from a full-scale invasion.
"We don't have enough force in place, and the forces we have are very vulnerable to Chinese attack," Glaser said.
Taiwan's own defenses also need to be hardened, officials said, particularly through arms sales.
The island government has traditionally been attracted to buying "shiny objects," such as fighter jets, rather than addressing a more urgent need to make the island "much less easy to swallow" by Chinese forces, Army Secretary Christine Wormuth told the audience at the Reagan forum this month.
"We need Taiwan to be investing in things like sea mines, in anti-ship missiles and coastal defense, and really working on the readiness of their forces," Wormuth said.
The Great Global Competition
Taiwan is only one of a dizzying number of facets of the competition between the U.S. and China.
Over the summer, China tested a nuclear-capable hypersonic missile that was launched into space, circumnavigated the globe and hit a target. U.S. officials were at first reluctant to confirm details they said were classified, but have since been referring more and more to the test as they argue the United States is at risk of falling behind.
"Hypersonic weapons, especially at intercontinental ranges, greatly complicate the strategic warning problem," Gen. David Thompson, vice chief of space operations for the Space Force, said at the Reagan forum. "The ability to maneuver means you no longer know with confidence where it's going and cannot be prepared to deal with it unless you keep track of it throughout its flight, throughout its trajectory."
Thompson said he is confident the U.S. could "absolutely" catch up to China on hypersonic weapons.
Officials are increasingly discussing hypersonic weapons and space capabilities -- including the ability to sabotage satellites integral to both the military and civilians, such as the Global Positioning System, or GPS -- in terms of an arms race with China.
"The fact, that in essence, on average, they are building and fielding and updating their space capabilities at twice the rate we are means that very soon, if we don't start accelerating our development and delivery capabilities, they will exceed us," Thompson said.
He added that 2030 is "not an unreasonable estimate" for when China could overtake the U.S. in space.
The heated competition extends into cutting-edge technologies such as artificial intelligence and nanotechnology. Austin called on businesses and industry leaders to "work with us and help keep our country strong," promising to make it easier for those who are making advances to work with the Defense Department.
China has also been using less high-tech solutions to extend its power base. The country is building military bases and airstrips on islands in the South China Sea that are disputed territory, prompting the U.S. military to sail ships and fly aircraft around the islands in so-called freedom of navigation operations.
And China is leaning on diplomacy to help expand its military influence beyond the Pacific.
China's primary means of gaining an international foothold is its so-called Belt and Road initiative of investing in infrastructure, which U.S. officials say is really a trap to leave countries indebted to Beijing.
China has lent African countries hundreds of billions of dollars as part of the initiative, and one of those countries, Djibouti, is home to China's first overseas military base. China is also reportedly now eyeing a base along the Atlantic Ocean in Equatorial Guinea, according to The Wall Street Journal.
U.S. Southern Command chief Gen. Laura Richardson warned that a similar situation is unfolding in South America that could lead to Chinese military bases and Chinese-owned enterprises in the western hemisphere.
"China's playbook for Africa is taking place in Latin America now," she said on a panel at Reagan. "If we're not careful, what's happening in Latin America will in five or 10 years have the same impacts."
To critics, the military's focus on China offers a useful boogeyman to justify ever-increasing defense budgets. The defense budget, including both Pentagon and non-Pentagon funding such as Department of Energy nuclear weapons programs, is expected to jump from $740 billion in 2021 to $768 billion in 2022.
Both China and the United States say they don't want war, and it's unclear whether the U.S. would have the appetite to get into a massive conflict, particularly as the public remains weary following two decades of war in the Middle East.
But U.S. defense officials also continue to beat the drum about why the United States must win the competition with China.
"I don't want to see them eroding the current international order, which I think has kind of helped raise everybody's boats," Wormuth said. "Making it clear to China that they can't violate the laws of territorial sovereignty is why Taiwan matters, because we want the Indo-Pacific to remain stable and free."
-- Rebecca Kheel can be reached at rebecca.kheel@military.com. Follow her on Twitter @reporterkheel.
Related: US 'Very Concerned' About Russian Military Moves Near Ukraine, Austin Says