At least 500 families living in military housing in Honolulu woke Sunday morning to find that their tap water had an oily sheen and smelled like fuel.
Residents like Army spouse Hanna, who lives in Navy-owned housing at Joint Base Pearl Harbor-Hickam, told Military.com she has had nosebleeds and her toddler developed diarrhea over the weekend before she noticed the odor.
Two days later, her family is buying bottled water, hoping someone in charge will bring in truckloads of water and explain what's going on.
"It smells like gasoline, fuel, kerosene," said Hanna, who asked that her last name not be used out of concern it could harm her husband's career. "No one is providing us any relief."
The problem seems largely to be affecting Pearl Harbor and Hickam housing but residents of other areas, like Aliamanu Military Reservation, also on Oahu, have reported odor and illnesses affecting families, including headaches, rashes, vomiting and nosebleeds.
Read Next: Oklahoma Guard Paychecks Under Threat as Vaccine Battle with Pentagon Escalates
By Sunday evening, Armed Forces Housing Advocates, a nonprofit that advocates for military personnel living in government housing, had received 456 complaints.
The descriptions of the smell and photos of water and of residents' rashes were so alarming, said Sarah Lenox, the group's environmental hazards advocate, that it posted a warning Monday on social media pages urging families to "proceed with caution" and seek medical help if they felt sick.
The group also emptied out its bank account to purchase bottled water for residents, with all the water claimed "nearly immediately," according to Kate Needham, the group's operations director.
"Our organization was the first one to say, do not drink the water. The Navy and the Department of Health were refusing to release that type of statement, but we didn't care because we wanted to be cautious," Lenox said Tuesday during an interview with Military.com. "What's the harm that can be done if you don't take a bath today, right?"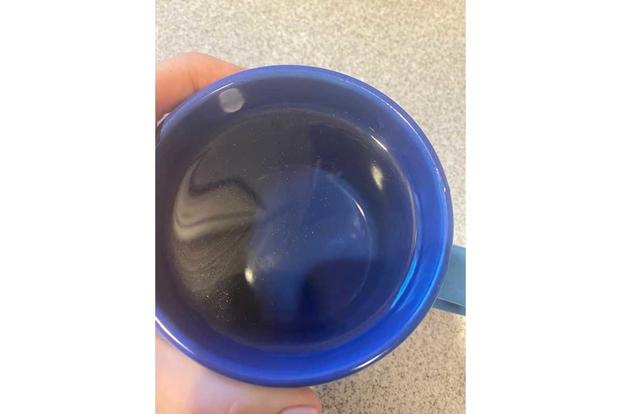 The Hawaii Department of Health on Tuesday recommended that all users of the Navy's water system at Joint Base Pearl Harbor-Hickam, to include those at Aliamanu Military Reservation as well as Red Hill and Nimitz Elementary Schools, avoid using the water for drinking, cooking or oral hygiene, even if they didn't smell anything wrong.
But if the water smells like fuel or has a chemical odor, it should not be used for "drinking, cooking, bathing, dishwashing, laundry or oral hygiene (brushing teeth, etc.)," according to the warning.
The Health Department also said it is working with the Navy to investigate the extent and source of the complaints, to include testing the water for petroleum. Officials said initial screening results were inconclusive and found no contamination, but samples have been sent to a laboratory in California for further investigation.
"More quantifiable, contaminant-specific results are expected by the end of the week," officials said in a Facebook post.
In October, the Hawaii Department of Health fined the Navy more than $325,000 for violations at an underground fuel storage facility known as Red Hill that sits above the Pearl Harbor aquifer.
The health department is investigating a fuel leak that occurred last year from an unknown source and whether the service covered up any connection to Red Hill.
More recently, on Nov. 22, the World War II-era Red Hill accidentally released 14,000 gallons of fuel and water from a fire suppression system drain line, according to the Associated Press.
Navy officials said the system leaked the mixture into a tunnel, but after it stopped, the Navy removed the liquid and placed it in an above-ground storage tank.
At the time, Navy officials said there were no signs the fuel had escaped into the environment and the "drinking water was safe."
Navy officials announced early Monday morning on the Joint Base Pearl Harbor-Hickam Facebook page that they were investigating the reports of a chemical smell in drinking water but had looked at its wells and found no similar smell or sign of fuel.
"There is no immediate indication that the water is not safe. The Navy continues to investigate reports and is testing the water," officials said.
On Tuesday morning, Navy officials posted that they had tested the water with the Hawaii Department of Health and "no measurable quantities of fuel found."
However, they added: "Navy pursuing additional, stringent testing."
By Tuesday afternoon, they had established a special phone line for residents to call with concerns.
Navy Region Hawaii Public Affairs referred Military.com to the releases on the Facebook page and declined to provide comment.
Families have been reaching beyond the military to get help, contacting their congressional representatives for answers and requesting they receive clean drinking water until testing is completed.
A spokeswoman for Sen. Mazie Hirono, D-Hawaii, said service members have been contacting the office.
And Rep. Kai Kahele, also a Hawaii Democrat, has visited neighborhoods twice, taking his own water samples, his office confirmed.
Advocates, like the Armed Forces Housing Advocates, also are reaching out to the Navy, the private companies that manage the base housing and Congress. They say they want to make sure families get help now and in the future.
"Is [their] water clean yet? Have [they] been provided with water by the housing company? That's our first step," Needham said. "Our next step is: Did the Department of Health warn the military that this was happening? We want to know what is in this water and what is making people sick. That's going to be a long-term goal."
By mid-afternoon Hawaii time on Tuesday, Navy officials asked residents in all military housing to run their water at all taps, hot and cold, for three to five minutes to move it through the system and "possibly alleviate the odor."
The service said they had flushed the main water lines twice and were working on a third and that "no petroleum or contaminants have been detected at affected sites or at wells and tanks."
"However, there remains a concern that residual contamination may exist in some of the water lines based on continued reports from residents," the press release stated.
Officials added that they were implementing a plan to distribute water to the affected areas.
And by Tuesday night, the Navy had called emergency town halls in three separate neighborhoods that had reported the problem and later announced a water distribution plan.
Hanna, the Army spouse at Pearl Harbor-Hickam said social media posts aren't enough, and she urged the Navy to post notices all over the affected neighborhoods.
She added that all she wants is clean water and her family to be cared for.
"I feel like the soldiers and sailors and everybody deserve to go to work without worrying about their families being able to have clean water. No one should have to worry about that," she said.
-- Patricia Kime can be reached at Patricia.Kime@Military.com. Follow her on Twitter @patriciakime.
Related: DoD Put Troops and Families at Risk with Slow Response to 'Forever Chemicals,' Report Finds