The Coast Guard will ditch its current operational dress uniform in favor of a blue version of the Navy's Type III working uniform beginning in late 2022, service officials announced last week.
The new uniform, called the Coast Guard working uniform, or CGWU, will be introduced at the Coast Guard Academy; Coast Guard Training Center Cape May, New Jersey; and other accession points at the end of next year -- the first quarter of fiscal year 2023.
After that, the uniforms should be available at Coast Guard exchanges and online at ShopCGX later in fiscal 2023 with a goal to replace the operational dress uniform completely by 2025, according to an announcement posted Nov. 10 by Hayes Davis, the Coast Guard's Military Uniforms Branch program manager.
According to Davis, the service had intended for the initiative to already be underway, with rollout to the entire fleet starting next year, after working closely with the Navy to develop and field the new uniforms.
But the COVID-19 pandemic derailed the timeline, causing most textile plants in the U.S. to shut down temporarily and diverting garment makers from manufacturing clothing to fabricating personal protective equipment instead.
Some Coast Guard members already are familiar with the uniform, as it has been worn by those who work in maritime law enforcement and port security or deploy with the Navy on operational missions.
Read Next: 500 Wisconsin Guard Troops Deployed Ahead of Rittenhouse Verdict
Coast Guard Commandant Adm. Karl Schultz also wore a prototype in March when he delivered his annual State of the Coast Guard address in San Diego.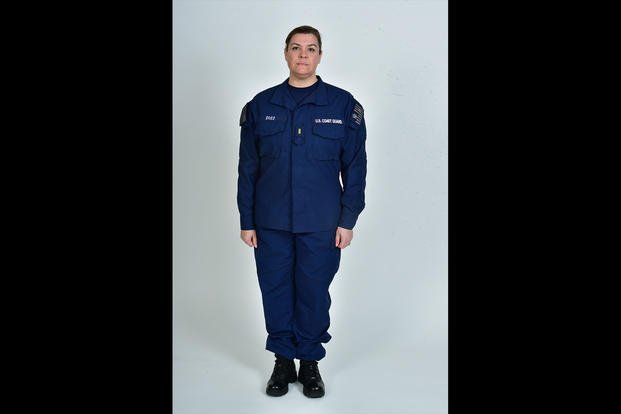 "Using these uniforms in these particular environments has demonstrated that this type of uniform is perfect for all Coast Guard missions," Davis said in an article posted on the MyCG website. "We've received positive feedback ... and it makes sense for the Coast Guard to adopt that uniform overall as our new operational uniform."
The two-piece uniforms will be the same for both men and women, with blouses sized by chest measurement and shirt length, and trousers sized by waist and inseam.
Unique features that aren't available on the current operational dress uniform include a Mandarin collar that allows for quick shifts to battle conditions; a rank tab that can be switched out after a promotion, rather than embroidery that needs to be tailored or requires a uniform replacement; an extra pocket; self-blousing trousers; and spaces for organizational patches.
Another benefit to the uniform, according to Davis, is that it is already fielded by the Navy, which lowers production costs. He said the savings will be passed on to the service member.
Enlisted personnel will see an adjustment to their monthly clothing allowance in fiscal 2022 to cover the cost of the new uniforms.
Davis said the change will allow members to be paid the replacement value ahead of the uniforms being available and required.
The Navy tested blue and khaki versions of a flame-resistant, two-piece uniform similar to the Coast Guard's new version in 2019 at U.S. Fleet Forces Command, but the service continues to use desert or green camouflage Type III uniforms, as well the improved flame-resistant variant coverall, aboard ships.
-- Patricia Kime can be reached at Patricia.Kime@Military.com. Follow her on Twitter @patriciakime
Related: After Pandemic Hiatus, America's Only Heavy Coast Guard Icebreaker Returning to Antarctica