At least five service members allegedly were part of the deadly pro-Trump mob that assaulted the U.S. Capitol on Jan. 6, leaving behind a ransacked house of government and injured police.
The attack shook the core of democracy in America, with looting and violence as Congress certified the presidential election results. The sudden unrest forced lawmakers to hide in offices and barricade doors as rioters chanted threats.
Ten months later, the military is finally starting to take action against some of the identified participants of the event. But most of those accused appear to still be in uniform, serving the country they allegedly attacked.
Read Next: Navy Fires 2 Top Officers of Submarine Damaged in Collision
The five service members are a diverse group. There are two officers, along with three enlisted. Four are in the Army and National Guard, and one is in the Marine Corps. Common to all five are pending federal charges for their actions around and inside the Capitol, and the lack of a clear and decisive response from military leaders.
"I think the way the military is handling insurrectionists, treating them with kid gloves, is another great example of how broken the system is," Kristofer Goldsmith, an Army veteran and CEO of Sparverius, an intelligence firm that researches online extremism and disinformation campaigns, said in an interview. "There's no excuse for insurrection; it should be treated as the most serious crime someone who swore an oath to the Constitution can commit."
Pentagon officials have been adamant that they are working swiftly to weed out extremists from military service, and that all appropriate action has been taken to discipline service members who participated in the Jan. 6 attack while court cases are ongoing.
Defense Secretary Lloyd Austin is "comfortable that the civilian and military leadership of each of the services are working through appropriately each of these cases," Pentagon spokesman John Kirby told Military.com on Oct. 27.
The Pentagon has struggled with extremism in the ranks, or even to understand the scope of the issue, as troops become attractive targets for recruitment to radical causes. The issue is highlighted by the services' slowness in punishing or discharging those allegedly involved in the Capitol mob.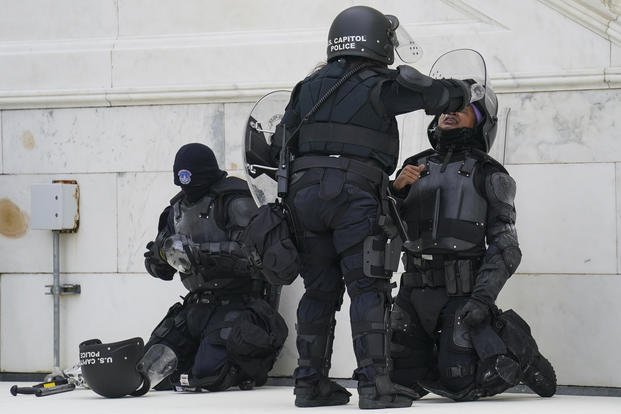 The most decisive response from military leadership so far came in the case of Army Sgt. Timothy Hale-Cusanelli, who was demoted to private and booted from the force in June. The discharge came almost half a year after his arrest on Jan. 17, according to Army records. Hale-Cusanelli is also the only defendant of the five to still be incarcerated pending his trial.
Personal photos surfaced of Hale-Cusanelli apparently mimicking Adolf Hitler. "As indicated by multiple co-workers, [Hale-Cusanelli] shaved his facial hair into a 'Hitler mustache,' which he wore on duty" while working at a Navy base in New Jersey, according to court filings.
Meanwhile, both of the officers arrested, Army Capt. Mark Sahady and Marine Corps Maj. Christopher Warnagiris, are still serving.
Although he was arrested in January, Sahady's lawyer tells Military.com that he is now being processed out of the Army.
Warnagiris, who was arrested in May, had a hearing at the end of September where he had to argue his case for staying in the service, a Marine Corps spokesman said. The service would not provide any more information on Warnagiris' status beyond confirming the hearing and saying that the board's recommendations are currently under review.
The responses stand in contrast to how quickly and decisively the military often handles infractions of its own policies or laws. For example, soldiers who are caught with marijuana in their system are supposed to be processed out of the force immediately, according to Army regulations.
The National Guard is seemingly the only service that hasn't begun to give alleged rioters the boot, but it is keeping an eye on federal investigations of accused soldiers. However, the military does not need to wait for a conviction in civilian courts to move on with a discharge.
Cpl. Jacob Fracker, a Virginia Guardsman, is in a non-drilling status, meaning he isn't reporting to his unit during the investigation into his involvement in the Capitol riot. Cotton Puryear, a Virginia Guard spokesperson, said more evidence is needed to remove Fracker from the force, though he admitted in social media posts to being part of the mob and posted a photo of himself inside the building during the assault.
"Virginia National Guard attorneys have reached out to civilian law enforcement to request they share any evidence that will not prejudice the ongoing civilian criminal process. Anything provided will be evaluated to determine if it is sufficient to proceed with an administrative separation board," Puryear told Military.com in a statement. "If there is sufficient evidence, the [Virginia National Guard] will pursue an administrative discharge action against Fracker."
The National Guard declined to disclose details on the other soldier who allegedly participated in the Capitol riot, Pfc. Abram Markofski, a Wisconsin Guardsman. Maj. Gretel Weiskopf, a spokesperson for the Wisconsin National Guard, cited privacy concerns and would not say whether Markofski has conducted drills with his unit. It is unclear why Wisconsin chose to withhold that information, but Virginia did not.
Markofski's unit was part of the Guard's massive response to secure the Capitol after it was overrun. Officials would not confirm or deny whether Markofski was a part of that mission, despite his alleged role in the riot.
"Let me be clear: Extremism is not tolerated in any branch of the U.S. military," Gen. Daniel Hokanson, chief of the National Guard Bureau, said in a statement to Military.com when pressed on the service's claims of taking extremism seriously while troops alleged to have stormed the Capitol to disrupt Congress have been allowed to remain in its ranks.
The Marine Corps declined an opportunity to comment about the speed at which it has handled potential discipline of the Marine who allegedly took part in the attack on the Capitol.
Austin ordered an "extremism stand-down" in March and issued a stark warning to the force that extremist ideology can "tear the fabric" of the military.
Then, in April, he announced tougher screenings for new recruits, as well as a new extremism working group and several commissions to study the size of the problem of extremism within the ranks. However, outside groups such as Rand Corp. have argued that the Pentagon doesn't need to reinvent the wheel to deal with the problem. A report published in September argued that re-tooling existing programs to tackle extremism could be more effective.
The Pentagon moves were prompted partly by revelations that the Capitol mob also consisted of dozens of military veterans. One estimate showed more than 10% of defendants in the attack are veterans and those with a background in combat arms made up the majority.
During the stand-down, commanders had to talk about extremism with their formations and its impact on the force and national security. Some troops have said that the conversations were helpful, while others saw it as yet another check-the-box training event that didn't have buy-in from units.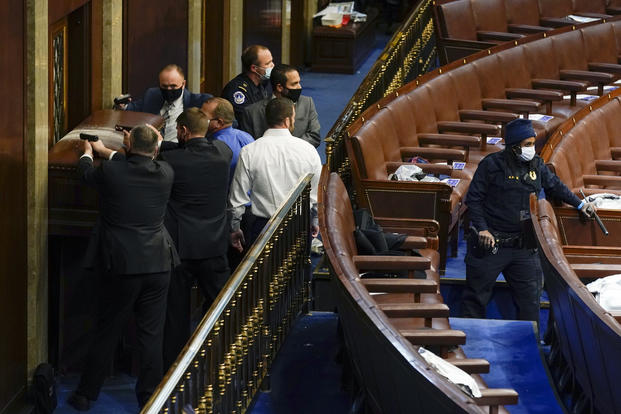 Many of those involved in the riot appeared to have the false belief that the 2020 presidential election was stolen from former President Donald Trump. Numerous state audits, lawsuits and investigations found no evidence of widespread election fraud, and several of Trump's lawyers are facing disciplinary action for including false fraud claims in court filings.
Still, no good data exists on the scope of extremism in the ranks and the reach of such misinformation, which has created a gap in ongoing efforts to counter the problem, Todd Helmus, a behavioral scientist at Rand, told Military.com in an interview.
Right-wing extremism appears to be the most common of radical ideologies troops can fall into, and is the top concern among most experts. Helmus said it can be tough for top brass to address while not appearing partisan.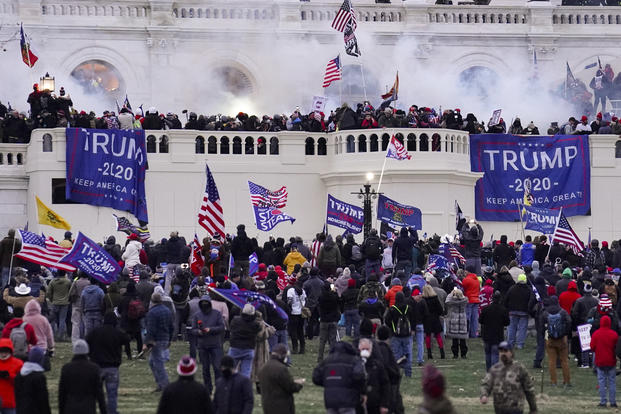 "This is going to be a challenge for the military. The data shows far-right extremism is a larger problem," he said. "They're going to have to deal with conservative communities. But any sort of effort that looks like it's targeting conservatism ideology is going to be counterproductive."
There's scant evidence veterans or service members are particularly vulnerable to misinformation. However, bad actors, including militia groups that were present during the siege, such as the Oath Keepers, target troops and veterans for their combat and leadership skills, according to Goldsmith.
Helmus said the key will be giving troops an opportunity to de-radicalize, which could mean counseling from supervisors or mental health care, after they have fallen victim to disinformation and conspiracy theories on social media.
Commandant of the Marine Corps Gen. David Berger also told reporters this week that social media is another challenge for screening recruits, even as background checks are becoming more thorough.
"I think this is going to be the tension -- between their individual rights and protections as U.S. citizens versus what we want to discover about their interests and how it might fit in with being a service member," Berger said.
Five service members have been charged thus far with participating in the Jan. 6 insurrection. Below is a full accounting of the current status of their cases, 10 months after the riot took place.
1. Maj. Christopher Warnagiris
Charges: Civil disorder; obstruction of an official proceeding and aiding and abetting; assaulting, resisting, or impeding certain officers; entering and remaining in a restricted building or grounds; disorderly and disruptive conduct in a restricted building or grounds; engaging in physical violence in a restricted building or grounds; disorderly conduct in a Capitol building; act of violence in the Capitol grounds; parading, demonstrating, or picketing in a Capitol building
Plea: Not Guilty
The most senior military member allegedly found at the Capitol that day was Marine Corps Maj. Christopher Warnagiris. According to prosecutors, security camera footage showed him "violently" entering the Capitol building after pushing through a line of police officers. Once inside, the Marine officer held the door open for others, at one point pushing a U.S. Capitol Police officer who was trying to close the door.
Warnagiris was arrested for his actions on May 13 but, on June 21, a Marine Corps spokesman told Military.com that the artillery officer was still working at his post at Quantico, Virginia. On June 30, he pleaded not guilty to nine charges.
More than four months after his arrest, the Marines held a Board of Inquiry for Warnagiris from Sept. 28 to Oct. 1 in which the officer had to argue for his right to stay in the Corps. Marine Corps spokesman Capt. Ryan Bruce said that the board has made a recommendation to the general who oversees Warnagiris, but he would not say what that recommendation was or when a decision on his service would be made.
Military.com reached out to Warnagiris' lawyer, Marina Medvin, several times but did not receive a reply before publication. She previously noted that DC federal court rules limit what attorneys can say about pending cases.
2. Army Reserve Capt. Mark Sahady
Charges: Entering or remaining in restricted building or grounds; disorderly and disruptive conduct in a restricted building or grounds; disorderly conduct in a Capitol building
Plea: Not Guilty
Sahady, an Afghanistan war veteran who serves in the Army Reserve's 302nd Maneuver Enhancement Brigade at Westover Air Reserve Base in Massachusetts, received a letter of reprimand and is currently being processed out of the Army, according to his attorney. A timeline for his dismissal is unclear. A spokesperson with the Army Reserve declined Military.com's request for additional information.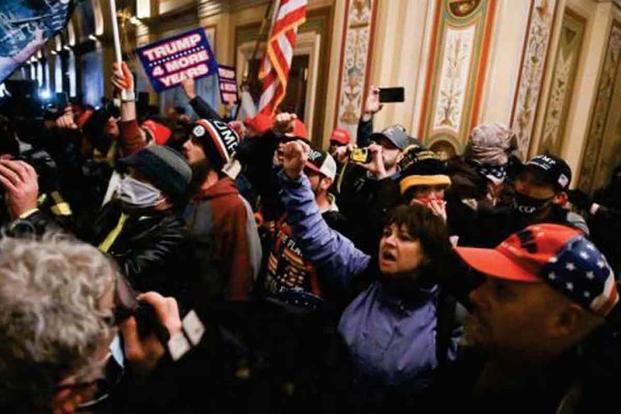 According to a criminal complaint, Sahady made multiple posts on a now-suspended Twitter account with statements spreading the conspiracy theory that the 2020 election was stolen and that people needed to gather in D.C. for retaliation.
On Dec. 20, weeks before the Capitol siege, investigators say Sahady posted a tweet saying it is "important that millions of Americans show up in DC on January 6 to support the legitimate President, Donald Trump, and show Democrats what they will be facing if they continue to try and steal the Presidency."
When someone on Twitter asked about transportation, Sahady replied, 'we have 7 buses coming," adding there was space left for additional personnel.
On Jan. 4, Sahady tweeted, "January 6 -- Washington, DC -- It begins." The following day, another Twitter account posted a photo, which law enforcement alleges is Sahady on a bus giving a thumbs up, presumably en route to Washington, D.C.
A Department of Justice press release on Sahady noted that he "is the vice president of an organization called 'Super Happy Fun America,' which allegedly purports to advocate for the 'straight community.'"
Sahady's lawyer, John Kiyonaga, told Military.com in an email that, in his several years as an Army prosecutor, he "never saw such administrative action on a civilian criminal charge prior to conviction."
3. Army Reserve Sgt. Timothy Hale-Cusanelli
Charges: Civil disorder; aiding and abetting; obstruction of an official proceeding; entering and remaining in a restricted building or grounds; impeding ingress and egress in a restricted building; disorderly conduct in a Capitol building; parading, demonstrating, or picketing in a Capitol building
Plea: Not Guilty
Hale-Cusanelli enlisted in the Army Reserve in 2009 as a human resources specialist and served in the 174th Infantry Brigade, out of Joint Base McGuire-Dix-Lakehurst in New Jersey.
He was demoted from sergeant to private and booted from force in June, according to Army records.
Federal authorities say Hale-Cusanelli admitted to entering the Capitol and encouraging the mob to "advance" -- giving verbal and hand signals to direct the rioters. Hale-Cusanelli told a federal informant that the mob could have taken the entire building if they had more men, according to court documents. He also admitted to picking up a flagpole and flag he observed another rioter using "like a javelin" against a Capitol Police officer, describing it as "a murder weapon."
He worked at Naval Weapons Station Earle in New Jersey, which prompted the Navy to conduct its own investigation, in which "the majority" of his colleagues interviewed described him as a white supremacist and anti-semitic, who was potentially violent. He also wore a Hitler mustache to work.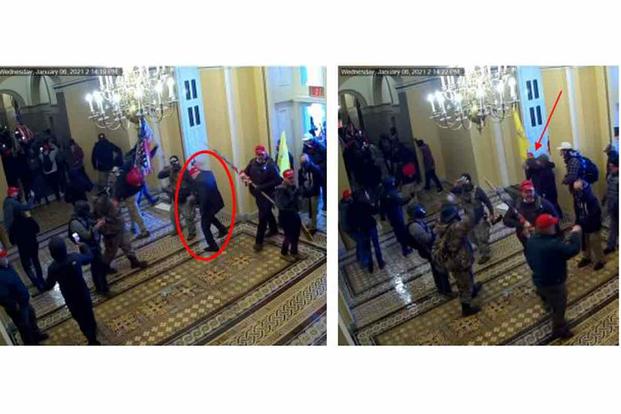 One Navy petty officer told investigators that Hale-Cusanelli said, "Hitler should have finished the job." That petty officer said they considered Hale-Cusanelli "unstable," adding that he made the work environment uncomfortable. Investigators said that Hale-Cusanelli told another petty officer that, "Jews, women, and blacks were on the bottom of the totem pole."
When investigators inquired about why Hale-Cusanelli's poor conduct wasn't handled, a contractor said they feared for their safety.
On Jan. 6, federal authorities say Capitol Police hit Hale-Cusanelli with pepper spray as he advanced into the building with the mob. He admitted to law enforcement that he then encouraged others to "advance" past law enforcement. Rioters began to push and shove police officers; after 30 seconds, the mob broke through and advanced up the building's steps toward the front doors, where Hale-Cusanelli recorded a video yelling, "Trump won!"
Military.com reached out to Hale-Cusanelli's lawyer several times but did not receive a reply before publication.
While the Army Reserve has made moves to kick out soldiers accused of assaulting the Capitol, the National Guard has been much slower in doling out meaningful punishment against at least two of its soldiers.
4. National Guard Cpl. Jacob Fracker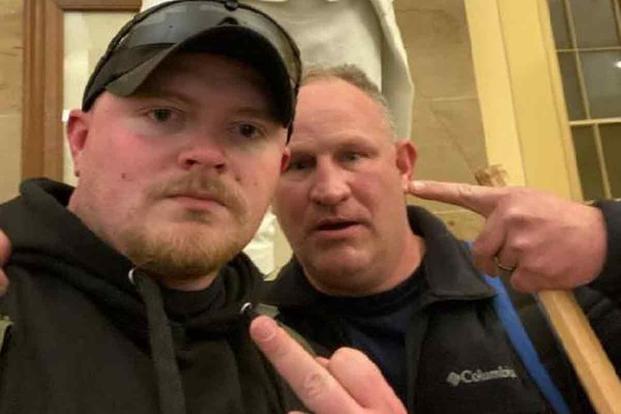 Charges: Obstruction of an official proceeding; aiding and abetting; entering and remaining in a restricted building or grounds; disorderly and disruptive conduct in a restricted building or grounds; violent entry and disorderly conduct in a Capitol building or grounds
Plea: Not Guilty
In now-deleted social media posts, Cpl. Jacob Fracker, an infantryman with the Virginia National Guard, posted a photo of himself and another individual in the Capitol during the siege and wrote, "Lol to anyone who's possibly concerned about the picture of me going around... Sorry I hate freedom?...Not like I did anything illegal...y'all do what you feel you need to..."
The posts were cited in his criminal complaint.
Fracker was a police officer in Rocky Mount, Virginia, but was fired for his role in the attack. He is being charged by federal authorities alongside Thomas Robertson, who federal law enforcement says took the photo with Fracker in the Capitol.
Robertson, an Army Reserve veteran, served in the same police department as Fracker. During the summer, while awaiting trial, authorities say Robertson purchased 34 firearms, despite a judge's order to stay away from weapons. During an FBI search of his home, they also found a partially assembled pipe bomb and "large amounts of ammo," according to court documents.
Despite the fact that Fracker, who is assigned to 1st Battalion, 116th Infantry Regiment, 116th Infantry Brigade Combat Team, has admitted to being a part of the Capitol mob on social media, posted photos from inside the Capitol, and lost his civilian job over his actions, the Guard hasn't removed him from the force.
Fracker's case is ongoing, but the military doesn't need a conviction to take action. Troops often are swiftly removed for infractions such as using marijunana or offenses that break military rules, but not the law, such as being overweight.
Military.com reached out to Fracker's lawyer several times but did not receive a reply before publication.
5. National Guard Pfc. Abram Markofski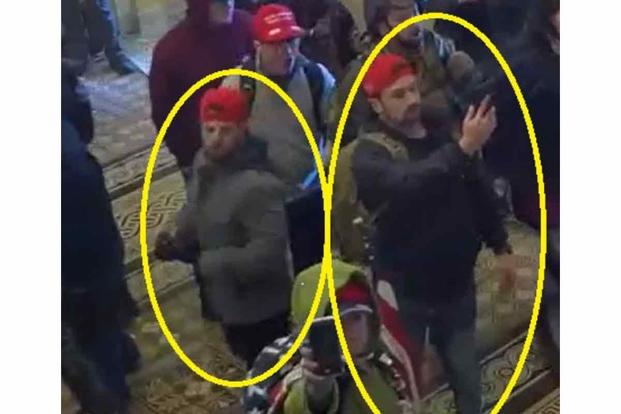 Charges: Entering and remaining in a restricted building or grounds; disorderly and disruptive conduct in a restricted building or grounds; violent entry or disorderly conduct; parading, demonstrating, or picketing in a Capitol building
Plea: Guilty to Demonstrating in a Capitol Building
Markofski, an infantryman who serves in the Wisconsin Guard's 1st Battalion, 128 Infantry Regiment, is set to be sentenced Dec. 3.
Federal prosecutors say he and a friend traveled to Washington, D.C., from Madison, Wis., to attend the rally held by Trump, where the former president told his supporters to march on the Capitol and "never concede." He also informed his backers that if they "don't fight like hell," they "aren't going to have a country anymore."
Markofski admitted to federal authorities to being in the Capitol for 40 minutes after Capitol Police warned him to leave, court documents say.
Military.com reached out to Markofski's lawyers several times but did not receive a reply before publication.
-- Travis Tritten contributed to this story.
-- Steve Beynon can be reached at Steve.Beynon@military.com. Follow him on Twitter @StevenBeynon.
-- Konstantin Toropin can be reached at konstantin.toropin@military.com. Follow him on Twitter @ktoropin.
Related: House Panel Spars Over Extremist Groups' Recruiting of Veterans