Army leaders want more soldiers training for badges -- proof of combat skills -- and are hoping to radically increase the opportunities troops have to test their abilities.
Stringent rules for badge testing make the process incredibly time-consuming for units, and some on the active-duty side are lucky to conduct one test a year. In the Reserve and National Guard, testing is virtually nonexistent because of logistical hurdles.
For troops, the expert infantry, soldier and medical badges are prestigious and can give them a leg up over others competing for promotions.
Leadership has stressed that more opportunities to earn a badge would mean more training for soldiers on the essentials: radio communications, land navigation, treating combat wounds, and weapons proficiency.
The Army is rolling all tests into one event while keeping the three unique badges intact, allowing units to share resources and opening opportunities for recipients of different badges to grade the test, lifting a massive logistical burden for units.
Read Next: House Panel Spars Over Extremist Groups' Recruiting of Veterans
"It's coming; my goal is to have that complete by 2023," Sergeant Major of the Army Michael Grinston said Wednesday during the annual Association of the United States Army conference. "Giving [soldiers] more chances to earn the badge … that will be the standard of the Army in the future."
The Expert Infantry Badge, or EIB, is awarded to infantrymen who complete a grueling multi-day gantlet testing their skills in basic combat tasks, such as land navigation and weapons competency. The Expert Soldier Badge, or ESB, was introduced in 2019 and is effectively earned the same way as the EIB, but is awarded to non-infantry jobs. The Expert Field Medical Badge, or EFMB, is mostly the same as the other two badges but adds specific combat trauma treatment tasks for medics.
The 10th Mountain Division has been running a trial of wrapping the three testing events into one and has seen a huge uptick in badge recipients as a result.
"We ran this three times in one division in one fiscal year; 30 years in the Army and I've never seen that," 10th Mountain Command Sergeant Major Mario Terenas told Military.com in an interview. "We got 500 badges; that's massive. I would love some study on the numbers, but I guarantee no division has ever achieved 500."
He added that during the past year, because of being able to run more tests, the 10th Mountain has awarded roughly 150 ESBs, of which only 600 have been awarded across the entire Army so far.
Multiple factors have suppressed the number of ESBs awarded in the force: The badge was made official less than a year before the COVID-19 pandemic began, and it is mostly for non-combat arms units that might not have all the resources or expertise to conduct the tests, which mainly gauge combat skills.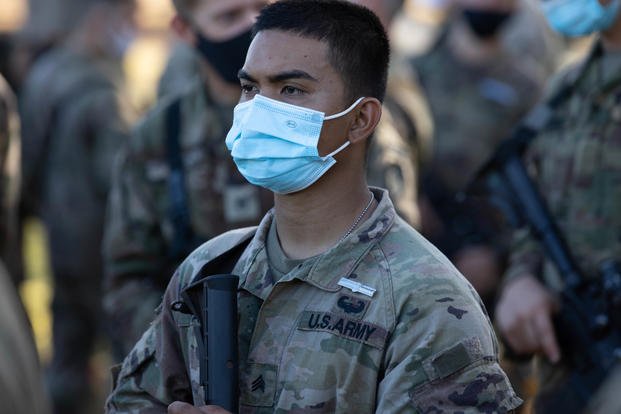 But a major factor is the culture in units, where leaders may have a hard time motivating non-combat troops to spend a lot of time training for combat tasks.
"Biggest challenge is motivating non-infantry folks to try and get their ESBs. It's new and not ingrained in the non-infantry culture the way EIB is part of the infantry culture," one senior Army officer told Military.com on the condition of anonymity to speak freely on the topic. "It's required a lot of education, motivation, and change management for it to take off -- we aren't where we need to be yet."
Some leaders in non-combat units also might not be comfortable with skills tested for the badges and don't want to risk failing the event in front of their soldiers.
"They see it as an unnecessary reputational risk," the senior leader added. "It's safer not to test. What does resonate is telling folks that being one of the first to earn it will set them apart in future promotion boards."
But Terenas stressed to Military.com that testing more isn't "about the badge." Instead, it's about "sets and reps" for skills all soldiers should have. However, he said that the number of badges awarded is one of the easiest surface-level ways to see how ready a unit is to fight.
The tests themselves have a great deal of overlap, which should have made it simple to roll them together. But small differences in each of the tests have required detailed adjusting. Medics will perform most tasks with other soldiers but break away to conduct their specific job tests for the EFMB.
"We had this legacy system that took too long. We had badges that had the same damn tasks, but they all had different standards," Terenas explained.
The existing process of training for and testing for a badge takes about 45 days, which can be a tall order for units. Terenas' trial program shortens the whole event to less than two weeks -- seven days for training and five days for testing.
At first, there was pushback because the changes could have meant more soldiers would fail the tests.
"I'm thinking, 'Holy cow, this is going to be a disaster,'" Terenas said.
But pass rates actually went up: The idea is that if there are more tests, soldiers will train regularly during their downtime knowing an opportunity to earn a badge is always around the corner. Terenas said the pass rate now is 23%, up from 18%.
Yet there were problems with the medical badge during the first trial run. The badge exam includes a written test that goes over a lot of basic medical knowledge, but it also includes advanced questions that can be overwhelming for a junior soldier. Soldiers get two attempts to pass it, and it was a prerequisite for the hands-on exam.
During a test run, at Fort Polk, Louisiana, only one medic out of 65 passed the written test. That person didn't end up earning the badge.
But in a tweak during a subsequent trial, soldiers who failed the written test were allowed to go through the hands-on portion. They got their second attempt at the written test near the end of the process, before the 12-mile ruck march. With the new rules in place for a group of 120 soldiers, roughly 80 passed the written test.
The key to getting more medics through the written exam was setting more time aside for mandatory study halls. Terenas said he needed about 15 hours of study to pass the test. 
Now because there's always a test around the corner, instead of maybe once a year, soldiers are constantly training for the test, saying that during downtime, troops are training on weapon systems and radios.
When asked whether cavalry scouts could combine their spur ride -- a gantlet similar to the badges, but it awards a set of spurs that can sometimes be worn as part of a soldier's uniform -- with an ESB event, Terenas said that would "just be greed."
-- Steve Beynon can be reached at Steve.Beynon@military.com. Follow him on Twitter @StevenBeynon.
Related: Land Nav, Fitness Knock Most Soldiers out of Latest Expert Soldier Badge Running