The Space Force finally has its own service dress uniform -- one worthy of the Starship Enterprise.
The U.S. military's newest service unveiled its prototype dress uniform at the Air Force Association's Air Space & Cyber conference in National Harbor, Maryland, on Tuesday -- prompting commenters to share images and jokes online.
The uniform is a marked departure from the dress blues of the Air Force, from which the Space Force was spun off in 2019. It has a dark navy coat that buttons on the right-hand side, unlike the Air Force coat that buttons in the middle, and gray pants.
Raymond said the coat's six buttons -- which bear the Space Force emblem -- are meant to represent its status as the military's sixth service.
Read Next: Air Force Secretary Taps Watchdog to Weigh Accountability in Botched Kabul Airstrike
But the cut of the coat reminded some online commenters of the burgundy uniform worn by Capt. James T. Kirk of "Star Trek" fame in "The Wrath of Khan," or the dark blue uniforms worn by the crew on the sci-fi show "Battlestar Galactica."
Lt. Col. Alison Gonzalez, the Space Force deputy chief of strategy who modeled the new uniform at the conference, said it was designed with women in mind.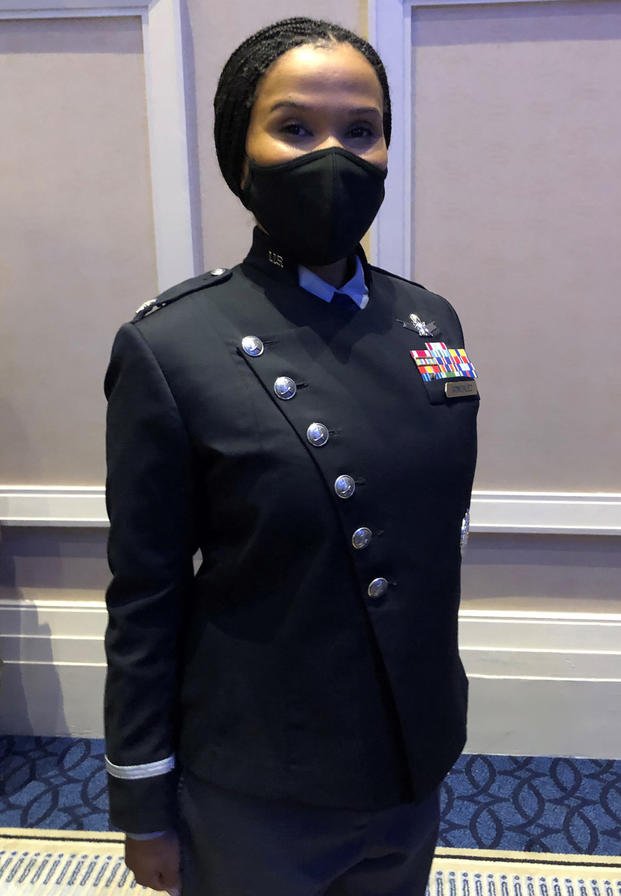 That's a reversal from the military's usual model of designing uniforms for men and then adapting them for women. That strategy frequently has resulted in poor fits for female service members and required the services to go back years later for a redesign.
Gonzalez said she has been involved in helping develop the Space Force's new uniform since last spring, after the service settled on a design. She helped test various iterations of the uniform, working with a tailor to see which would be the most comfortable and flattering fit.
But it will be some time before Space Force Guardians get to wear their new uniform on a regular basis. Raymond said the service will collect comments over the next few months, then start the process of wear-testing the uniform before it is distributed widely.
He added that the Space Force recently put its new PT uniform into wear-testing.
The uniform announcement followed Monday's unveiling of the Space Force's enlisted rank insignia. The chevron designs for senior noncommissioned officers were inspired by earth orbits, the service said.
-- Stephen Losey can be reached at stephen.losey@military.com. Follow him on Twitter @StephenLosey.