YOKOTA AIR BASE, Japan – Pictures posted on social media by an Air Force spouse of filthy, moldy accommodations set aside for families in coronavirus quarantine have prompted the base commander to announce a thorough review.
The images posted Sunday on the Yokota Spouses & Families Facebook page and a response from base officials sparked more than 800 comments, with many blaming Air Force leaders for the conditions.
In a statement Tuesday afternoon, 374th Airlift Wing commander Col. Andrew Campbell thanked those who brought their concerns to his attention.
"Yokota's leadership team is dedicated to ensuring the facilities used reflect the care and respect we have for our community," he wrote. "As the Wing Commander, I'm responsible for any lapse in focus to that end. Along with Yokota's leadership team, I'm executing a comprehensive review of how we manage COVID related isolation and quarantine."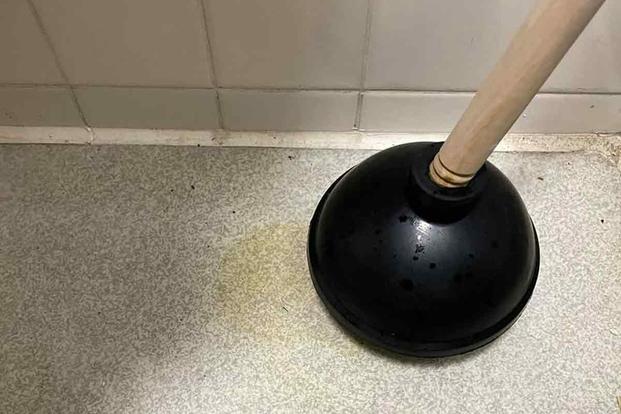 Campbell said he has given another colonel authority to make needed changes related to the facility's cleanliness and its team's readiness to properly host and support the community.
Air Force spouse Heather Ann Knef posted images of a dilapidated apartment where her family was sent for 14 days of quarantine after her daughter tested positive for the coronavirus.
The photographs show a dirty bathroom, stained carpet, food waste spattered on kitchen floors and appliances, holes in the ceiling and walls and what looks like mold growing on fixtures.
The family was overwhelmed by the smell of mold and mildew when they arrived at the unit, Knef said in her post.
"Not to mention you can see mold everywhere you look," she wrote. "This room wasn't even cleaned before they forced us to quarantine here. There is pee and poop on the toilets, toothpaste in the sink, food and filth on the carpets, trash on the bathroom floor, rust everywhere, food crusted on the microwave and the shower is still wet from the last people that stayed here."
No one should be expected to live such conditions like this, Knef said in her post.
"They are sending sick, vulnerable Covid patients from the comfort of their home to quarantine in this filth," she wrote.
The 374th Airlift Wing addressed Knef's post on the popular Facebook page with one of its own Monday evening that blamed a breakdown in administrative processes and communication for sending the family to an apartment that hadn't been cleaned.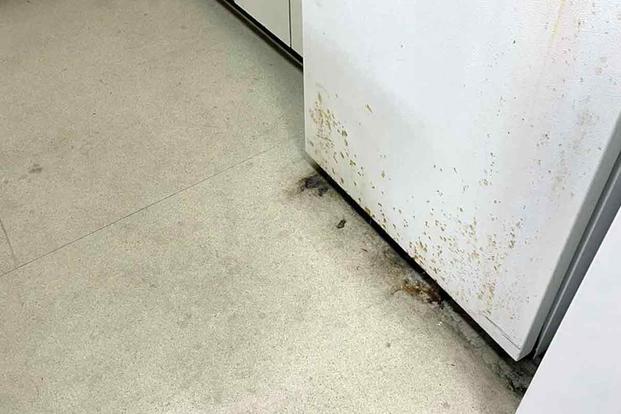 "When the accidental assignment was identified by wing personnel, the family in question was reassigned to another unit," the message said.
However, Knef said the second unit was in poor condition, too.
Her concerns were echoed by Alexandra Kliber, 36, who said she was sent to the tower in August along with her sons, ages 2 and 10, to care for her husband, Air Force Capt. Eric Kliber, 38, who had tested for the coronavirus, she said in a telephone interview Tuesday.
Eric Kliber was severely ill but his request to be hospitalized was refused and the family was forced to go to the temporary quarters, she said.
"The carpets were full of mildew," she said. "It was hard to keep my 2-year-old off them."
Knef's post drew almost 500 comments about the tower's condition and questioning the need for people to be there when they could quarantine at home.
Temporary assignment to the tower is a hardship but it's one of the community's most effective tools for mitigating virus spread, according to the wing's post, which prompted more than 300 additional comments.
Some questioned the impact of quarantines on people who had already faced more than a year of restrictions due to the pandemic. Others said unsanitary conditions in the quarantine tower have been present for more than a year.