Last year, it was an F-35A Lightning II fighter jet -- one of the most advanced aircraft the world has ever seen. Now, after a crash that cost an estimated $176 million, it's being cut into pieces for training aids.
The Air Force jet was left a mess of scorched metal that would never fly again after a botched landing at Eglin Air Force Base, Florida, in May 2020. The pilot ejected safely.
Rather than toss the burnt remains on the scrap pile, the service decided on a second life for the F-35 parts as practice for military aircraft maintainers.
Read Next: Air Force Veterans Seek Class-Action Suit over Trauma Consideration in Discharges
The aircraft crashed when a pilot instructor attempted a landing during night training. The Accident Investigation Board found the jet came in about 50 knots too fast and at too shallow an angle for its speed, causing it to bounce and roll. A problem with the aircraft's flight systems also caused the tail not to respond to the pilot.
The F-35 caught fire and was completely destroyed.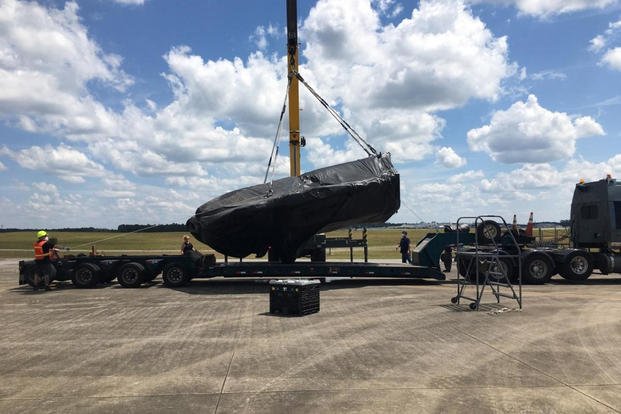 Part of the most costly weapons program in Pentagon history, the jet originally was slated to be scrapped and destroyed. But airmen at the 372nd Training Squadron at Hill Air Force Base in Utah saw an opportunity.
They wondered whether inside the "damaged crust," as the squadron's Master Sgt. Andrew Wilkow put it in a Sept. 7 press release, some parts such as the avionics, fuel cell and gun systems still might be relatively intact and salvageable for training.
Until now, the Air Force has used operational aircraft for F-35 maintenance training, Tech Sgt. Dennis Corcoran of the 372nd said in the release. But that's not always ideal: Squadrons have missions to carry out, so there's always pressure to get the jets back up and running as quickly as possible.
But with a trashed F-35, maintainers can take as long as they want to poke around inside and hone their skills without an operational squadron growing impatient to get its jet back.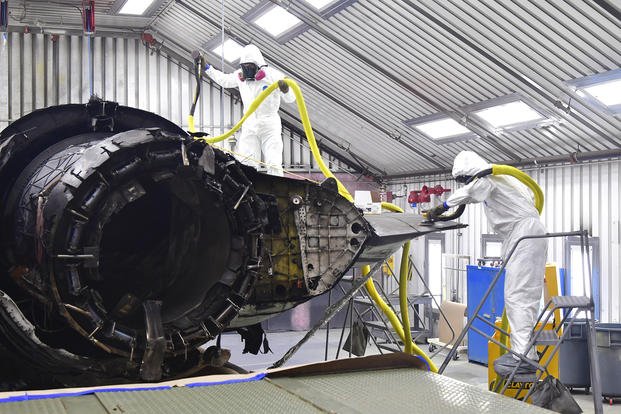 A team from Hill Air Force Base went to Eglin to take a look, confirming that the major components they would need for training were still in usable shape.
They struck a deal to share with a Navy unit, which was also interested in using the components for its own test and evaluation purposes, and got ready to move the fighter's remains back to Hill. The wings were cut off to prepare it for transport on a flatbed trailer.
But a burned-up F-35 includes a lot of hazardous contaminants, so the 388th Maintenance Squadron at Hill began cleaning it so it can be safely used. That involved sanding its surface and removing carbon fiber that became exposed in the wreck.
"Our shop is involved with removing contaminants, cleaning up any fluid or chemical residue, trimming off exposed burnt composites and removing sharp edges or metal damage," Tech. Sgt. Kevin Browning, the noncommissioned officer in charge of corrosion control at the 388th, said in the release. "Then we prep and paint the components, so that they are safe to handle."
Next, the F-35 will be cut into pieces, first lengthwise across the fuselage, and then into individual component sections that will be mounted on stands to give maintainers better access. The Air Force expects that will be finished next year.
"Obviously, accidents are unfortunate, but when it comes to aircraft involved in a mishap, I have always found that there is a silver lining and something to be gained," Dan Santos, the heavy maintenance manager for the F-35 Joint Program Office, said in the release.
-- Stephen Losey can be reached at stephen.losey@military.com. Follow him on Twitter @StephenLosey.
Related: Air Force Blames F-35 Crash at Eglin on Excessive Landing Speed