WASHINGTON — A young husband with a child on the way, a corporal who expected to follow in his parent's footsteps as a sheriff's deputy and a soldier who enjoyed tending garden with his wife were among the 13 U.S. service members killed Thursday in a horrific suicide bombing at Afghanistan's Kabul airport, which also claimed the lives of more than 100 Afghans.
As military personnel were going through the grim task of notifying the troops' next of kin, some of their names emerged Friday and Saturday before the government formally announced them. Eleven Marines, one Navy sailor and one Army soldier were among the dead, while 18 other U.S. service members were wounded in Thursday's bombing, which was blamed on Afghanistan's offshoot of the Islamic State group.
The U.S. said it was the most lethal day for American forces in Afghanistan since 2011. The White House said President Joe Biden will look for opportunities to honor the service members who lost their lives.
None of the names had been officially released by the Pentagon by noon CET Saturday, as military service branches by policy wait 24 hours after fallen troops' next-of-kin have been notified before making the announcement. However, families can choose to identify their loved ones any time.
David Lee Espinoza
Lance Cpl. David Lee Espinoza, 20, of Rio Bravo, Texas, "embodied the values of America: grit, dedication, service, and valor," Rep. Henry Cuellar, R-Tex., told the Border Report news site.
Espinoza was identified as one of the victims via a Facebook post from the Laredo police department on Friday. He is survived by his brother, mother and stepfather.
"When he joined the military after high school, he did so with the intention of protecting our nation and demonstrating his selfless acts of service," Cuellar said, according to Border Report. "I mourn him and all the fallen heroes in Afghanistan."
"It was his calling and he died a hero," his mother Elizabeth Holguin said in an interview with the Washington Post, adding that her heart now has "a David-sized hole nobody can fill."
The two last spoke on Wednesday, Holguin said. It would be their final phone call.
The young Marine's last words to his mother were, "I love you."
Nicole Gee
Sgt. Nicole Gee, 23, had been pictured in photos of the evacuation holding an Afghan baby and escorting girls to a waiting military aircraft.
"She had a name. She was doing God's work…..a warrior," Capt. Karen Holliday said in a post on her personal Facebook page. "Searching Afghan women and children trying to get out of country."
The photo of Gee leading girls to the plane had elicited sexist comments on Instagram days before her death, Holliday said in the post.
"A few days after this photo was released, she gave the ultimate sacrifice," she said.
Gee, from Roseville, Calif., was a maintenance technician with 24th Marine Expeditionary Unit, according to a caption on a military photo in April. She was a "model Marine" who had recently been promoted to sergeant meritoriously and had perfect fitness scores, Holliday said.
Gee's "last breath was taken doing what she loved—helping people—at HKIA in Afghanistan," a friend said in a touching Facebook post Friday that had been shared 9,000 times within a few hours.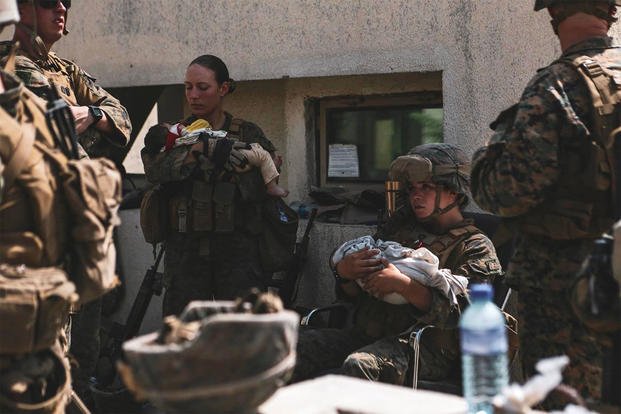 Taylor Hoover
Staff Sgt. Taylor Hoover, 31, hailed from Utah, where the governor on Friday ordered flags at all state facilities and public grounds to be flown at half-staff through Monday.
The Marine's family confirmed he was among those who died in the suicide attack, KSL-TV in Salt Lake City reported Friday.
"Staff Sgt. Hoover served valiantly as a Marine and died serving his fellow countrymen as well as America's allies in Afghanistan," Utah Gov. Spencer Cox said on Twitter. "We honor his tremendous bravery and commitment to his country, even as we condemn the senseless violence that resulted in his death."
In a brief phone call with the Washington Post, Hoover's father Darin Hoover called his son a "true hero" who "did what he loved doing, serving the United States."
Ryan Knauss
The sole soldier who died in the attack was Staff Sgt. Ryan Knauss, 23, of Knoxville, Tenn., according to WBIR-TV, which confirmed his identity with Knauss' stepmother.
Knauss, who was assigned to 1st Special Forces Command, had just completed psychological operations training and had expected to move to Washington, D.C., she told the station. He enjoyed working with his hands and helping his wife, Alena, with her garden, she said.
"Our teammate died not only serving our nation, but helping to give others a life of freedom and opportunity," the command said on Twitter.
Rep. Tim Burchett, R-Tenn., tweeted Friday that the soldier "gave his life outside Hamid Karzai International Airport helping people he didn't know get to safety. This is what true heroism looks like and Ryan's sacrifice will never be forgotten."
Rylee McCollum
Lance Cpl. Rylee McCollum, 20, a Marine from Bondurant, Wyo., whose wife is expecting a baby in three weeks, was identified by family members and local media outlets as one of the service members killed Thursday.
"He was a Marine before he knew he was allowed to be a Marine," his sister Cheyenne McCollum told The Associated Press Friday.
"Rylee wanted to be a history teacher and a wrestling coach when he finished serving his country," she said. "He's a tough, kind, loving kid who made an impact on everyone he met. His joke and wit brought so much joy."
McCollum, who was stationed in San Diego, was manning an airport checkpoint at the time of the explosion Thursday, according to the Casper Star Tribune.
"Rylee McCollum's bravery and patriotism will never be forgotten," Rep. Liz Cheney, R-Wyo. wrote on Twitter. "His willingness to put himself in harm's way to keep our country safe and defend our freedom represents a level of selflessness and heroism that embodies the best of America."
According to the Washington Post, McCollum was expected to arrive back in California in time for the birth of his son or daughter. The couple, according to the paper, had chosen to keep the child's gender a surprise.
"I lost my best friend," McCollum's wife Jiennah Crayton wrote on Facebook. "He would've been the best dad. I wish he could see how much of an impact he made on this world. I'm so proud to call him my husband."
Hunter Lopez
Marine Corps Cpl. Hunter Lopez, of Indio, Calif., was the son of two Riverside County Sheriff's Department deputies. The Riverside Sheriff's Association issued a statement Friday announcing his death.
Lopez, 22, was assigned to 2nd Battalion, 1st Marines, and had planned on becoming a Riverside County sheriff's deputy after returning from his current deployment, according to the association.
"Like his parents who serve our community, being a Marine to Hunter wasn't a job; it was a calling," the statement said. "He loved his family, and as we grieve for Hunter and his fellow Marines taken from us too soon, there are simply no words to express how deeply he will be missed — Semper Fi."
"This kid knew since he was 11 what he wanted to do," wrote JC Lopez, Hunter Lopez's uncle, on Facebook. "Every free moment was spent training and perfecting his craft. Hunter you did your job. Rest now."
Kareem Nikoui
Lance Cpl. Kareem Nikoui, 20, of Norco, Calif., was identified as one of the victims by his father, Steve Nikoui, who spoke with The Daily Beast Friday.
'"He really loved that [Marine Corps] family," Steve Nikoui said of his son. "He was devoted — he was going to make a career out of this, and he wanted to go. No hesitation for him to be called to duty."
Nikoui was stationed at Camp Pendleton, allowing him easy access to visit his family on weekends, his father said.
"No mother, no parent should ever have to hear that their child is gone," Nikoui's mother, Shana Chappell, wrote on Instagram, where she shared a recent photo of her son in Afghanistan. "He was so amazing in every way."
Johanny Rosario
Sgt. Johanny Rosario, 25, of Lawrence, Mass., was also among the dead, NBC10 Boston and other local news stations reported. Her Facebook page lists her as working in supply admin.
Friends and fellow Marines poured out their grief over Rosario's death on social media. Her friend Nastassia Hyatt, a former Marine who said in a Facebook post that they met while serving at Marine Corps Air Station Futenma in Okinawa, Japan, called her "my soulmate."
Hyatt, who runs a YouTube video blog, posted a clip of a time she surprised Rosario with a prom because she had not been able to attend the spring dance in high school.
"This was one of the happiest days of your life and mine," she said. "The smile on your face."
She also recalled Rosario helping her through difficult times.
"You brought me back to life. Back to life… back to life…." Hyatt wrote. "I wish i could bring you back to life for just one last hug, one last smile, one last nap, one last meal… one last anything."
Humberto Sanchez
Cpl. Humberto Sanchez, 22, of Logansport, Ind., was identified as among the dead in social media posts by members of Congress and the school he attended in the town of 17,500.
"He bravely answered the call to serve his nation, and I am both proud of his service and deeply saddened by his loss," wrote U.S. Rep. Jim Baird, whose district includes the town.
The young Marine "still had his entire life ahead of him," Logansport Mayor Chris Martin said in a post on his own Facebook page Friday night.
"Any plans he may have had for his post-military life were given in sacrifice due to the heart he exhibited in putting himself into harm's way to safeguard the lives of others," he said.
Fatima Magnison, the wife of another Marine mistakenly reported among the dead on some lists, said in a comment that her husband was best friends with Sanchez, who she called Bert. Listing four of the slain Marines — Sanchez, Page, Soviak and Lopez — she said they "were too sweet … to be gone so soon."
"I can't believe it," she wrote. "My heart is heavy today and every day on."
Daegan William-Tyeler Page
The family of 23-year-old Marine Corps Cpl. Daegan William-Tyeler Page, from Omaha, Neb. released a statement to local media on Friday confirming his death, the Omaha World-Herald reported.
"He loved the brotherhood of the Marines and was proud to serve as a member of the 2nd Battalion, 1st Marine Regiment at Marine Corps Base Camp Pendleton, California," the statement said.
The Marine was an avid hunter and outdoorsman, as well as an animal lover with a soft spot for dogs, the statement said. In one Facebook photo, he is shown sporting a chest tattoo that reads: "Death Before Dishonor."
"Daegan always looked forward to coming home and hanging out with his family and many buddies in Nebraska," the statement said. "Daegan's girlfriend Jessica, his mom, dad, step-mom, step-dad, 4 siblings, and grandparents are all mourning the loss of a great son, grandson, and brother."
"Corporal Page is an American hero who gave the last full measure of devotion," said Rep. Don Bacon, R-Neb., in a statement. "He served his country honorably, and his service will never be in vain."
Jared Schmitz
Lance Cpl. Jared Schmitz, 20, of Wentzville, Mo., was identified as one of the victims by his father, Mark Schmitz, the AP reported Friday. Mark Schmitz said deploying with the Marine Corps was something his son "always wanted to do."
"His life meant so much more," he told St. Louis radio station KMOX. "I'm so incredibly devastated that I won't be able to see the man that he was very quickly growing into becoming."
Maxton Soviak
Maxton "Max" Soviak, 22, a Navy corpsman from Ohio, was identified by family member Marilyn Soviak on Instagram but did not provide his rank.
In her post, she described him as her "beautiful, intelligent, beat-to-the-sound of his own drum, annoying, charming baby brother."
"He was a f-----g medic there to help people and now he is gone and my family will never be the same," she wrote on Instagram. "He was just a kid. We are sending kids over there to die."
Maxton Soviak called himself a "patriot" on the social media platform, where his final post featured a picture of himself with two Marines posing in their combat gear.
"It's kill or be killed," Maxton Soviak wrote in his post. "Definitely trynna be on the kill side."
"Navy Hospital Corpsman Max Soviak represented the very best of Ohio," Rep. Tim Ryan, D-Ohio, wrote on Twitter. "He gave everything in the struggle to bring Americans and our allies to safety. The terrorists responsible will be held accountable. My prayers are with his family. His sacrifice will never be forgotten."