Updated 10:30 p.m. Eastern
Editor's Note: Thursday evening the Pentagon provided an updated tally of fatalities tied to the bombings at Hamid Karzai International Airport, bringing the total to 13 U.S. service members. This story and headline have been updated accordingly.
Pentagon officials confirmed that at least two bombs were set off outside of Hamid Karzai International Airport in Kabul on Thursday, causing chaos and killing multiple U.S. service members and civilians as evacuations out of Afghanistan continue. Thus far, officials have confirmed few details about the attacks and the casualties.
Chief Pentagon spokesman John Kirby said via Twitter that one explosion at the airport's Abbey Gate, which has served as one of the main entry points to the facility for Afghans fleeing Taliban rule, "was the result of a complex attack that resulted in a number of US & civilian casualties."
"We can also confirm at least one other explosion at or near the Baron Hotel, a short distance from Abbey Gate," he added.
Read Next: 'Was It Worth It?' A Fallen Marine and a War's Crushing End
Hours later, Kirby said that "a number of U.S. service members were killed" and "a number of others are being treated for their wounds."
Late Thursday, U.S. Central Command Spokesman Capt. Bill Urban issued a statement that 13 U.S. service members had died as a result of the attack, with 18 further service members injured all of whom were evacuated from Afghanistan.
Earlier today, former Vice President Mike Pence tweeted that he was "praying for the three U.S. Marines and innocent civilians injured in the terrorist attacks near Kabul Airport today."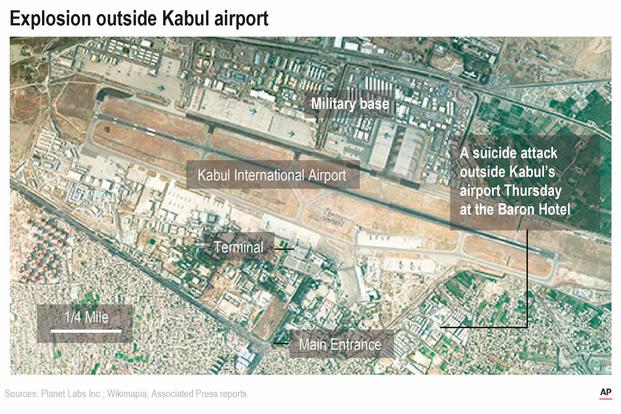 The Pentagon did not immediately answer questions about whether the attacks have halted evacuation flights out of the airport. The Biden administration had set an Aug. 31 deadline to remove U.S. troops from Afghanistan. With less than a week before that deadline, it is possible that the attack could lead to the last U.S. service member fatalities of the war. Before Thursday, 2,448 members of the military had died in the 20 years of war in the country.
Taliban spokesman Zabihullah Mujahid condemned the attack in a tweet hours after the bombings.
An international humanitarian organization, Emergency, said in a tweet that "around 60 patients wounded in airport attack have arrived at our Kabul Surgical Centre so far." Earlier, the group said that six patients were "dead on arrival" at its facility.
The news comes after days of warnings from Western nations about threats to the airport and the crowds waiting outside, as well as specific concerns about attacks at the gates.
"Every day we're on the ground is another day we know that ISIS-K is seeking to target the airport to attack both U.S. and allied forces and innocent civilians," President Joe Biden said Tuesday.
An Islamic State affiliate, ISIS-Khorasan or ISIS-K, is seen as a threat by U.S. officials but is an enemy of the Taliban as well. Experts have theorized that an attack on the airport by ISIS-K could serve a dual purpose of hurting Americans and embarrassing the Taliban as the group attempts to establish credibility that it can effectively secure Afghanistan.
U.S. Rep. Adam Schiff, D-Calif., said in a statement on the attacks that "while it is too early to draw any conclusions, ISIS-K had a clear motivation to disrupt our efforts."
"The sooner we can finish, the better," Biden said. "Each day of operations brings added risk to our troops."
Shortly after reports of the first explosion, the U.S. Embassy in Kabul told American citizens to "avoid traveling to the airport and avoid airport gates at this time."
"There has been a large explosion at the airport, and there are reports of gunfire," the embassy said. It urged any U.S. citizens at the Abbey Gate, East Gate or North Gate to "leave immediately."
The United Kingdom, one of the key U.S. allies on the ground in Kabul, said in a statement given to Military.com that "there have been no reported UK military or UK Government casualties following the explosions in Kabul" but that officials are "working urgently to establish what has happened and its impact on the ongoing evacuation effort."
"We are in close contact with our US and other NATO allies at an operational level on the immediate response to this incident," the statement added.
-- Konstantin Toropin can be reached at konstantin.toropin@military.com. Follow him on Twitter @ktoropin.
Related: Roughly 1,500 Americans May Still Be in Afghanistan Less Than a Week Before Troops Are Due to Leave