Two American soldiers who died in 2017 fighting off Islamic State-affiliated attackers in Niger alongside Special Forces troops have been named honorary Green Berets, Army officials said.
Army Sgt. 1st Class Jeremiah Johnson and Sgt. La David Johnson received the rare honor during a small, private ceremony for their families Tuesday at Fort Bragg, N.C., an Army Special Operations Command spokesperson said in a statement. Both Johnsons, who are not related, had been deployed to Niger on a counterterrorism mission as support personnel with the Fort Bragg-based 3rd Special Forces group when their unit was ambushed near the West African country's border with Mali on Oct. 4, 2017.
The Army will now consider them Green Berets and members of the Special Forces regiment, said the spokesperson, who confirmed the honor on condition of anonymity.
"As part of the ceremony, the families were each presented with a certificate ... [and] a shadow box containing their [fallen soldier's] honorary Green Berets," the spokesperson said. "The presentation was in recognition of their valiant acts during the tragic events in Niger during their service with U.S. Army Special Forces."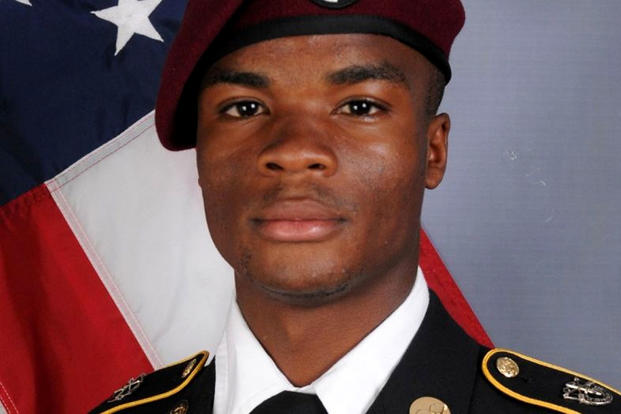 Jeremiah Johnson, 39, and La David Johnson, 25, died in the rare firefight in Africa involving U.S. troops alongside two Green Berets, Staff Sgt. Bryan C. Black, 35, and Staff Sgt. Dustin Wright, 29. The elder Johnson was a chemical, biological, radiological, and nuclear specialist. La David Johnson was a wheeled vehicle mechanic.
The men were previously honored posthumously for their actions on that day, which the Defense Department credited with saving the lives of the rest of their unit, including six Green Berets, an American intelligence contractor and Nigerian troops who fought alongside them.
Jeremiah Johnson was awarded the Bronze Star Medal with Valor, the nation's fourth highest award for combat heroics. La David Johnson was awarded the Silver Star, the military's third highest honor for valor. Black and Wright also received posthumous valor medals.
Pentagon officials said the Green Beret unit and the Nigerien troops with whom they were working were outnumbered by about three-to-one and outgunned in the ambush outside a remote village called Tongo Tongo. Both Johnsons fought courageously until the moment they were killed. Black, Wright and Jeremiah Johnson died about an hour into the fight while attempting to provide cover fire for other troops, including La David Johnson, according to an investigation released in May 2018.
The younger Johnson died later after becoming separated from the other American troops, the investigation concluded. He fought off the attackers with a machine gun and sniper rifle before fleeing on foot about one kilometer to cover, where militants eventually discovered and killed him. His body was not found for nearly two days.
The Pentagon's investigating officer for the incident, now-Lt. Gen. Roger Cloutier, determined "he made his last stand, and he fought to the end."
The incident -- the deadliest event to U.S. soldiers in Africa since the 1993 Black Hawk Down event in Somalia -- led to multiple investigations within the Pentagon and a public spat between then-President Donald Trump and La David Johnson's family, who accused the former commander in chief of disrespecting the soldier in a private phone call.
Pentagon officials ultimately determined many mistakes were made that led to the ambush. They described the soldiers as improperly trained and equipped for a mission to capture a suspected insurgent leader that was hastily planned. Ultimately, several junior and mid-grade officers and enlisted personnel were punished for their roles. One general officer was also disciplined in the incident, even as lawmakers and others called for more higher-ups involved in the incident to face reprimands.
Jeremiah Johnson and La David Johnson are only the 11th and 12th individuals to be officially made honorary Green Berets by the Army. The last honor was in 2014 to a civilian, Doris Baker, who had spent nearly 40 years as a teacher and principal at a Defense Department school in Germany for children of Green Berets, according to The Associated Press at that time.