The Air Force said Friday that it is revising its new, looser regulations governing how female airmen may wear their hair after getting feedback from women in the field.
In February, the service began allowing women to wear their hair in up to two braids, or a single ponytail, as long as it did not exceed the width of their heads or extend past the bottom of their shoulder blades.
But beginning June 25, the Air Force said in a Friday release, women's hair may extend further when it is secured behind the head in a bun, braid, ponytail or other similar hairstyle. Women's hair then will be allowed to extend to a total width of 12 inches -- six inches to each side from the center of the head -- and six inches protruding from the point where the hair is gathered, the Air Force said.
Read Next: White House to Tap Former Destroyer Captain Carlos Del Toro as Navy Secretary
Women still must be able to properly wear hats or other headgear if their hair extends beyond the width of their heads, the service said.
After the Air Force first announced the changes to hair regulations in February, some women pointed out that they would have difficulty securing their hair in a way that did not extend beyond the width of their heads.
"Sometimes we get change right the first time around, & sometimes it takes another iteration to arrive at the best solution," Air Force Chief of Staff Gen. Charles "CQ" Brown said in a tweet announcing the change. "The feedback we received highlighted the need to reevaluate the policy to make it more inclusive."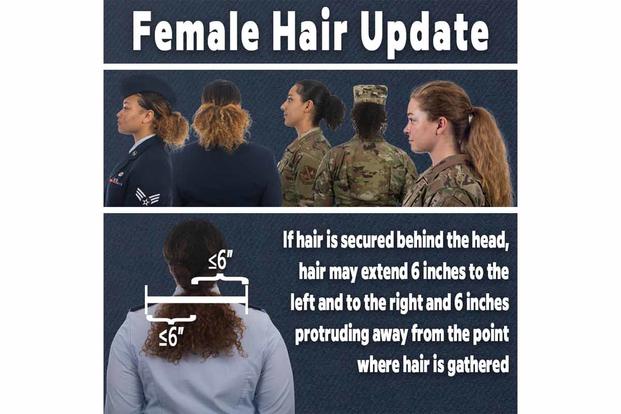 Lt. Gen. Brian Kelly, the Air Force's deputy chief of staff for manpower, personnel and services, acknowledged in the release that the service hadn't considered how the hairstyle rules would affect all female airmen.
"In developing policy, we try to address all angles and perspectives, but sometimes we have a blind spot," Kelly said.
The revised hair regulations, along with all other Air Force grooming standards, also will apply to women in the Space Force until the new service sets its own grooming policies.
Women still must follow occupational safety, fire and health guidance and mishap prevention procedures when considering how to wear their hair around machinery or equipment, the Air Force said.
The service last year consulted a diverse group of male and female troops, including officers and enlisted, from various ethnicities and occupations as it set out to revise women's hair standards and other dress and appearance regulations to make them more inclusive.
"Whether we're talking about hair, uniforms or forums for sharing ideas, an approach that embraces diversity and fosters an inclusive environment is critical to ensuring our talented, dedicated airmen stay with us on this journey," Chief Master Sergeant of the Air Force JoAnne Bass said in the release.
-- Stephen Losey can be reached at stephen.losey@military.com. Follow him on Twitter @StephenLosey.
Related: Air Force to Allow Female Airmen to Wear Longer Braids, Ponytails